As a rule, you can evaluate the accuracy of allegations of the left subsidizing and ionizing political violence by how loud they scream when they get caught in the act. The same principle might apply to their support of child molestation but we don't yet have enough data points to make that a conclusive claim. With political violence, the causative relationship between the two is demonstrable.
Two days ago, a guy named Darrell Brooks drove his car at high speed through a Christmas parade in downtown Waukesha, Wisconsin. He killed six people (a child died today, raising the body count) and injured 60 (the indictment says five dead and 61 injured, I did the math, but be patient with me because I am an infantryman) before plowing through a crowd control barrier and making his escape. He was apprehended fairly quickly (see this post for video of his capture WATCH: Chilling Doorbell Camera Footage Shows Where Darrell Brooks Went After Plowing Into Parade) but it was easy to tell from the omerta that descended upon law enforcement that they were wrestling with how to break the news about either the race or ethnicity of the perpetrator.
In woke-ish jurisdictions, this is a variation on the old game of "name that party," where a paper like the New York Times can write 3,000 words describing a politician killing his opponents, stealing from the public coffers and charitable organizations, and snorting blow off the belly of some hooker…this is not a reference to either Hunter Biden or Andrew Gillum…and never mention his political affiliation if he is a progressive Democrat.
Criminal Complaint; 2021CF0… by Fox News
Once his name was revealed, some guys who practice actual journalism, one of them Andy Ngo of The Post Millenial, developed a pretty detailed history of the guy. He was a felon who was out on a $1,000 "cash bond" after being charged with another felony. He had run down his…well, she's described as "the mother of his child" so I'm not sure what that equates to in modern relationships. He fancied himself a rapper. He was a sex offender. He was a fan of Black Lives Matter. He expressed a dislike for white people, indicating he must have been an honor graduate at some Diversity, Inclusion, and Equity seminar. In short, he sounds very, very much like the trash that got taken out in Kenosha, Wisconsin, and given his social media posts and the people he targeted for death, one would think that someone of moderate curiosity, like a detective, might want to look into that sh**.
Yesterday morning, CNN and S. E. Cupp trotted out the "he was running from the cops" imagery. The police quickly knocked that down (see Waukesha Police Chief Knocks Down Silly 'Fleeing From a Crime' Cover Story Pushed by CNN).
Be sure to read our other coverage of the Waukesha tragedy:
NEW: Prosecutor's Office Makes Big Admission About Suspected Waukesha Mass Murderer
Waukesha Police Officially Name Lone Suspect in Parade Attack, Say He 'Intentionally' Drove Into Crowd
Waukesha Suspect Was Convicted Sex Offender, Admitted 'Pimping' His 16-Year-Old Girlfriend in Video
More Info on Man Allegedly in Custody in Waukesha Tragedy
Activist Prosecutor Who Let Waukesha Suspected Mass Murderer out Has Very 'Interesting' Views
UPDATE: City of Waukesha Confirms 5 Dead, More Than 40 Injured After Attack at Christmas Parade
Waukesha Attack Suspect ID'd; Was Released on Cash Bail Two Days Ago
Press Conference on Waukesha Attack: Person of Interest in Custody
Waukesha Attack: People Asked to 'Shelter in Place,' Power Outage in Area, Report on Suspect
UPDATE: Horrific Video Shows Car Driving Through Parade in Wisconsin, Suspect Reportedly in Custody
WATCH: Chilling Doorbell Camera Footage Shows Where Darrell Brooks Went After Plowing Into Parade
The left began mass reporting Ngo's tweets to Twitter to try to get the information shut down. When that failed, the crack squad at The Daily Beast went into action. A rather dull fellow named Robert Silverman was assigned the task of reporting not on Brooks' pretty obvious ties to the progressive movement and what appears to be his racism but on Ngo's reporting on who Brooks was. Silverman, it should be noted, has a history of bashing Ngo. Nothing to see here but pure journalism.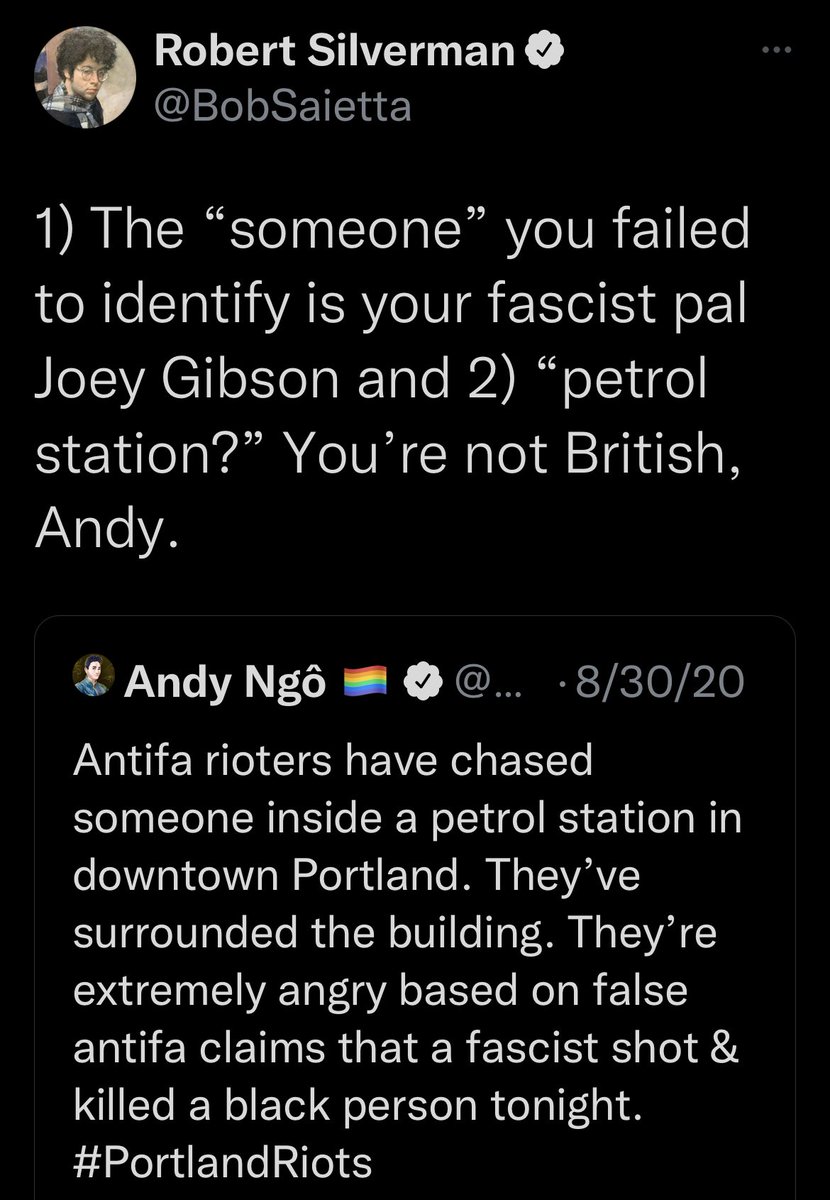 Ngo gets this request for comment from Silverman.
I don't want to speak to you & I stand by my reporting.

Instead of writing about my posts, how about you explore the views Darrell Brooks espoused & the progressive policies that allowed a violent career criminal & child sex offender to allegedly mow down more than 50 people? pic.twitter.com/cqTCocAbto

— Andy Ngô 🏳️‍🌈 (@MrAndyNgo) November 23, 2021
Now the story is out. The headline is How Big-Time Right-Wing Trolls Andy Ngo and Tim Pool Tied Waukesha Killings to Black Lives Matter (the story is behind paywall, but enjoy this free workaround courtesy of me).
First off, Ngo is not a troll. Throughout the summer of 2020, he was one of the very few people covering the Antifa and BLM rioters. He went where the mainstream journalists feared to go, or, more likely, where they refused to go because they didn't want to make their political compatriots look bad. What is a troll is someone who writes utter sh** like this or lets it be published.
The 17-year-old shooter's Facebook page showcased photos with Blue Lives Matter-style pro-police slogans and imagery, as well as of an Armalite rifle similar to the one he appears to have been photographed carrying in Kenosha https://t.co/5Ab2D6z6CZ

— The Daily Beast (@thedailybeast) August 26, 2020
The Daily Beast doesn't do journalism. They do hit pieces and they do clickbait. That's it. End of story. Silverman seems to be their go-to guy. He has published a slanderous piece on Barstool Sports founder Dave Portnoy. Here he is on The Young Turks, pushing another scurrilous attack, this one against YouTuber Tim Pool. You can nearly smell the lack of personal hygiene bleeding off the video. Be sure to stick around for Lauren Chen's commentary on Silverman after the clip of his attempted character assassination of Pool.
If you read the piece on Ngo, all this goober can come up with is that Brooks never says he is going to go out and kill a crapload of white people with his car. He talks about running people down and about hating white people and about BLM and he even ran his whatever down with his car, but because he never said what his intention was outright, Andy Ngo is a troll.
In doing so,Ngo implies it was Brooks who was providing a how-to guide for using a car as a weapon and not the ex-Minneapolis cop.

This isn't the first time critics of Ngo have suggested he omits details or selectively edits information in order to paint leftists in the worst possible light. Ngo has been made a cause celebre by the right, lionized by senators like Ted Cruz, for his endless promotion of videos depicting antifa and other activists on the left as being a violent mob bent on destruction. Often, those narratives fall apart when given close examination. Famously, Ngo was embedded with the far-right gang Patriot Prayer, and was within earshot when they amiably discussed their plans for violence, according to an investigative report by the Portland Mercury. Ngo's widely-shared videos only showed the response by leftists, making it seem as if Patriot Prayer were the victims and not the instigators. (Ngo has fervidly denied the allegation.)

It's not that any of the information Ngo strung together about Brooks appears to be wrong. But it is framed in bad faith to lead a casual reader to the entirely unfounded conclusion that this was a racial attack of some sort. Scroll through the Waukesha trending topic on Twitter and it's packed with culture warriors howling in outrage about BLM. Ngo never explicitly says Brooks was motivated by anti-white animus. And yet, the replies to his thread are littered with racial slurs.
And this objection comes from the people who called Kyle Rittenhouse a "Blue Lives Matter fanatic" based on no evidence whatsoever. Unbelievable.
Hopefully, we will find out more about Brooks' motivations in the days to come. My strong hunch is that this is going to go the way of the Stephen Paddock shooting spree in Las Vegas that killed 61, wounded over 400 and left us with no answers. The answers, in this case, are going to be shut up because the far-left progressive forces that let a known bail-jumper run down a woman with a car and release him on $1,000 bail are not going to want his real motives to be showcased. Andy Ngo deserves our respect for both reporting courageously on the violent left and putting up with creatures like Silverman who have accomplished nothing themselves and only live to tear other people down.