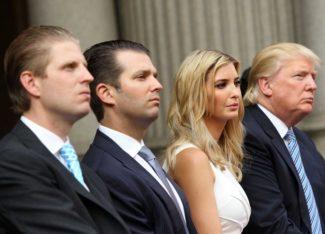 Two weeks ago I wrote a piece about the ethical conflicts facing president-elect Trump between his role as president, and how he is using it to benefit his businesses and his children who run them. But recent news about his children, particularly Ivanka Trump, are providing more reasons to be concerned about The Donald's ethical lapses.
After promising during the campaign to rip up the Paris Climate Agreement–even calling global warming a hoax–Trump was asked in a recent meeting with the New York Times if he intended to keep that promise. Not only did he avoid answering the question, he also indicated that he now believes global warming to be real . . . and man-made.
On the Paris Climate Agreement:
"I'm looking at it very closely. I have an open mind to it."
On the question about global warming being man-made:
"I think there's some connectivity . . . It depends on how much."
Why the change? Well, besides the fact that Trump has pretty much abandoned all of his campaign promises–and he's not even in office yet–this change is most likely due to the progressive-statist political beliefs of his registered-Democrat daughter, Ivanka Trump.
Last week, according to a source close to daddy's little girl, Ivanka wants to make climate change one of her signature issues as First Daughter, which explains why she and daddy met yesterday with the high priest of the Church of Global Warming, Al Gore.
Yeah, I can hear many of you now: "Trump is the decision-maker, not his kids." If this was an isolated incident, I might agree with you. Unfortunately, it's not isolated. For example:
In the piece mentioned

above

, I referenced Ivanka's attendance at a meeting between Donald Trump and the Prime Minister of Japan. We have

since learned

that at the time of the meeting, she was actively involved in negotiations to license her apparel line in Japan, using financing provided by a bank owned by the Japanese government.
The new Trump International Hotel in Washington will be run by Trump's children. The hotel leases the building from the General Services Administration. The head of the GSA will be appointed by Trump under the advice of his transition team–which his children are on.

Additional conflicts

where Ivanka and her siblings will have significant influence include: an open case between the Department of Justice and Deutsche Bank (Trump owes them millions), the National Labor Relations Board (disputes with Trump Hotels are heard there), and numerous foreign interests.
And this just in: Ivanka and her husband, Jared Kushner, are shopping for a home in Washington, DC–a significant event under the circumstances.
Trump's children are setting policy, running Washington, and lining their pockets; creating very real conflicts of interests, and a clear and present danger to the Constitution and America.
Originally posted at The Strident Conservative
David Leach is the owner of The Strident Conservative, your source for opinion that's politically-incorrect and always "right." His articles can also be found on RedState.com.
His daily radio commentary is nationally syndicated with Salem Radio Network and can be heard on stations across America.