It is Week 74 of Russia's glorious blitzkrieg through Ukraine, and things are beginning to happen on the ground. They aren't happening fast enough for some folks in DC, but it's easy to encourage speed if you aren't the guy tiptoeing through a minefield. Yesterday, the New York Times announced that Urkaine's big push had started.
Ukraine entered the main phase of its counteroffensive

This is reported by the New York Times. The article explains what, how and where the AFU are moving.

According to them, reinforced Ukrainian groups will try to move south to Tokmak, and if successful, to Melitopol.

— Leandro Romão 🇵🇹🇷🇺 (@lromao_ptbr) July 27, 2023
If the names "Tokmak" and "Melitopol" look familiar, they should. I've been saying that would be the direction of attack for a while (Putin's War, Week 33. Mobilization Muddle, a New Era in Air-to-Air Combat Begins, and Another Lull Before a Storm).
My gut is that the war is coming to a decision point in several different areas. Militarily, the Russian Army in Ukraine is in terrible shape. The structure of the Russian Army uses its commissioned officers as primary trainers and leaders rather than the long-serving noncommissioned officers, that is, sergeants and petty officers, that you find in the West. The best of Russia's officer corps was dead a year ago. Young men commissioned into the Russian Army in May are already dying in large numbers.
Graduated in May 2023, buried in July.
Very fresh Lieutenant Вечканов Артём Алексеевич (Vechkanov Artyom Alekseevich) graduated in May '23, was assigned to the 13th Guards Tank Regiment and sent to Ukraine, where he was killed. He was buried on 22 July.https://t.co/hZ1TQ067Ag pic.twitter.com/cWosXZdYlE

— KIU • Russian Officers killed in Ukraine 🇨🇿🇺🇦 (@KilledInUkraine) July 24, 2023
There is a finite amount of punishment any Army can take, and I think the Russian Army is getting close to the red zone.
Diplomatically, Russia is much more isolated than the Soviet Union ever was. The nations that associate with Russia are other pariah states. The fake economic and collective security organizations that it formed as a counterbalance to the EU and NATO are falling apart. As you'll see below, Putin has now made his daily schedule a state secret after doing the same to Russian economic data. Even if Putin can find a way to let go of this tar baby (can I still say that?), it is difficult to see how he survives as Russia's president. And without a man like Putin used to be, it is hard to see how centrifugal force, but in particular the political Black Hole that is China, doesn't pull the "Russian Federation" apart.
That's all the cheerfulness I can handle for right now.
Here are some of my past updates.
Putin's War, Week 73. Putin Eludes Arrest, Black Sea Grain Initiative Dies, and Ukraine's Offense Continues to Grind Away
Putin's War, Week 72. Ukraine Misses NATO Membership but Still Wins and Ground Combat Gains Velocity
Putin's War, Week 71. The Fighters Go to Their Corners
Putin's War, Week 70. The Reckoning for the Wagner Revolt Continues
Putin's War, Week 69. As CNN Reports the Ukrainians Have Stalled the First Breakthrough Happens
Putin's War, Week 68. The Offensive Develops, Cracks Emerge, and Never Forget the Enemy Has a Vote
Putin's War, Week 65. G7 Calls for War Crimes Trials and Reparations, F-16 Pilots Start Training, and Russia Is Invaded
Putin's War, Week 65. G7 Calls for War Crimes Trials and Reparations, F-16 Pilots Start Training, and Russia Is Invaded
Putin's War, Week 64. Patriots Score Big and the Scene Is Set for Offensive Action
Putin's War, Week 63. Chechens Replace Wagner in Bakhmut, Storm Shadow Arrives, and Russia Says 'Family Guy' Is a Meany-Pants
Putin's War, Week 62. Kremlin Droned, Russia Dissed by Friends and Allies, and Ukraine's Offensive Takes Shape
Putin's War, Week 61. Xi Calls, Prigozhin Sounds El Degüello, and Surprise Attacks at Sevastopol, Kherson, and (Maybe) St. Petersburg
Putin's War, Week 60. Leaked Documents, a Russian Troll Exposed, and More Pieces Fall Into Place
Putin's War, Week 59. Russia Goes ISIS and Waiting for General Mud to Take a Break
Putin's War, Week 58. All Dressed Up and No Place to Go
Putin's War, Week 57. Waiting for Godot.
Putin's War, Week 56. Putin Indicted for War Crimes, Xi Visits Moscow, and Sevastopol Attacked for a Third Time
Putin's War, Week 55. Russia Drops US Recon Drone, Ukraine Suffers From 'Loose Lips' as It Doubles Down on Bakhmut
Putin's War, Week 54. More NordStream Melodrama, Russia Shows Diplomatic Weakness, and the Bakhmut Flipflop
Putin's War, Week 53. Zelensky Blows a Big Play, Moscow Dodges a Drone Attack, and Russia's Spring Offensive Fizzles
Putin's War, Week 52. US and China Face off, Prigozhin Goes for the Jugular, Mystery Weapon Strikes, and Happy Anniversary
Putin's War, Week 51. Russia's Slow-Mo Offensive Gets Underway
Putin's War, Week 50. The Calm Before the Storm
Putin's War, Week 49. Waiting for the Russian Offensive
Putin's War, Week 48. The Logjam Breaks and the Leopards Are About to Roam the Ukrainian Landscape
Putin's War, Week 47. Gerasimov Shakes Up the Russian Army and the Russian Spring Offensive Looms
Putin's War, Week 46. Putin Shakes up the Army Command, Prigozhin Shows How It's Done, and Western Tanks for Ukraine Are on the Way
Putin's War, Week 45: Putin Declares a Cease Fire, Zelensky Gets Putin's Terms for Peace, and if You're Fighting a War, Leave Your Cell Phone Home
Putin's War, Week 44. Drones Strike Russian Strategic Bomber Base…Again… Prigozhin Makes His Move
Putin's War, Week 43. Zelensky Visits the Front Lines and Washington, Putin Tries to Push Belarus Into War
Putin's War, Week 42. Ukraine Gets the Nod to Strike Targets in Russia and Some Tools to Do It With
Politico-Strategic Level
Top Secret Putin
Russia has started classifying Putin's itinerary. I suspect this has to do with the seismic effects in the Kremlin of the Wagner mutiny and Putin's failure — or inability — to punish Prigozhin and his lieutenants. Earlier this year, Russia stopped publishing much of its economic data and classified it as a "state secret." There is only one reason for this sudden change, Putin is no longer quite as secure in his position as he was.
The Kremlin is keeping Putin's travel itineraries in Russia a secret – Russian media.

The Kremlin began to hide Putin's the movements during his official trips across Russia. After Prigozhin's rebellion, fears of internal destabilization and a coup have increased in the Kremlin,… pic.twitter.com/avjeFAjLOo

— Anton Gerashchenko (@Gerashchenko_en) July 22, 2023
Shoigu in North Korea
Russian Defense Minister Sergei Shoigu is in North Korea. It is widely suspected that he's there to try to convince North Korea to part with its stocks of artillery ammunition.
One might think this video is from the 70s. But it was actually filmed today as Shoigu arrived to North Korea to "share his experience".

A huge poster saying "Welcome, comrade defense minister of the Russian Federation!" is visible on the video.

Shoigu officially arrived to… pic.twitter.com/TOuoHW0h2Z

— Anton Gerashchenko (@Gerashchenko_en) July 25, 2023
Even if you don't like Russia and would just as soon see it cut up into condo complexes for Syrian refugees, this is still pathetic. I hope they gave Shoigu a commemorative napkin to wipe his chin after that performance.
NEW: Russian defense chief Sergei Shoigu said the North Korean military "has become the most powerful army in the world" under Kim Jong Un's leadership, according to a DPRK state media report Thursday on a banquet hosted by the North Korean defense ministry. pic.twitter.com/jsZbTLJ1wg

— NK NEWS (@nknewsorg) July 26, 2023
Neither the visit nor what happened during the visit paint a positive picture of Russia's condition.
China Supplies Military Gear to Russia
We've known that Chinese companies were sending military supplies to Russia for quite a while. What wasn't fully understood was the scope of the trade. So far, China is not supplying weaponry or ammunition.
BREAKING: A Politico investigation reveals that China is sending military gear to Russia

— Samuel Ramani (@SamRamani2) July 24, 2023
Russia has imported more than $100 million-worth of drones from China so far this year — 30 times more than Ukraine. And Chinese exports of ceramics, a component used in body armor, increased by 69 percent to Russia to more than $225 million, while dropping by 61 percent to Ukraine to a mere $5 million, Chinese and Ukrainian customs data show.

"What is very clear is that China, for all its claims that it is a neutral actor, is in fact supporting Russia's positions in this war," said Helena Legarda, a lead analyst specializing in Chinese defense and foreign policy at the Mercator Institute for China Studies, a Berlin think tank.
Romania Joins G7 Security Guarantees for Ukraine
During the NATO summit in Vilnius, the G7 agreed to provide security guarantees to Ukraine as a bridge to NATO membership; see NATO Summit Highlights NATO Unity on Ukraine but Also Reveals Divisions. Now Romania has joined the group. While Romania is not a superpower, it shares a long border along the Danube River with Ukraine.
Romania 🇷🇴 decided to join the G7 declaration on security guarantees for Ukraine 🇺🇦 announced at the NATO summit in Vilnius.https://t.co/IWpJ9x6EqM

— Euromaidan Press (@EuromaidanPress) July 25, 2023
Mine Clearance Commitment
Japan and Croatia have joined Canada, the Netherlands, Germany, and the United States in assisting Ukraine in de-mining and removing unexploded ordnance from some 67,000 square miles of its territory.
Japan, together with Croatia, will help in mine clearing in Ukrainehttps://t.co/h69rASOJE2#Ukraine #UkraineRussiaWar #Japan #Aid

— Militarnyi (@militarnyi_en) July 24, 2023
Weapons Security
One of the constant complaints of those opposing military aid to Ukraine to defend its borders and independence is that the weaponry is stolen or diverted to criminal enterprises. Early in the war, CBS tried to push that line of attack by conflating the theft of non-lethal aid with weapons theft; see CBS Pulls Fatally Flawed Documentary 'Arming Ukraine' From Circulation. As the aid process matured, small numbers of US military personnel were assigned the task of monitoring the transfer and distribution of NATO weapons and ammunition (The Pentagon Sends Weapons Security Inspectors to Ukraine, if You Thought Those Opposing Aid to Ukraine Were Happy, Think Again). The same people complaining about the loss of weapons quickly morphed into whining about "boots on the ground," but whatever.
A Pentagon report obtained by CNN confirms that controlling weapon distribution during a war is challenging, and some small arms have been stolen but thanks to the work of Ukrainian security forces, most of that weaponry has been recovered.
Check out this article: https://t.co/qrQtWT9iiQ

— Brian Bonner (@BSBonner) July 21, 2023
Will Kill for Market Share
Russia seems to be experimenting with a new form of feudalism where private companies and government agencies are given a quota of soldiers to raise from their workforce. Even the Russian space agency, Roscosmos, has been tasked with supplying a certain number of employees to the Army. This marks the first time Western brands have had to do the same. Unsurprisingly, companies that have decided to remain active in Russia despite its invasion of Ukraine are complying.
Unilever, maker of Dove soap, Lipton soup, Hellmann's mayo, Ben & Jerry's and Magnum ice creams, says it paid $42M in tax to Russia in 2022, will comply with Russian conscription law for its 3,000 Russian employees

The law requires firms to create mobilization bodies in the… pic.twitter.com/JT3N5LdxdE

— 🇺🇦Ukraine Resists Russian Genocide… Yeah Again (@ArmedMaidan) July 24, 2023
Reliable Sources
Because of the amount of propaganda generated by both sides, it is a challenge to decide what to believe. Russian milbloggers seem to have adopted the practice of relying upon reports by the Ukrainian general staff for their updates. It would be great if the pro-Russian Westerners on social media had the same intellectual honesty.
It is genuinely hilarious, and I mean hearty chuckle worthy, how Russian milbloggers exclusively use the Ukrainian general staff for their shelling reports. They don't even use the Ukrainian government as a whole (who posts much more than general staff btw), exclusive just staff

— Andrew Perpetua (@AndrewPerpetua) July 21, 2023
Russia Miffed About Cluster Munitions
Russia is having a sad over US cluster munitions used by Ukrainian forces; US Releases Cluster Munitions to Ukraine in Stopgap Effort to Aid Ukraine's Offensive.
The official representative of the Russian Foreign Ministry, Maria Zakharova, warned about the responsibility of those who supplied cluster munitions to Ukraine:https://t.co/kJtH9yOiYK pic.twitter.com/zn1Zo2uf3g

— TASS (@tassagency_en) July 22, 2023
Zakharova believes that the Kiev regime "keeps practicing criminal terror." She recalled that on Saturday afternoon, as a result of the Ukrainian armed forces' strike with cluster munitions on journalists of the Izvestia multimedia information center and RIA Novosti news agency, one journalist was killed and three more wounded.

"Everything indicates that the attack on the group of journalists was not carried out by chance. The correspondents were collecting information for a report on how the Kiev regime's militants pound the populated localities in the Zaporozhye Region using cluster munitions banned in many countries. Those are supplied to Kiev by the United States," she said.

"Washington, along with London and Paris that send long-range missiles to Zelensky's regime, merely pay lip service voicing concern for the safety of journalists, while in fact they are sponsors of terrorists," Zakharova said.

According to the diplomat, there are no illusions that international organizations will prefer, as they have already done in similar cases, "to turn a blind eye to this heinous crime, which, in fact, makes them involved in Kyiv's terrorist lawlessness."
She is referring to the death of RIA Novosti propagandist Rostislav Zhuravlev and the severe injuries inflicted upon several of his colleagues.
I think we need to take the risk of being held responsible when the Russians start being concerned about their terror attacks on Ukrainian cities.
Deep Thoughts
Nikolai Patrushev is secretary of Russia's Security Council, a close adviser of Putin, a Russian imperialist, and one of the prime movers of the annexation of Crimea and the 2014 and 2022 Russian invasions of Ukraine. Here he channels the same propaganda we've heard from MEChA and the Reconquista movement in California and the American Southwest. This kind of rhetoric from Patrushev and other Putin confidants should be a clue that this war ends only by crushing the Russian military in Ukraine.
Warmonger Patrushev urges Latin American countries to regain their "lost" territories.

Nikolay Patrushev, probably Russia's most dangerous hawk, has no doubts that the southern neighbors of the United States will eventually regain the territories stolen from them by the… pic.twitter.com/C9Mrv3X9IP

— Yasmina (@yasminalombaert) July 24, 2023
Attacks on Odesa
Last week Russia officially withdrew from the Black Sea Grain Initiative; Russia Kills the Black Sea Grain Initiative but Can It Make It Stick? It celebrated the event with a series of large-scale missile attacks on the port city of Odesa launched from Russian ships in the Black Sea.
About 60 thousand tons of grain Russia destroyed at night in the seaports "Odesa" and "Chernomorsk", said the Minister of Agrarian Policy Solsky. pic.twitter.com/WMTC5iFGZK

— NEXTA (@nexta_tv) July 19, 2023
In addition to the port and grain storage facilities, the Russians targeted the Transfiguration (Spaso-Preobrazhenskiy) Cathedral for destruction. Odesa was targeted, in my opinion, for three reasons. It was a symbolic target to emphasize the end of the Black Sea Grain Initiative; damaging Odesa would make restarting the grain deal more difficult, and Odesa is not covered by the layered air defense network that protects Kiev and other major cities.
Odesa's main Orthodox cathedral. Established in 1794, destroyed by Stalin in 1936, rebuilt under an independent Ukraine and destroyed again by Putin in 2023. One of several historical parts of central Odesa, a UNESCO world heritage site, hit by Russian missiles strikes today. pic.twitter.com/X9BvICUbQ4

— Yaroslav Trofimov (@yarotrof) July 22, 2023
At night Russians launched another missile attack on Odessa. During the attack the Spaso-Preobrazhensky Cathedral in Odessa was severely damaged. https://t.co/HZMlvGkIuP pic.twitter.com/iPMjHFa0KS

— Special Kherson Cat 🐈🇺🇦 (@bayraktar_1love) July 23, 2023
Romania Nearly Attacked
Some targets the Russians struck in Odesa were less than a quarter mile from the Romanian port city of Reni. This was a ballsy move by the Russians, considering the gross inaccuracy of their weapons. The sheer recklessness of the action marks it as a "brush back" pitch by the Russians. This may have factored into Romania's decision to join the G7 in giving security guarantees to Ukraine the next day.
Today, Russia used Shahed Kamikaze Drones to strike the Ukrainian 🇺🇦 Port of Reni, located 400 meters from the Romanian 🇷🇴 Border pic.twitter.com/90JxT8afz3

— Ukraine Battle Map (@ukraine_map) July 24, 2023
Russia is playing a dangerous game

Last night, they struck targets right next to the Romanian border for the first time.

This video was recorded by Romanians, showing the attacks on the port of Reni, right across the Danube river

Romania is a NATO state pic.twitter.com/mJSvlUbxDh

— Visegrád 24 (@visegrad24) July 24, 2023
Taking out the Trash
I'm in the minority on this, at least on social media, but I think Ukraine is doing a creditable job of cleaning up the corruption that became endemic under the rule of the post-Soviet governments and eradicating Russian Fifth Columnists. The oligarchs that emerged post-independence are now in exile, and their empires broke up. The drive towards EU and NATO membership has inspired more effort at transparency. And the existential war Ukraine is involved in has removed most, if not all, the institutional and political barriers to rooting out corruption.
Oleksandr Ponomaryov, a Member of the Ukrainian Parliament and now Banned Pro-Russian Political Party the "Platform for Life and Peace" has been Arrested and placed in a Pre-Trial Detention Center without Bail for at least 2 Months; this comes after the Security Service of… pic.twitter.com/aN8vd5XB4C

— OSINTdefender (@sentdefender) July 25, 2023
Evgeny Borisov, the former military commissioner of Odessa, has been arrested in Kiev. He faces accusations of illegal enrichment and deliberately neglecting his official duties. Properties owned by Borisov, with an approximate value of 4 million euros, including a villa in… pic.twitter.com/iFlP38883v

— Russian Market (@runews) July 24, 2023
Russian Television on the Odessa Strike
This is just a part of my series of translations of mainstream Russian television shows that give you a flavor of what Russian citizens hear from state-run media.
Like I mentioned before, the terror attack against the Transfiguration Cathedral and all of Odesa didn't come out of the blue. It was also not "collateral damage", or any other Russian deflection attempt. It was and still is a targeted attack. And Putin's minions are admitting it… https://t.co/U18YrjZJAz

— (((Tendar))) (@Tendar) July 23, 2023
Russia Trolls Germany on Telegram
The German far-right party Alternative für Deutschland (AfD) is making some in-roads in the former East Germany. It is populist and is skeptical of German policy favoring Ukraine. Russia is trying to capitalize on this by running a video on Telegram that is supposedly an AfD advertisement.
Well-known Russian actors play the characters.
The main role of the woman who confiscates all the property from the ordinary German family in favor of Vladimir Zelensky is plaid by Russian actress Julia Mandriko (https://t.co/ps6j9YKqTQ) pic.twitter.com/5xHOQXP5Du

— Mark Krutov (@kromark) July 26, 2023
Hmmm
The @200_Zoka Twitter feed is one of the most prolific of the openly pro-Russian accounts. A couple of days ago, it went dark. It's nearly impossible to tell what, if anything, this means, but as noted below, this is not the first time this has happened. The last time was after the fall of Kherson.
⚡ One of the Kremlin's most prominent military propagandists has deleted or otherwise suspended his account on Twitter.

Note: He had done the same after the liberation of Kherson. @200_Zoka pic.twitter.com/CfqmxgGQuA

— Astraia intel 🇺🇦 (@astraiaintel) July 25, 2023
Here is more information on the account holder.
In today's #vatniksoup I'll introduce a Bosnian social media personality and nurse, @200_zoka aka Lazo Z. He's best-known for his conspiratorial analysis on the war in Syria, and for his pro-Russian takes on the Russo-Ukrainian War.

This soup was a NAFO collaboration.

1/20 pic.twitter.com/ARDgrxnjS8

— Pekka Kallioniemi (@P_Kallioniemi) July 24, 2023
Wagner Group Wants to Invade Poland
Last week I posted about Putin's rant on Poland's territorial ambitions for parts of Ukraine and all of Belarus; see Putin Makes Wild Claim That Poland Plans to Invade Ukraine and Belarus, Threatens War. Over the weekend, Belarus Grand Poobah Aleksandr Lukashenko visited his master in the Kremlin. During that visit, he said the Wagner troops exiled from Russia to Belarus are agitating to invade Poland. According to Duma Deputy Andrey Kartapolov, the Wagner troops will seize the Suwalki Gap, now part of Lithuania and Poland, opening a direct land route from Russia to Kaliningrad.
File this under bluster. The Wagner troops are marginally trained thugs. They don't have the combat power to take on Lithuania or Poland, even if backed by the whole Belarusian military.
"Wagner troops are stressing us because they want to go on 'an excursion' to Warsaw and Rzeszow in Poland," Lukashenko said in a meeting with Putin.

Furthermore he brought Putin a map of Polish troop movement along the border with Belarus. pic.twitter.com/uqlvAMWdeL

— NOELREPORTS 🇪🇺 🇺🇦 (@NOELreports) July 23, 2023
Mercenaries from PMC "Wagner" were moved to Belarus to attack Poland and seize the Suwalki corridor, Russian MP Kartapolov reveals Putin's brilliant plan pic.twitter.com/B7WNn3FfYA

— TheKremlinYap (@TheKremlinYap) July 15, 2023
Operational Level
New Fortifications
Russia continues to expand and improve its fortification belts. If you aren't paying attention, it looks impressive. The real question is, why is Russia building more fortifications if they think they can hold the ones they already have? And then there is the problem of manning the fortifications. Germany's Siegfried Line, a much more impressive defensive system, fell with little effort because the Germans didn't have the troops to garrison the fortifications and fight the war. I think Russia has the same problem.
Russian forces in Ukraine continue to expand defenses along the front line.

This updated map shows many of Russia's new fortifications and links each to satellite imagery. (1/4) pic.twitter.com/PtEfA2gVJI

— Brady Africk (@bradyafr) July 22, 2023
A Genocide of Artillery
This is something that I've discussed before, shaping operations. A lot of Ukrainian front-line units complain about a lack of artillery support because the artillery is focused on eliminating Russian tube and rocket artillery, electronic warfare assets, headquarters, and supply dumps. This creates the opportunity for real progress on the front lines.
Lengthy post from milblogger Bulba of Thrones discussing the "Genocide of Ru artillery"

TLDR; Ukrainian losses pale in significance to Ru and while Bradley's etc can be replaced, Howitzers, MRLs and other Ru artillery cannot.

The crackdown on dissenters such as Girkin, bloggers… pic.twitter.com/aOMfEyTWRl

— Artoir (@ItsArtoir) July 25, 2023
The Making of a Fake
Social media like Twitter and Telegram is a virtual battlefield when it comes to Putin's War. There is a lot of fake video circulating, mostly on the Russian side. Here is a discussion of the work of a guy who goes by Rudenko. His videos are usually close combat scenes featuring many dead Ukrainians.
🧵thread on fake "ukrainian body cam footage", as there is another one making the rounds. again released by RUDENKO, who are responsible for some of the dumbest fakes of the war.

i will go over previous bullshit from RUDENKO and then explain why this one is cringe as well pic.twitter.com/MOvSoOgz9X

— jabuttee – luxurious memes and takes (@jabuttee) July 26, 2023
Open for Business
After a brief falling out that jeopardized the operation (Putin's War, Week 72. Ukraine Misses NATO Membership but Still Wins and Ground Combat Gains Velocity), the German-Polish joint venture to repair Ukrainian armored vehicles is open for business. All of Ukraine's Leopard tanks damaged during the offensive have been recovered; this repair depot guarantees they will return to action in the near future.
Polish Media is reporting that the Repair and Restoration Facility for Western Equipment in the City of Gliwice is now Operational with at least 2 Leopard 2A4 Tanks which suffered Damage during Fighting in Ukraine already said to have Arrived for Repairs. pic.twitter.com/cfkZbvneqY

— OSINTdefender (@sentdefender) July 22, 2023
New Weapons
Gepard Ammunition
The Gepard promises to provide a cost-effective solution to the threat posed by Russia's observation and suicide drone fleet, but the sticking point has been ammunition. Nearly all the Gepard ammunition was manufactured by Switzerland's defense giant Oerlikon. Under international agreements, exporting Oerlikon-manufactured ammunition to Ukraine required the approval of the Swiss government. This has not been forthcoming. Now Rheinmetall has stepped up.
Rheinmetall will supply Ukraine with new munition for the Gepard self-propelled anti-aircraft gun. In total 300.000 rounds will be produced of which 40.000 will be delivered already this year. Ukraine received 52 Gepards while another 45 are reportedly coming by the end of 2023. pic.twitter.com/dgf5fPtsnw

— NOELREPORTS 🇪🇺 🇺🇦 (@NOELreports) July 22, 2023
DIY Air Defense
Last week Rheinmetall announced it would open a tank factory in Ukraine (Putin's War, Week 72. Ukraine Misses NATO Membership but Still Wins and Ground Combat Gains Velocity). The Russians threatened to attack the plant. Rheinmetall says it isn't worried as it can handle air defense for its facility.
The CEO of #Rheinmetall, in response to the threats of the Russians, said that he plans to protect his plant in #Ukraine with his own air defense systems. pic.twitter.com/nKgsgFjEY2

— NEXTA (@nexta_tv) July 21, 2023
New Russian Ammunition
While a lot of people are obsessing over the ability of NATO to supply Ukraine with artillery ammunition, they are overlooking that the West has more artillery ammunition factories than Russia and significantly higher output. As I posted above, the Russian Defense Minister is passing around the hat in North Korea to try to get more ammunition. Meanwhile, Ukrainian forces have started finding Burmese ammunition. Not one is sure how it got there. There probably isn't enough to make any difference, but it gives an idea of the desperation in the Russian logistics chain.
#Ukraine: The Russian Military now uses ammunition made by 🇲🇲 Myanmar – Burmese 120ER 120mm HE mortar bombs recently appeared in Russian service.

Previously, no transfers of ammunition from Myanmar to Russia have been reported. ⬇️ pic.twitter.com/NePac4BICf

— 🇺🇦 Ukraine Weapons Tracker (@UAWeapons) July 26, 2023
Combat Operations
Protection
I make this point regularly because it is important. The time Western militaries have spent building extreme crew protection into their vehicles is paying off. If any Russian-designed vehicle had encountered this sh**storm, nothing would have remained of the crew but hair, teeth, and eyeballs.
US Iraq War era up-armored Humvees are tough as nails…

…and tougher than Russian 152mm shell fragments.

You can see the Humvee fishtailing from the run-flat tires as they take a turn at speed. https://t.co/GRVJtaqKQj

— Trent Telenko (@TrentTelenko) July 22, 2023
Dead Journo
This is the event that has the Russian government upset over US cluster munitions.
Rostislav Zhuralev is a reporter for RIA Novosti. He was a combatant during the 2014 Russian invasion of Ukraine. This time around, as a correspondent, he frequently accompanied Russian military units and engaged in combat himself. When he was killed, he was with a group of Russian war correspondents filming a Russian rocket launcher in action.
Demilitarised: Russian RIA Novosti correspondent and combatant Rostislav Zhuravlev has died as a result of a successful Ukrainian artillery strike near Pyatykhatky, Zaporizhzhia region.

As the Russian blogger Zhivov points out, the crew was filming operation of MLRS units in the… pic.twitter.com/qWZLt4U1jo

— Dmitri (@wartranslated) July 22, 2023
Another Russian Telegram Star KIA
Last week I posted about Mikhail Luchin, known on Telegram as "Misha in Donbas," who was killed in action near Bakhmut. Luchin was a drone operator and commander of a drone unit. He had about 22,000 followers on his Telegram account, where he posted combat action videos.
This week there is another name on the wall. "Daniil" is the admin of the Telegram channel "karlssonnews." He had about 43,000 followers and was reported KIA near Klischiivka.
Another Russian Telegram channel admin is out. The admin of "karlssonnews" , Daniil, was killed during the battle at Klischiivka. He had around 43k followers.

He was a member of the "Akhmat" unit and was in contact with Apti Alaudinov, judging by his content.

Btw, that is an… pic.twitter.com/fQBSuDhrwI

— Dmitri (@wartranslated) July 26, 2023
Ukrainian Air Base Attacked
The major Ukrainian air base at Starokostiantyniv in Western Ukraine was attacked on Tuesday night. It is the home of the 7th Tactical Aviation Brigade that flies the Su-24 strike fighters used to deliver Storm Shadow missiles. This may have some relationship to the success of recent Ukrainian attacks using Storm Shadow. It is not the first time the base has been attacked, but it is the first time it has been attacked this year. Previous attacks were on March 6, April 13, and June 25, 2022.
There is no word on damage to the base.
War on Helicopters
The Russian Ka-52 gunship has shown itself to be a formidable foe. After a slow start, Ukraine is now task organizing air defense with maneuver units to provide some protection.
According to a Russian blogger Kirill Feodrov, the Ka-52 downed in eastern Ukraine earlier today was hit with three missiles fired from British-delivered Stormer HVM short-range air defense system.

Kirill's channel was involved in organizing support for one of the crew-members… pic.twitter.com/9hh9xBg6Hr

— Status-6 (@Archer83Able) July 25, 2023
While the helicopter mentioned above was a victim of the British Stormer antiaircraft system (see Putin's War. Week 21. New Weapons Change the Battlefield in Ukraine's Favor but Are They Stronger Than European Cowardice and Stupidity?), the gunships have other enemies. Because of the long time of flight of the manually guided ATGMs, the Ka-52 has to hover while the missile is in flight. This makes it a target. Here is a Ka-52 getting killed by a Ukrainian anti-tank missile. There is nothing new here. During the Cold War, the gunnery tables for tank crew qualification (Table VII, I think, but some tanker will tell me if I'm wrong) included the front silhouette of a Mi-24 gunship in the target array.
Russian Ka-52 Alligator attack helicopter was destroyed by a Ukrainian Stugna guided missile. This helicopter is vulnerable as it has to guide its missiles all the way to the target and while its doing so it can't move. pic.twitter.com/VxQBugY7u9

— Albir 24 🇪🇺🇪🇸🇺🇦 (@albir2024) July 20, 2023
Tactics, Techniques, and Procedures (TTP)
I don't know the context of what is going on here, so I'll suspend judgment. It could be the most f***ed-up ambush ever, or it could be a Ukrainian unit developing a hasty defense and facing a sudden Russian counterattack from an unexpected direction.
0:00 A Russian BMP with troops riding on top (because they know better than to ride inside any Russian troop carrier) approaches from the left at high speed.
0:04 The Ukrainians fire an anti-tank weapon of some sort (RPG, AT-4, etc.) at the vehicle.
0:05 The projectile hit the front slope of the vehicle, which, because it didn't go far enough to arm, ricochets off.
0:07 The BMP enters the kill zone and is engaged with small arms.
0:10 The vehicle commander makes the determination that he can't drive through the kill zone, so he stops and his dismounts, un-ass the vehicle. By my count, there are about 14 Russian infantry. They are immediately pinned down, in the open, and at point-blank range.
0:26 The vehicle commander has had all the fun he can handle and orders the driver to revere and get the hell out of Dodge. He backs away, leaving most of the dismounts dead or incapacitated, with two Russian soldiers running alongside the vehicle.
0:32 A Russian anti-tank weapon engages the BMP.
0:33 The BMP is hit.
We don't see what happens next, but if past experience is any clue, the BMP stopped, the crew bailed, and the vehicle blew up.
Other commentary claims that the Russian soldiers are Airborne troops. This took place in Klishchiivka, which is now in Ukrainian hands. More on that below.
📽️Soldiers of Police Regiment Tsunami of Lyut Assault Brigade ambushed a Russian BMP and soldiers driving through Klishchiivka, #Donetsk Oblast.#UkraineRussiaWar pic.twitter.com/AV6Bk3VgyH

— MilitaryLand.net (@Militarylandnet) July 26, 2023
Northern Front
Kharkiv
Svatove
As I posted last week, the Russians have an offensive operation running in the Svatove area. The attack yielded some results and pushed a 6-mile salient into the Ukrainian line before it was stopped. There is no evidence the Russian attack is continuing.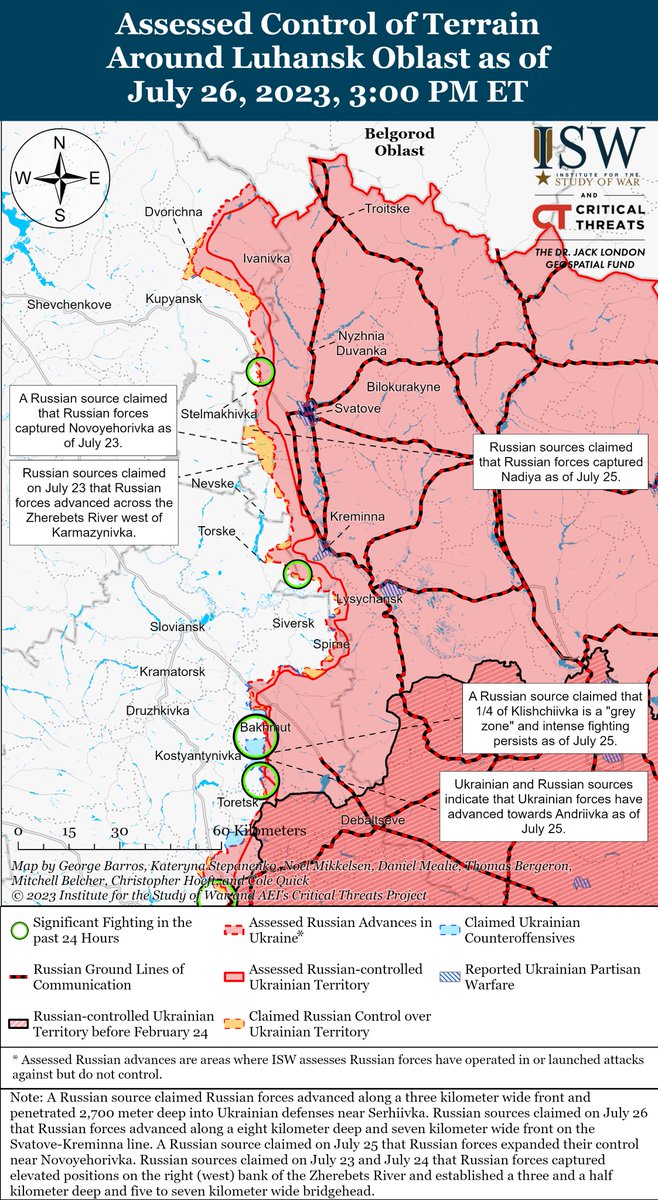 Donbas
Two significant fights are underway in Donbas. I see these as operations to fix Russian forces in position rather than a major offensive thrust. The terrain to the east of the fighting is one ridge and water obstacle after another, making movement very difficult. On the other hand, Russia can't afford to give up territory it claims to be part of Russia (Putin's Illegal Annexation of Ukrainian Territory Marks the Beginning of a War Without a Perceivable End) and is damned sure can't give up Bakhmut, arguably its only victory since March 2022.
Here you can see how the Ukrainians have hammered in the Russian salients above and below Bakhmut. The area to focus on is Klischiivka, to the south of Bakhmut — it is mentioned in two earlier stories in this post. That town is now under Ukrainian control, and the Russians look to be withdrawing to the next defensible line. If so, Bakhmut is on the edge of being encircled.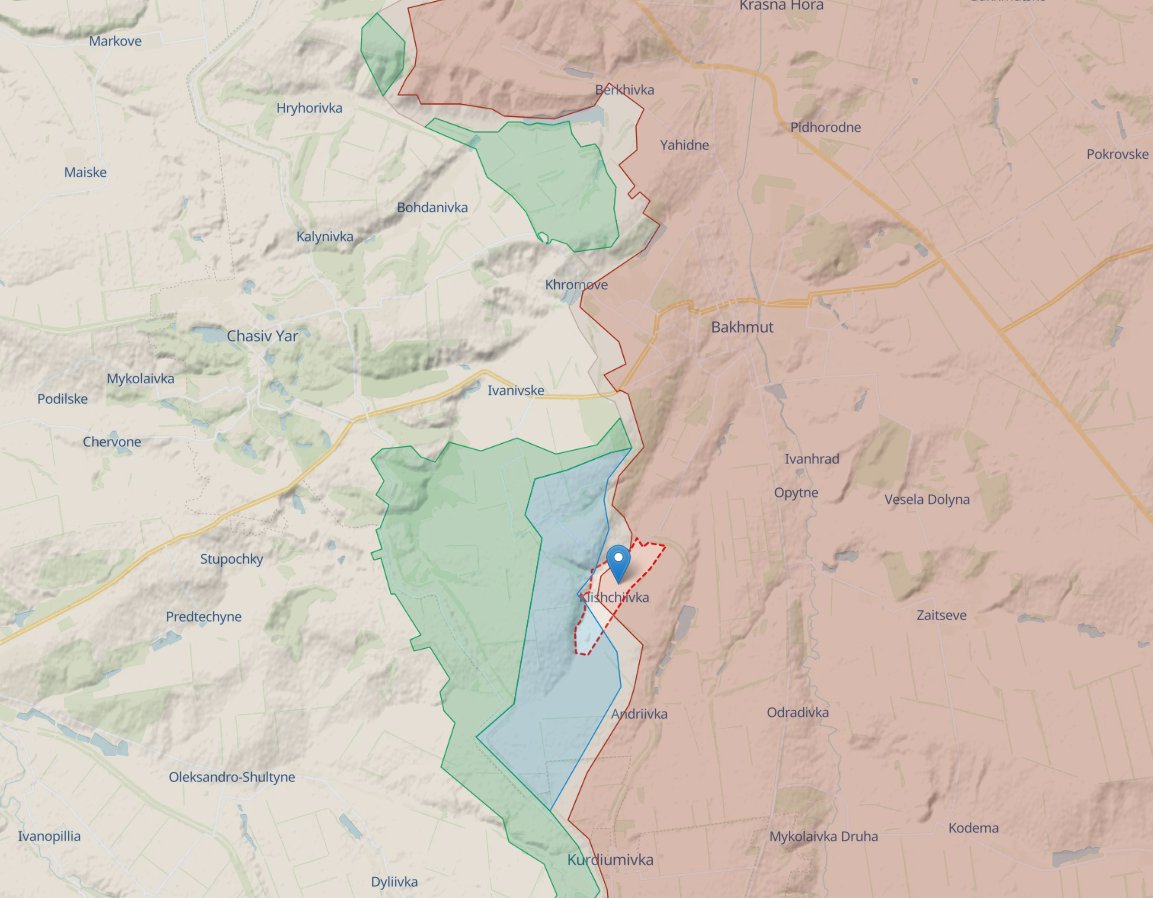 South of Klishliivka, the Ukrainians have eliminated another Russian salient in the line and have occupied Andriivka.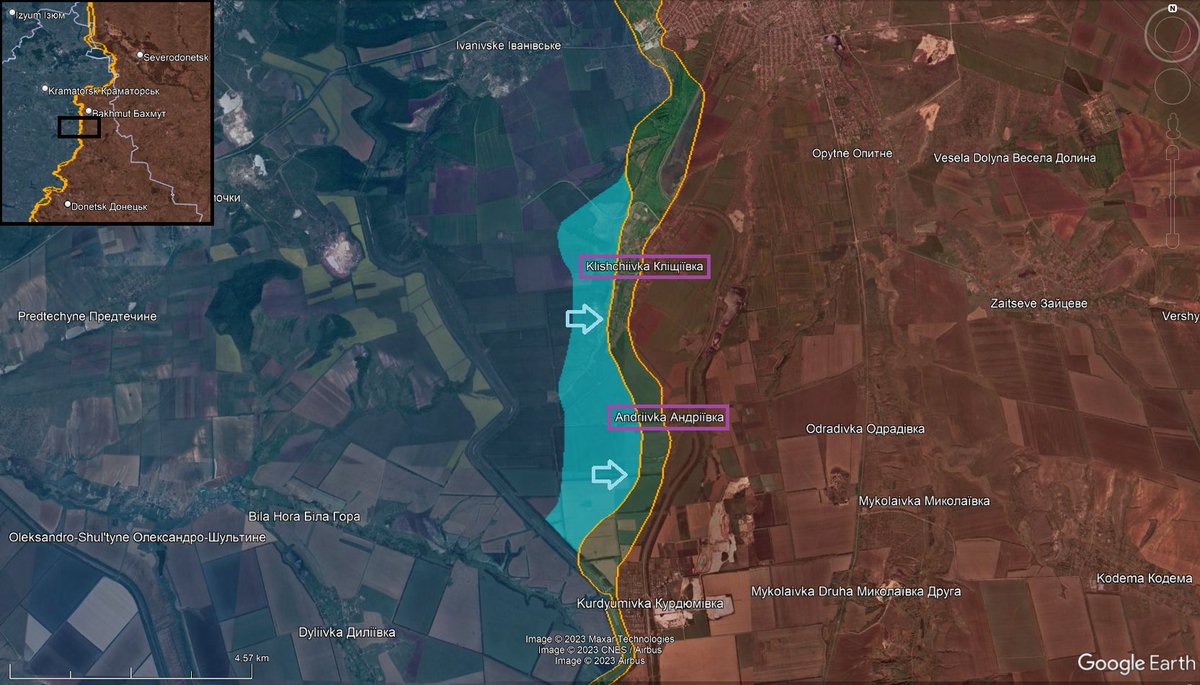 I don't look for any major progress here unless the Russians have, as my friend Mike Ford calls it, a "1917 moment."
Southern Front
Zaporizhzhia
This is where the news is today. The Ukrainians have been pushing against Robotyne, at the bottom of the circle drawn on the map, for about a month. They made good progress initially, but when they hit the first Russian defensive belt, things slowed down due to fortifications and intense minefields. In the past few days, the Ukrainians have outflanked the Robotyne strongpoint to the east and breached the obstacle belt. They are also making progress farther east in the direction of Verbove (at the four o'clock position from the circle on the map) and have reached the first obstacle line there.
As an added attraction to frazzled Russian staff officers, the Ukrainians are also making steady progress to the west, where they recaptured the village of Pyatykhatky last week.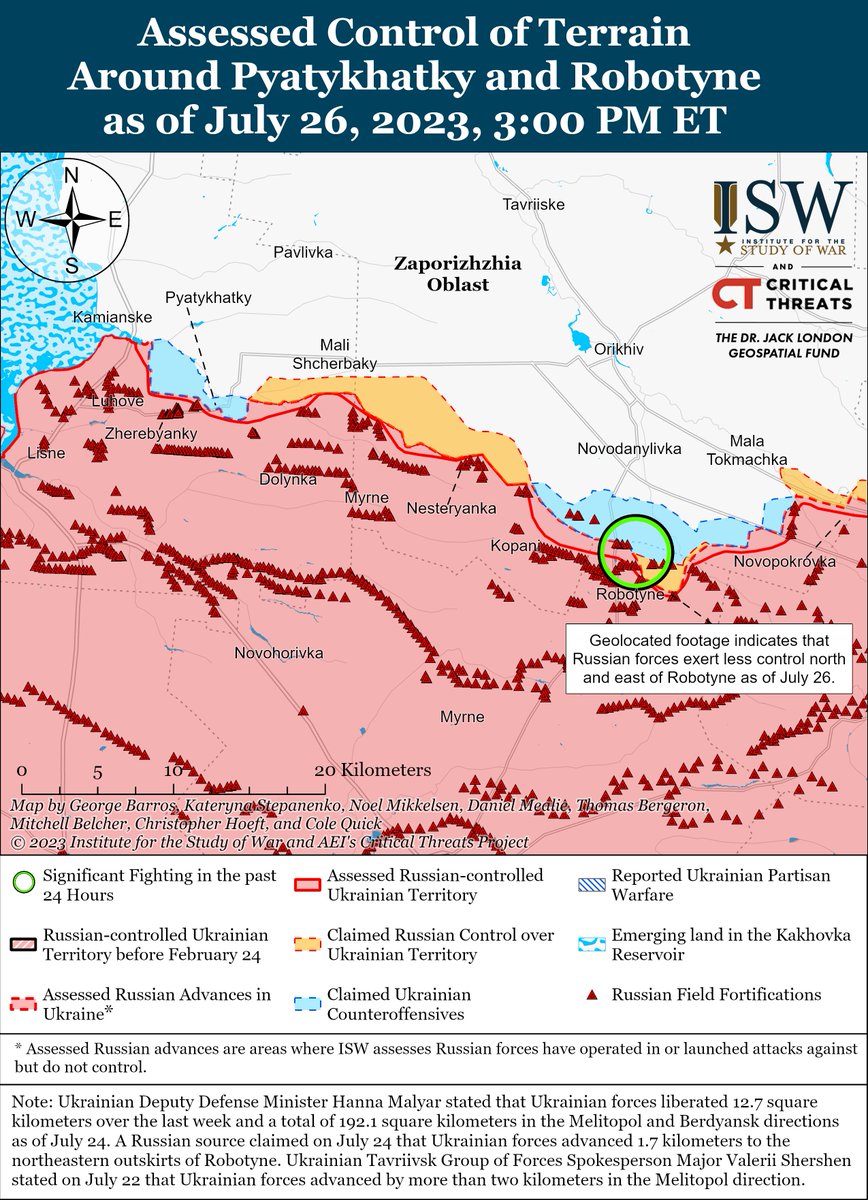 As I was writing this, Russian Telegram channels announced that the town of Staromaiorske had fallen to the Ukrainian Army.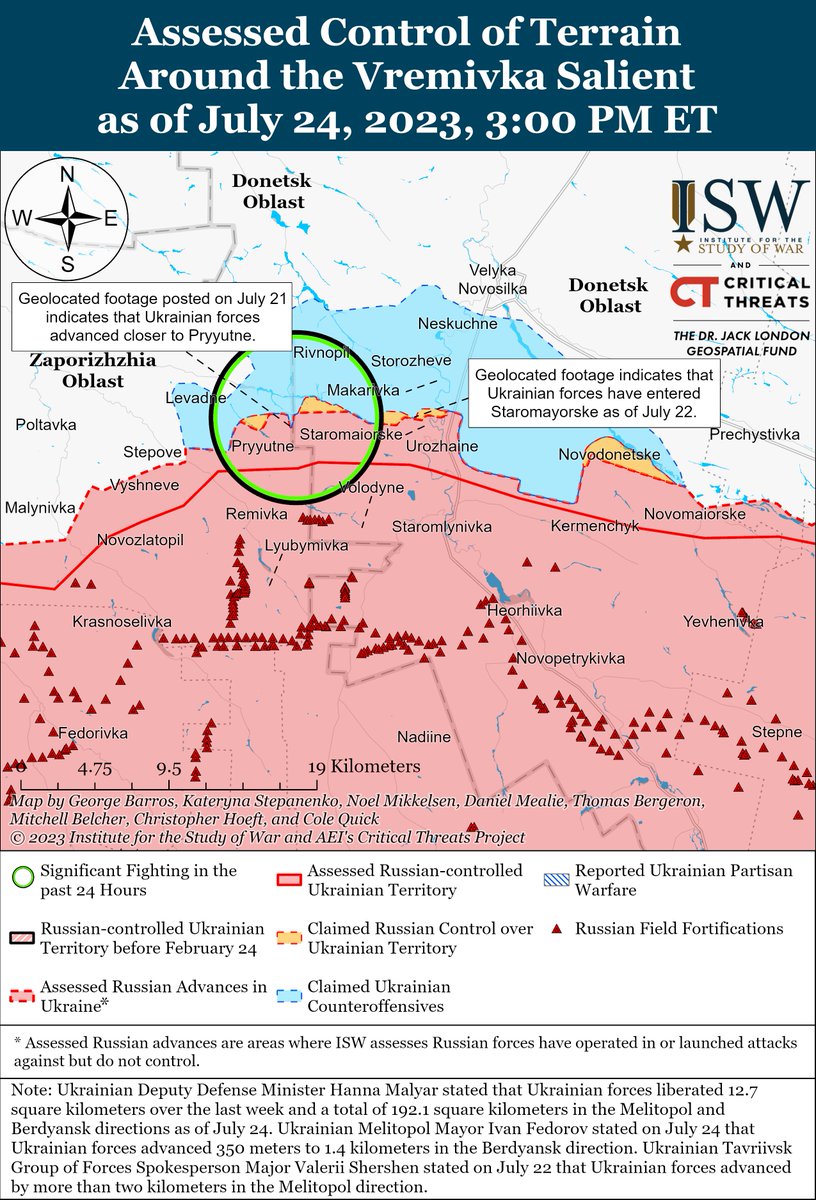 Kherson
The Ukrainians continue to occupy some territory around the Antonovsky Bridge on the left bank of the Dnieper River. The Russians have yet to mount a ground assault against the bridgehead, and the Ukrainians don't seem to be making any attempt to expand it.
Rear Areas
Crimea
Storm Shadow
Russian Mil-Analyst/Propagandist Rybar reported that the strike today on the Russian ammunition dump at the Oktyabr'skoye airfield in Crimea was the first recorded use of Storm Shadow "long range" cruise missiles hitting occupied Crimea.

Note: The ammo depot is about 120-miles… pic.twitter.com/47JYm7ksbd

— OSINT (Uri) 🇺🇦 (@UKikaski) July 22, 2023
Russian Defense Officials have stated that a Ukrainian "Kamikaze" Drone Attack this morning against the Krasnogvardeysky District of Central Crimea caused Severe Damage to an Arms and Oil Depot used by the Russian Black Sea's Fleet; as a result of the Explosions and subsequent… pic.twitter.com/9fKJNalP4n

— OSINTdefender (@sentdefender) July 22, 2023
Sevastopol
1/ Russian state media and Telegram channels are reporting a night attack on "Sergey Kotov" patrol ship in the Black Sea "with two Ukrainian high-speed sea-going unmanned boats (USVs)," 370 km SW of Sevastopol. The MOD noted that "both remote-controlled boats were destroyed." pic.twitter.com/QoJcZSpCiq

— Samuel Bendett (@sambendett) July 25, 2023
Russia
Moscow
Apart from the National Defense Management Center, the buildings complex hit by a Ukrainian drone in Moscow this morning is home to the secret GRU military unit 26165, whose employees were indicted by the U.S. back in 2018 for their cyber activity. https://t.co/zz3yEiw6rH https://t.co/Id5Xmot9A9

— Mark Krutov (@kromark) July 24, 2023
What's Next?
The Ukrainian Army will continue to work the penetration they have made east of Robotyne. The slaughter of Russian artillery that is underway will go a long way toward preventing the Russians from using artillery-delivered mines that have stopped other Ukrainian advances. There is still a Ukrainian strategic reserve that has disappeared from sight. We could see it burst into action here in the next week as the penetration of the Russian fortification belt continues.
When that exploitation happens, assuming it doesn't get jammed up by more mines, the Russians defending the first line of fortifications are left with a couple of bad choices: stay and fight it out as they are enveloped from the rear, or pick up a double time and try to beat the Ukrainians to the next fortification belt.
Expect more pushing around Bakhmut, which could fall very rapidly. I don't think the Ukrainians can not try to regain that city because of its propaganda value, and I think they know the more of Donbas they grab, the more Putin is stuck fighting a war that I don't think he can win.