The opinions expressed by contributors are their own and do not necessarily represent the views of RedState.com.
David French may think drag queen story hours are a "blessing of liberty," but the Orlando Philharmonic Plaza Foundation has found out that they might not be the best business model.
For reasons best known to themselves, the Orlando Philharmonic Plaza Foundation, which operates the Plaza Live entertainment venue in Orlando, decided to celebrate the Birth of the Prince of Peace and the Incarnation of the Word by hosting an event called "A Drag Queen Christmas." The show was billed as "kid friendly," but unless you're a sexual deviant, that definition was misleading. The show contained all sorts of "kid friendly" entertainment, like bawdy/obscene arrangements of traditional Christmas songs and simulated sex acts.
It is difficult to take this show touring at Christmas as anything but deliberate trolling of Christians and Christianity. In the US, at this time, that is hardly surprising. Hell, Taylor f***ing Swift has announced that Christianity supports abortion (Taylor Swift's Bizarre Take on Abortion Is Yet Another Reason I Can't Stand Her). But if this kind of no-forehead "entertainment" is what you crave, or you feel obliged to show those dumb rednecks, the ones you also think are emotionally unbalanced and heavily armed, how silly you think their religion is, by all means, go for it. What you can't do is expect a governor who is opposed to this sort of dumb****ery to go along with it.
The Drag Queen Christmas appeared in four locations in Florida: the Broward Center in Fort Lauderdale, the Knight Center in Miami, Ruth Eckerd Hall in Clearwater, and the Plaza Live in Orlando. What made the Plaza Live special was that it held a liquor license. Under Florida law, performances like Drag Queen Christmas are not legal with kids in attendance. As a result, the Florida Department of Business and Professional Regulation sent a warning letter to the Orlando Philharmonic Plaza Foundation, warning them that if they proceeded with the show and allowed children to attend, they were putting their liquor license in jeopardy.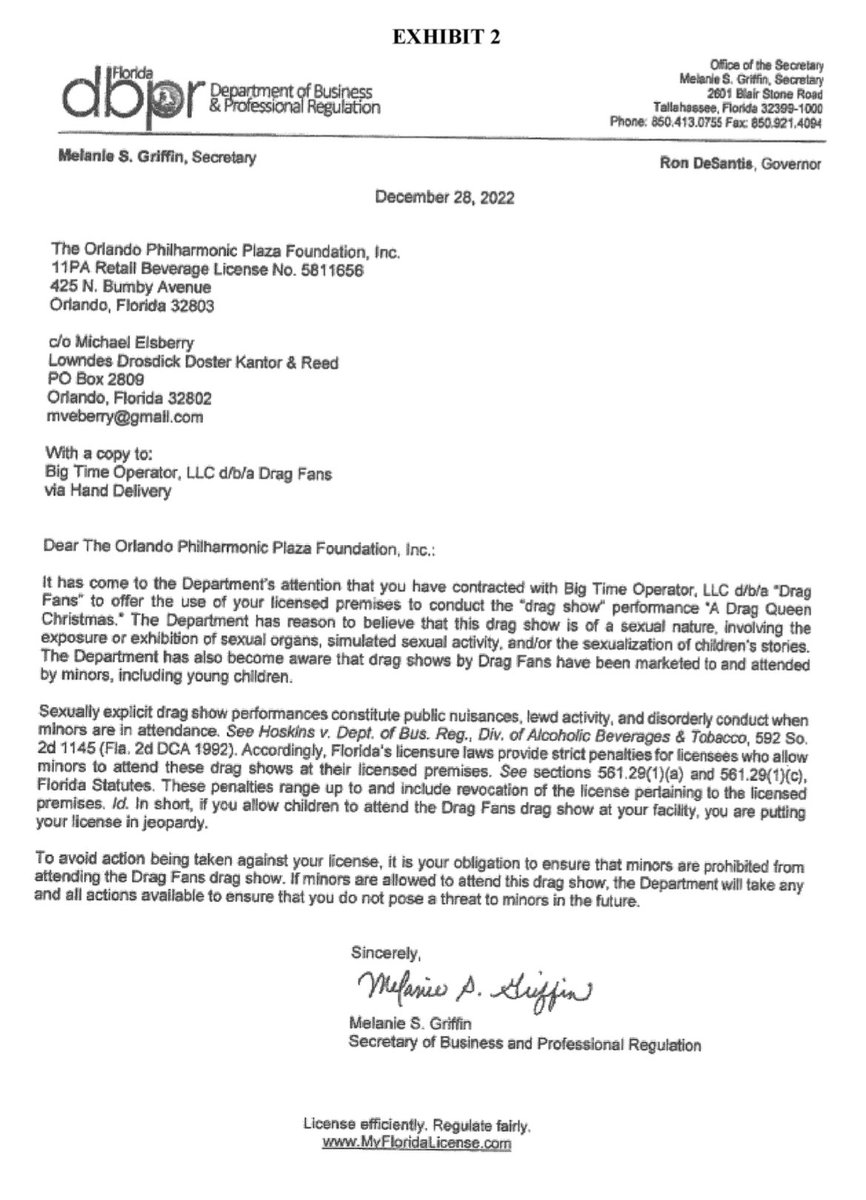 The promoters had two choices; they could a) cancel the performance or b) they could keep kids from attending. Either of those options would mean surrendering to Ron DeSantis, who is Satan himself. So the promoters chose option c) to tell Governor DeSantis to FOAD. And the show went on.
Via Florida's Voice:
Gov. Ron DeSantis' office said the Florida Department of Business and Professional Regulation is "revoking" the Orlando Philharmonic Plaza Foundation's liquor license after a "sexual" drag show permitted entry to minors.

The department said the venue exposed and promoted lewd, obscene, and sexual acts to minors.

"Governor DeSantis stands to protect the innocence of children, and the governor always follows through when he says he will do something," Press Secretary Bryan Griffin said in a statement.

The complaint said that during the show, "children appearing to be less than 16 years of age"  were exposed to performers wearing "sexually suggestive clothing and prosthetic female genitalia."
Drag Queen Christmas Complaint Orlando Philharmonic Foundation by streiff on Scribd
A similar warning was issued to the venue in Clearwater. Apparently, that show was announced as being limited to 18 and older, and IDs would be checked. The event at Broward Center is also under investigation. That venue allowed children to attend so long as they were accompanied by "a parent."
We'll see if that excuse passes the smell test.
This is what I admire about DeSantis. He has the ability to pick the right fights (like with Disney—see
Ron DeSantis Beats Woke Disney Like a Rented Mule but Conservative Inc., Thinks He Is a Bad Man and DeSantis and Florida Legislature Clip Disney's Wings, Move to Seize Control of Reedy Creek Improvement District; with the state's attorney who announced he would not enforce abortion restrictions or interfere in the surgical mutilation of minors; and with the College Board—see College Board Concedes, Removes CRT From AP African American Studies Curriculum). He knows how to frame the fights correctly and has the intelligence and persistence to win. He could've gone after all the venues because state law prohibits obscene performances with children in the audience. If he'd used his police power to shut down the shows, he would've seen all kinds of "Grinch that Stole Christmas" memes, his stands on free speech would have been ridiculed, and he would've been forced into extensive litigation. Instead, by going after the venues with liquor licenses, he accentuated the fact that children were present. He framed the issue in a way even the groomers couldn't plausibly defend.
The biggest lesson was that you tell Ron DeSantis to go screw himself at your peril. That's something our enemies need more of in the White House.