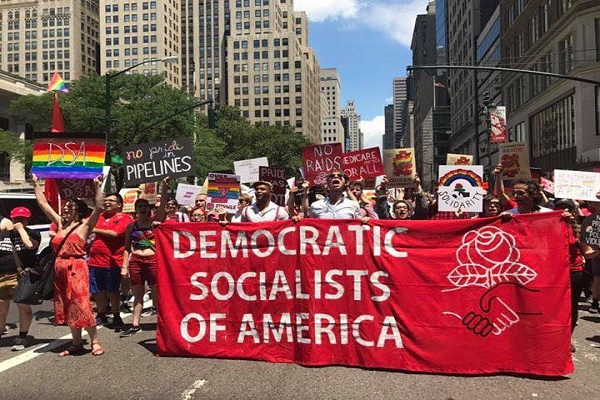 When Sen. Bernie Sanders announced his plan to guarantee every American who "wants or needs one" a lifetime government job paying at least $15/hour plus paid medical, retirement, and vacation benefits, many shrugged it off as the rantings of a socialist loon. However, as a self-proclaimed Democratic Socialist, Bernie truly believes in the Marxist ideals he promoted during his 2016 presidential campaign, as do millions of other Constitutionally ignorant voters.
Lately, Marxist ideas like this one from Sanders have been gaining increasing acceptance by the Democrat party and a handful of 2020 presidential hopefuls within the party. For example, Sen. Cory Booker adopted Bernie's plan, but he would like to test it as a pilot program first in 15 high-unemployment communities across America, which most likely means Democrat-controlled communities.
In what has become a theme this week at the Strident Conservative, Democrats are unabashedly embracing socialist ideology, essentially making it their official party platform, as we witnessed in Tuesday's primaries in Pennsylvania. And since Democrats are winning while using this Marxist platform, Democratic Socialists are bringing us closer to becoming the United Socialist States of America.
Feeling this shift in momentum, the national arm of the Democrat party is now getting into the act. With government-guaranteed jobs established as a part of their agenda, the Democrat National Committee is setting its sights on private-sector jobs as the next capitalist target to take down.
Yesterday, Louis Farrakhan's favorite Democrat and the Deputy Chair of the Democratic National Committee Rep. Keith Ellison, announced in an interview with Bloomberg that he wants the government to regulate the pay structure of private companies, particularly CEO compensation.
"I think it is a very good idea, and I think we should start talking about it. But I want to go further than that; I'd like to see shareholders say, 'Wait a minute, what's going on with my dividend? What kind of risks are you taking on to get these exorbitant amounts of money that could end up imperiling the company?'

"This is a broad conversation that needs to, of course, take in policymakers like me, but shareholders and investors need to be worried about this too because I don't think this leads to the overall health of the company. I think it takes care of a few people at the very tip-top."
This isn't Ellison's first socialist rodeo. When specifically asked back in January about the rise of groups like the Democratic Socialists of America and how it might impact the Democrat Party, Ellison praised them for their work.
"How does it affect the Democratic Party? Well, it enhances us, because it means that more people are engaged, more people are involved. … So, no matter who's organizing who, as long as the folks are organizing for an agenda of a fair economy and an inclusive society, it's going to benefit the Democratic Party. And yes, they're going to impact the Democratic Party."
With socialism growing in acceptance with younger voters, and since Republicans have become enablers of the Democrats, we could be witnessing the last days of our great Republic.
Originally posted on The Strident Conservative.
---
David Leach is the owner of The Strident Conservative. His politically incorrect and always "right" columns are also featured on NOQReport.com and TheResurgent.com.
His daily radio commentary is distributed by the Salem Radio Network and is heard on stations across America.
Follow the Strident Conservative on Twitter and Facebook.
Subscribe to receive podcasts of radio commentaries: iTunes | Stitcher | Tune In | RSS