From the diaries.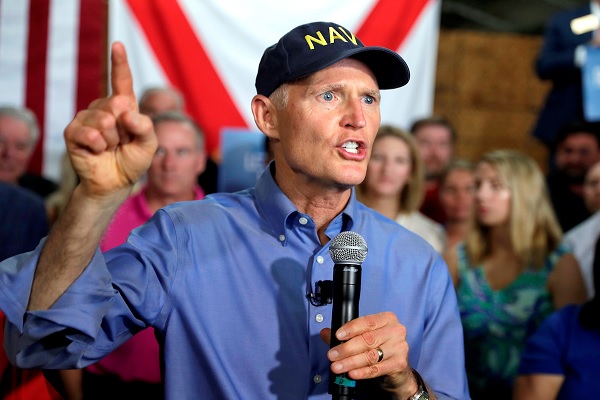 In an announcement nearly as newsworthy as hearing that the sun rose in the east this morning, Florida Republican Gov. Rick Scott informed Floridians, as expected, that he is running to replace Democrat Bill Nelson in the US Senate.
Ironically, the career politician wants to go to Washington because "it's full of politicians" who have "broken" the system, and he's just the guy to fix it even though he doesn't "fit in."
"Some say as governor, I have never fit in or played by the political rules in Tallahassee. Well, that's true. And I never planned to fit in.

"I won't fit in in Washington either. It's time to shake that place up. We don't need another politician in Washington. It's full of politicians. And that's why it's broken."
As much as I would like to agree with Mr. Scott, I simply can't for two reasons. First, he's running as an ally of Donald Trump, and as we all know, the GOP has replaced conservatism with Trump's nationalist/populist ideals, transforming the Republican party into the Trumplican party. Second, as a Trumplican, the Florida governor will fit right in with the swamp creatures and career politicians serving within the GOP.
Rick Scott's race proves how the GOP has eliminated conservatives; replacing them with a lineup of Republicrats and Trumplicans offered as the "lesser of two evils" solution to America's problems. And Scott is an unqualified candidate considering his recent politically motivated, anti-Second Amendment policies.
In the aftermath of the shooting at a Parkland, Florida high school, Scott helped push a liberal bucket list of anti-gun measures through the state legislature, including a complete ban on gun sales for 18-21-year-old adults.
While there are those who will claim that anti-gun laws like the ones promoted by Scott will never pass in Washington, we need look no further than the anti-Second Amendment provisions included in the recent Omnibus spending deal. Let's also not forget the efforts by Sens. Lindsey Graham (R) and Richard Blumenthal (D) to federalize extreme-risk protection orders (ERPO) with the Federal Extreme Risk Protection Act (FERPA), a bill that will allow the government to confiscate guns without due process.
With Trump's record low approval numbers, it's a risky move on Scott's part to take the Trump train to Washington, but even if that strategy wins the Florida governor a US Senate seat, he will be nothing more than another member of the political duopoly owned and operated by Democrats and Republicans.
Working in tandem with the spineless GOP leadership in Congress and the NY liberal in the White House, Rick Scott will advance the destruction of conservatism and the Constitution in America.
Originally posted on The Strident Conservative.
David Leach is the owner of The Strident Conservative. His politically incorrect and always "right" columns are featured on RedState.com, NOQReport.com, and TheResurgent.com.
His daily radio commentary is nationally syndicated with Salem Radio Network and can be heard on stations across America.
Follow the Strident Conservative on Twitter and Facebook.
Subscribe to receive podcasts of radio commentaries: iTunes | Stitcher | Tune In | RSS