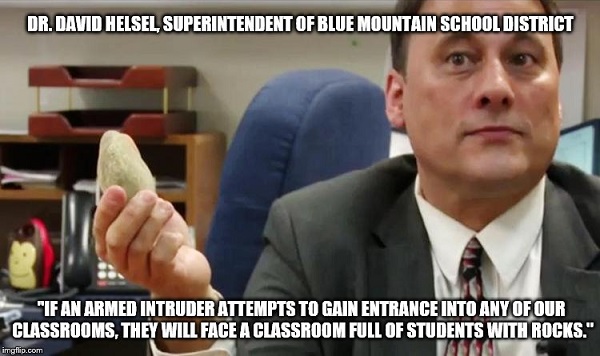 The allegedly high-school-student-inspired March for Our Lives demonstration took place in Washington, DC and other cities across America over the weekend. Not surprisingly, the event was sponsored George Soros, Michael Bloomberg, Planned Parenthood, and supported by a plethora of anti-Second Amendment Democrats.
Sadly, but not surprisingly, the march was applauded by the White House, Marco Rubio, and a host of sympathetic—or should I say simply pathetic?—Republicrats and Trumplicans willing to ignore the Constitution in an election year.
Making schools safer for our kids is a noble pursuit, but using these immature minds as a "for the children" shield to advance the Democratic Socialist ideals of the Chuck Schumers and the Nancy Pelosis of the world is the moral equivalent of Parental Alienation—a syndrome that occurs when one parent brainwashes a child to reject the other parent.
Now that the far-left has successfully forced the GOP into adding anti-Second Amendment language to the Omnibus signed by Donald Trump on Friday, they are implementing "solutions" designed to ensure that children will no longer face the treat of being killed in a mass shooting.
More armed guards on campus? Nah. Arming teachers or other school staff? No way.
In true rainbows and unicorns fashion, the guardians of our children have introduced a "creative" solution guaranteed to "protect our kids first and foremost." And what is this great plan? Dr. David Helsel, Superintendent of Blue Mountain School District in Schuylkill County, PA, explains:
"Every classroom has been equipped with a five-gallon bucket of river stone. If an armed intruder attempts to gain entrance into any of our classrooms, they will face a classroom full of students with rocks."
Yep. In the Blue Mountain School District, the only way to stop a bad guy with a gun is a good kid with a rock. Kinda sounds like a modern-day David and Goliath, but since Bibles are banned in schools, that's probably just coincidence.
The idea of having kids throw something at the guy carrying a semi-automatic weapon isn't new. A few years ago, a middle-school in Alabama "armed" students with canned food as the first line of defense against an armed intruder. Can you imagine the warning sign posted next to the gun-free zone sign?
WARNING! Students and Teachers on this property are armed with peas and parrots! Proceed at your own risk!
As unibrow politicians join hands with Constitutionally ignorant children to destroy our God-given rights, know that the public schools stand ready to protect your kids with a rock, or if necessary, a can of cling peaches in heavy syrup.
Originally posted on The Strident Conservative.
David Leach is the owner of The Strident Conservative. His politically incorrect and always "right" columns are featured on RedState.com, NOQReport.com, and TheResurgent.com.
His daily radio commentary is nationally syndicated with Salem Radio Network and can be heard on stations across America.
Follow the Strident Conservative on Twitter and Facebook.
Subscribe to receive podcasts of radio commentaries: iTunes | Stitcher | Tune In | RSS