At the DNC Telethon on Wednesday night, Democrat VP candidate Kamala Harris gave her acceptance speech in front of a large bank of television monitors on which she could see the faces of 30 "different" enthusiastic Democrat party members, all giddy over the prospect of Kamala Harris being elected to be the 46th President of the United States VP of the United States along with Joe Biden on the ticket as "President" (allegedly).
The faces on the monitors were an edgy technological substitute for a live convention audience, and designed to give Harris that "pep rally" feedback that you used to get in the closing hours of the Jerry Lewis Telethon for Muscular Dystrophy.
But upon closer inspection, something more revealing was discovered.
As noted in the color circles on the image below, the DNC sponsors of the convention and its cutting edge technological wizardry demonstrated how they were able to create the illusion of 30 enthusiastic supporters when only 27 people had signed on to the program to have their images broadcast back to Harris.  Drawing on similar technological breakthroughs developed with respect to Democrat party "Get Out The Vote" efforts, the producers of the DNC Telethon simply used the image of three of the participants in two different boxes, creating the illusion of 30 supporters who would generate 30 votes for Harris, when in fact only 27 live bodies chose to participate in the event.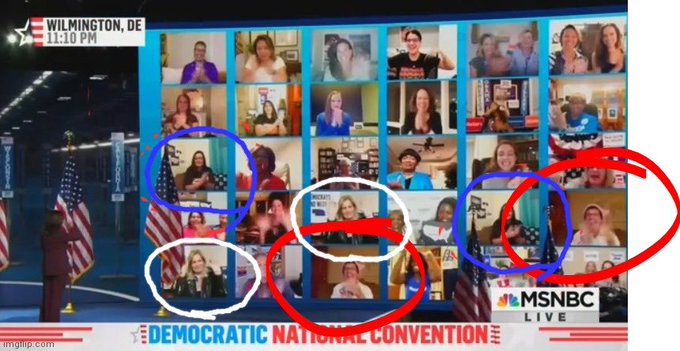 I'm hearing that it's quite possible a similar effort will be made to "broadcast" a 1980 campaign version of Joe Biden in place of the 2020 version of Joe Biden, but there is some disagreement as to whether the overtly racist comments of the 1980 version of Biden would be more or less harmful that the dementia-addled 202o version of Biden.
Focus group testing of 5 people who pretend to offer 3 views each is currently underway.