Tuesday, Maryland held its primary election. My wife and I were in line at 7 a.m. to cast our votes as residents of Maryland's 6th Congressional district. Most of the votes we cast were symbolic. Maryland is not going to elect a Republican senator. The odds of a Republican being elected governor are slim. Some will point to Larry Hogan and say it can be done. For my money, the Maryland GOP would not have been worse off under an openly Democrat governor than a crypto-Democrat like Hogan. For us, the big votes on the ballot were for sheriff and county commissioners.
That said, I think there was a useful takeaway from yesterday's voting. That lesson is the GOP and conservative electorate in Maryland have changed. It is more combative and less interested in the go-along-get-along happy-loser philosophy that has characterized it for the nearly two decades I've lived here.
The headline bout was between Dan Cox (you may have trouble using his name in the comments because Disqus thinks you're trying to spell something else) and Kelly Schulz. Schulz had extensive endorsements from Larry Hogan, the GOP establishment, and a platoon of state legislators. I know some of the folks who endorsed Schulz and a lot more of the people who pimped her as "more electable" and derided Cox as a "Trumpist loon" and understand where they are coming from.
Dan Cox was endorsed by various county sheriffs and Maryland Right-to-Life (full disclosure: I'm a member and protest in front of abortion clinics). He was also endorsed by the shooting range where I'm a member. However, his biggest endorsement was from President Trump.
Working on the theory that Dan Cox was easier to beat than the female version of Larry Hogan, the Democrat Governor's Association ran saturation play of this ad that endorses and attacks Cox.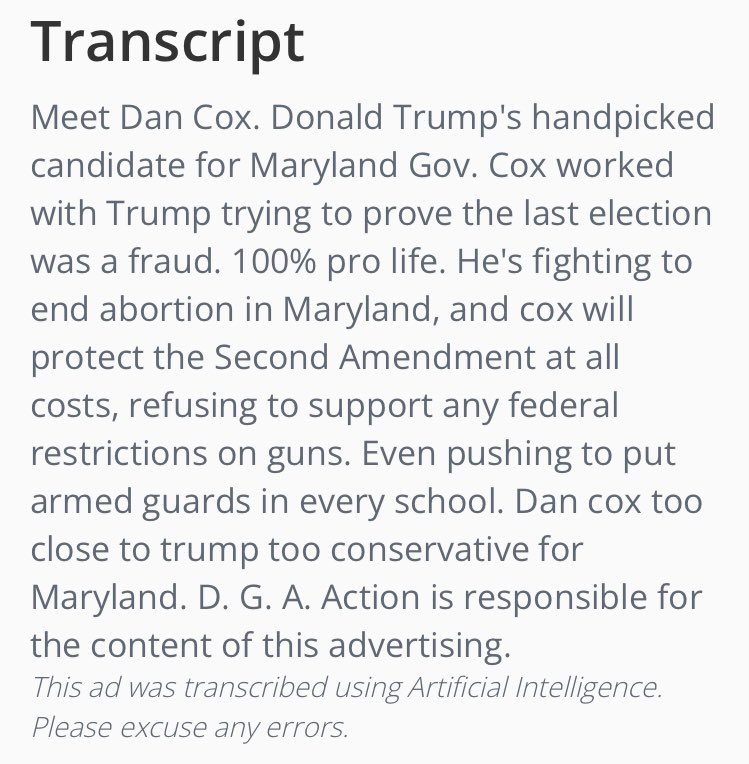 When I first heard the ad, I thought, "What a refreshing change from the Vichy governorship of Larry Hogan." I laughed out loud when it got to the punchline.
In the end, it wasn't close (see Trump-Endorsed Candidate Dan Cox Defeats Hogan Pick in Maryland GOP Gubernatorial Primary).
Image credit: New York Times
While the Governor's race got all the attention, the attorney general's race shows that the Trump endorsement is a red herring.
In that race, former Anne Arundel County councilman Mike Peroutka squared off against Jim Shalleck. Shalleck is a former federal prosecutor who was endorsed by the editorial boards of the Washington Post and Baltimore Sun and had a fundraiser hosted by former Virginia governor Jim Gilmore (why a Virginia governor would be influential in a Maryland attorney general race requires more political kung fu than I possess to figure it out). While Shalleck has all kinds of establishment cred, Peroutka used to be a member of the Constitution Party before changing his registration to Republican, and he has zero f***s left to give. Read this profile from the ultra-liberal Vice.com headlined GOP May Nominate a Pro-Secession Christian Nationalist for Maryland Attorney General.
Image credit: New York Times
Absent any significant endorsements, and despite a lot of libel and slander directed at him, Peroutka routed the establishment favorite by nearly the same margins as Cox ran up in his demolition of the GOPe champion Schulz.
The only other race of significance was that to represent the GOP in MD-06. Maryland's Sixth was a GOP stronghold where Roscoe Bartlett held sway for nearly 20 years until the 2010 redistricting. The Democrats gerrymandered a safe Republican seat into a D+16 monstrosity by bringing in a chunk of Montgomery County. A challenge to this map made its way to the Supreme Court in 2019, with the Court ruling that political gerrymanders are not a matter for the federal courts to decide. This time around, a successful challenge to the gerrymander was filed under state law, and a new map was created that resulted in MD-06 becoming R+1.
The field had six candidates on the ballot. The front-runner was long-time state delegate Neil Parrott  (full disclosure, I know Neil, I was a soccer coach for his daughters some years ago, and I voted for him), who lost the race to the incumbent Democrat, liquor store magnate and absentee Congressman David Trone, in 2018. Neil is well-known and highly regarded in the district, as well as conservative and pro-life. The leading challenger was former Washington Free Beacon reporter Matthew Foldi.
Foldi ran as a "conservative outsider" and racked up "outsider" endorsements from Donald Trump, Jr., Larry Hogan, and Kevin McCarthy (Dems Desperate Over Endangered Seat in Maryland—With Young Republican Giving Them Fits) but never created any interest in the district. I was on board with Frederick County Sheriff Chuck Jenkins when he said, "He does not impress me one bit. He comes across to me as a wealthy elitist."
In a six-candidate field, Parrott racked up 64 percent. Foldi was second with 15 percent; see Neil Parrott Defeats Matthew Foldi in Crowded, Maryland Sixth Cong. District GOP Primary.
I have no idea why Donald Trump, Jr. and Kevin McCarthy chose to make an endorsement in this race or thought that endorsing Foldi would result in anything but a self-beclowning. I don't think this race falls into the same category as Cox and Peroutka, but I wanted to address it because of the establishment endorsements Foldi received.
The lesson to be drawn from yesterday's primary was that rank-and-file GOP voters in Maryland are tired of electability. Arguably, Schulz and Shalleck are much more electable candidates than the winners if they could convince anyone to vote for them. The cost of winning Maryland by running Larry Hogan, New Jersey with Chris Christie, or Massachusetts with Mitt Romney is too high. We need candidates who stand for something. We need candidates who are more concerned about America than they are about wooing moderates or sucking up to Democrats.