Monday, Joe Biden announced his executive order to "protect access to abortion." My colleague Nick Arama has the overview at Biden Signs Executive Order on Abortion Rights.
As always, Biden lies and lies and lies. The way he operates is like the old political joke of "George Washington couldn't tell a lie. Richard Nixon couldn't tell the truth (though he's probably been superseded by both Bill Clinton and Barack Obama for that honor). Joe Biden couldn't tell the difference."
If time permits, I'll hit some of the egregious whoppers he told later, but I want to cover one story that I believe to be a whopper, but Joe Biden is not responsible for it.
Just last week it was reported that a ten-year-old girl was a rape victim, ten years old, and she was force to have to travel out of the state to Indiana to seek to terminate the pregnancy and maybe save her life. That last part is my judgment. Ten years old. Ten years old. Raped. Six weeks pregnant. Already traumatized. Was forced to travel to another state. Imagine being that little girl. I'm serious. Just imagine being that little girl. Ten years old. Does anyone believe it is Ohio's majority view that that should not be able to be dealt with? Or in any other state in the nation? A ten-year-old girl should be forced to give birth to a rapist's child? I can tell you what, I don't. I can't think of anything that's much more extreme.
This story first appeared in The Indianapolis Star in a story headlined As Ohio restricts abortions, 10-year-old girl travels to Indiana for procedure with a byline by Shari Rudavsky and Rachel Fradette (the Indy Star and Columbus Dispatch are both Gannett papers, the Dispatch version is at the link).
On Monday three days after the Supreme Court issued its groundbreaking decision to overturn Roe v. Wade, Dr. Caitlin Bernard, an Indianapolis obstetrician-gynecologist, took a call from a colleague, a child abuse doctor in Ohio.

Hours after the Supreme Court action, the Buckeye state had outlawed any abortion after six weeks. Now this doctor had a 10-year-old patient in the office who was six weeks and three days pregnant.

Could Bernard help?

Indiana lawmakers are poised to further restrict or ban abortion in mere weeks. The Indiana General Assembly will convene in a special session July 25 when it will discuss restrictions to abortion policy along with inflation relief.

But for now, the procedure still is legal in Indiana. And so the girl soon was on her way to Indiana to Bernard's care.
The story ends there with nothing more mentioned about the girl
FOX6 from Milwaukee collaborated on that story and told it this way.
The young rape victim was six weeks and three days pregnant but was not allowed to have an abortion in Ohio because the state bans the procedure after six weeks when fetal cardiac activity may be detected.

An Ohio child abuse doctor, who determined the term of the girl's pregnancy, referred her to Indianapolis obstetrician-gynecologist Dr. Caitlin Bernard, three days after the Supreme Court ruling, the Indianapolis Star first reported. An abortion ban had not taken effect in Indiana and the girl traveled to Bernard's office to have the procedure.

There were no additional details about the girl's situation or the circumstances of what happened possibly based on her age, according to a Huffington Post story.
The Huffington Post story is nearly a word-for-word lift of the Indianapolis Star story, and its only purpose seems to be to try to give the impression of a helluva lot more reporting than was done.
The girl was referred for an abortion on Monday, three days after the Roe decision, to Indianapolis obstetrician-gynecologist Dr. Caitlin Bernard, she told the Indy Star. Bernard had been contacted by a colleague, a child abuse doctor in Ohio, who had determined that the girl was six weeks and three days pregnant, according to the newspaper.

The girl was soon en route to Bernard's care. There were no other details about her situation.
Since that time, the story has acquired a life of its own. Megan Fox from our sister publication PJ Media asked some still unanswered questions.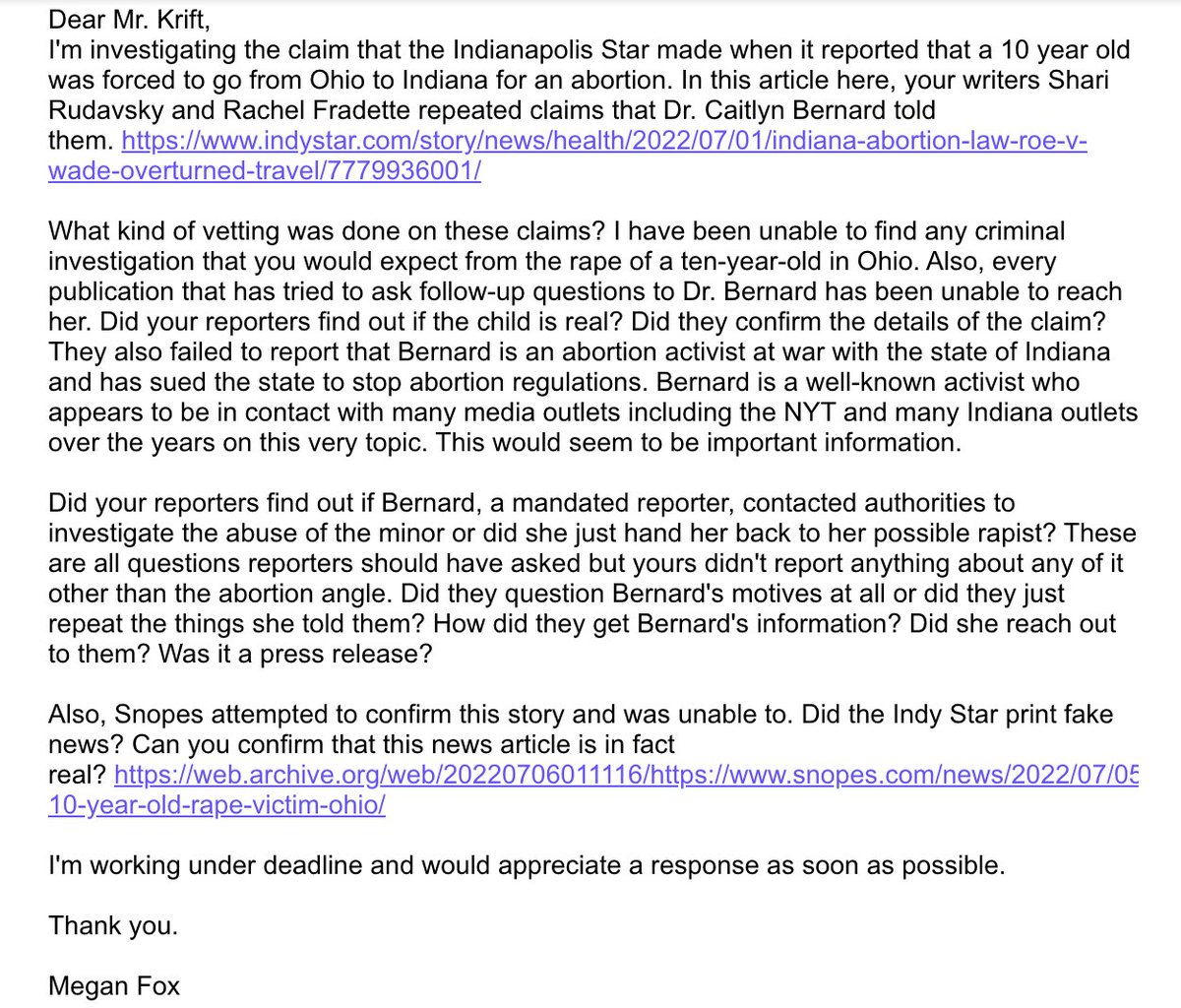 Megan Fox composed a detailed deconstruction of the story and why it raises so many red flags.
The story about a 10 yr old pregnant girl who had to go from Ohio to IN for an abortion gives me serious pause for a number of reasons. There are many red flags.🚩I'm going to detail them here. pic.twitter.com/1PkzmvfzRS

— Megan Fox (@MeganFoxWriter) July 5, 2022
Here are the main points from Megan's epic thread (please give her a follow) so you don't have to wade through a tweet-storm.
#1. A pregnant 10 year old is evidence of a heinous crime against a child but in every article (and there are SO MANY) thre is no mention of criminal investigation, no police involvement, not even a town where this allegedly occurred.

#2 An unnamed alleged "child abuse" doctor called Dr. Caitlyn Bernard (an abortionist in Indiana) to ask for help. But any doctor who knows of abuse would be required to also call law enforcement. There should be a criminal investigation going involving Ohio DFS and police.

#3 which maybe should be #1 The TIMING of this horrific story is too on the nose. Roe v. Wade was just overturned. The media is desperate for stories to push the pro-abortion narrative, stoke fear, anger, and division. They love this.

#4 The article first published in the Indy Star, a local Ohio paper's site but in record time was picked up by huge international press. On the 2nd, The Hill and Newsweek had it and by the 3rd, The Guardian had it, and by the 4th it was on TMZ, reaching all the kids.

#5 It was immediately used as a political weapon against Republican Governor Kristi Noem and will be used against other pro-life politicians to make them answer this possibly hypothetical or made-up scenario to win political hit points.

#6 #DrCaitlynBernard, the only source, is an abortionist and has been in the NYT participating in an anti-Trump hit piece and is clearly an activist. She has a stake in preserving abortion, it literally pays her bills.

#7 There's no way to verify Bernard's claim. She has doctor patient confidentiality. No one can FOIA her. The media won't ask any questions and even if they did she wouldn't answer. There is no proof that this 10-year-old even exists and yet the media ran with it full tilt.

#8 Jennifer Rubin used this to batter conservatives, her former colleagues, in the Washington Post. This further gives me serious doubts about the veracity of the story. Rubin is a notorious tool for the left using this story to harm pro-lifers https:www.archive.ph/4OtgE.

#9 Why don't any of them care about the crime committed against the child? Lawmakers in OH should demand an investigation into who raped this child. They are the only ones who can get information through DFS and help the girl seek justice for the crime, if it happened. Did it?

#10, #DrCaitlynBernard got a call from another doctor asking for help for a horribly abused child and her first instinct was to call the media. That should make you all stop and think for a minute. What's really going on here?
Megan details "Dr." Caitlyn Bernard's history of being a pro-abort activist and her current role in fighting Indiana's attempts to limit abortion.
What makes the story more interesting is the lack of interest by any outlet, including the Indianapolis Star, in doing a follow-up on the girl or the status of the police investigation of her rape. Even Snopes.com, which has never met a leftwing slander of Republicans or conservatives that it will not validate as accurate, admits defeat.
Dozens of Snopes readers searched our site or contacted us wondering whether that had actually happened. To find out, we reached out to Dr. Caitlin Bernard, an obstetrician-gynecologist based in Indianapolis and who spoke to The Columbus Dispatch, about the headline-generating story. As of this writing, Bernard had not returned our request for an interview, and we had not been able to independently corroborate the abortion claim. If we receive additional information, will update this post.
All in all, the story stinks. It fits the journalistic trope of "being too good to check." While it might be true, we have no reason to believe that is the case. What we have every reason to believe is that the story is a fabrication spun by an energetic pro-abort activist to influence a political battle. The "six weeks and three days" fetal gestation seems tailor-made to challenge Ohio's "heartbeat" law and influence the Indiana attorney general's fight to lift pre-Dobbs injunctions against Indiana laws limiting abortion. Abortion is now illegal in Indiana beyond the first trimester, and a requirement for parental permission seems next…and that is probably the target of this fanciful tale.
Should a police report alleging the rape of a ten-year-old girl on or about May 13 surface in any jurisdiction in Ohio that indicates such a rape resulted in pregnancy, I'll be happy to entertain a request for correction. In the meantime, the press should either run this story to earth or shut up about it.