A second night of rioting and looting took place in Brooklyn Center, Minnesota on Monday night, a suburban community approximately 20 miles from the Minneapolis-St.Paul metroplex.
In an effort to get out ahead of the protestors, the Brooklyn Center City Council passed a resolution at an emergency meeting on Monday that prohibited the police from using tear gas or other chemical irritants, as well as non-lethal impact weapons.
Either that message never made it to the police department, or the Brooklyn Center Police Officers simply stood aside and allowed Minnesota State Police officers to have the pleasure of firing both types of devices into the crowd because plenty of both were put to use.
The City also announced a 7:00 pm to 6:00 am curfew — which was widely ignored.
MN State Troopers used crowd control munitions after getting into a scuffle while trying to arrest some rioters. pic.twitter.com/LnhHh4RjNR

— Julio Rosas (@Julio_Rosas11) April 13, 2021
From earlier in the night: Police in Brooklyn Center, MN using flashbangs and pepper balls to push rioters away from the fence. pic.twitter.com/DLgTBkbLVw

— Julio Rosas (@Julio_Rosas11) April 13, 2021
Police are now teargassing the crowd for being out past curfew at the Brooklyn Center Police station #BrooklynCenter #DuanteWright #BrooklynCenterMN pic.twitter.com/bnKrxpAw7R

— Brendan Gutenschwager (@BGOnTheScene) April 13, 2021
Dollar Tree has been looted and set on fire here in Brooklyn Center #BrooklynCenter #BrooklynCenterMN #Minnesota pic.twitter.com/Oo9G32lZUn

— Brendan Gutenschwager (@BGOnTheScene) April 13, 2021
With police occupied dealing with protesters and looters, residents took protecting their businesses into their own hands.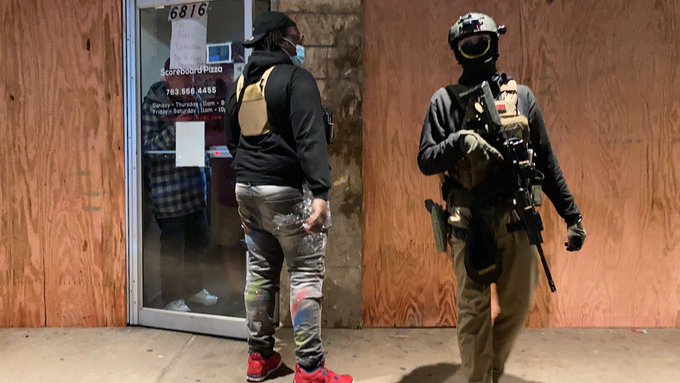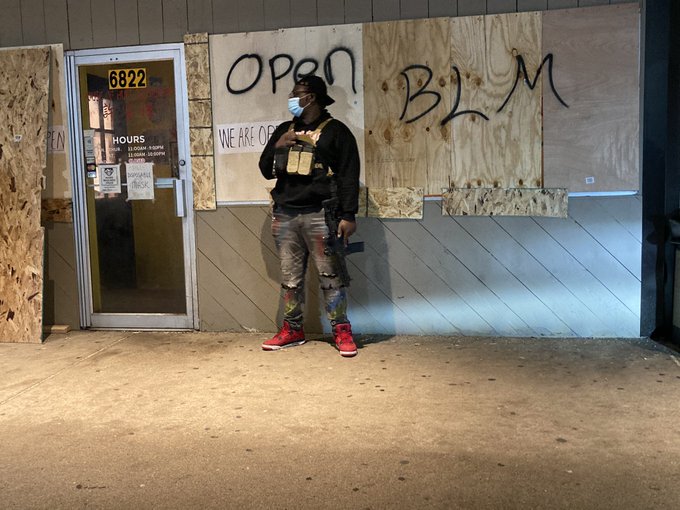 Meanwhile, in Minneapolis, there were incidents of violence and looting but no signs of widespread protest activity or rioting.
Police are now outside the Target in Minneapolis that was looted earlierpic.twitter.com/q1AvHkGuHp

— 🐺BOYCOTT MLB🐺 (@fvckcommies) April 13, 2021
MINNEAPOLIS: Looting continues throughout the city, apparently national guard has been called yet doesn't appear to be doing much

— Drew Hernandez (@DrewHLive) April 13, 2021
Once again, just a few miles away, Derek Chauvin will return to a courtroom in a nearby courthouse and the Judge and prosecutors will continue on with the farcical idea that Chauvin is receiving a fair trial in connection with the death of George Floyd.