On Monday afternoon a Los Angeles Sheriff's Deputy shot and killed a black suspect.
A small crowd has gathered to protest, but matters do not appear to be escalating out of control.
It appears that the officer who fired the fatal shots is a minority as well.  This photo appears to be a Hispanic officer with his gun drawn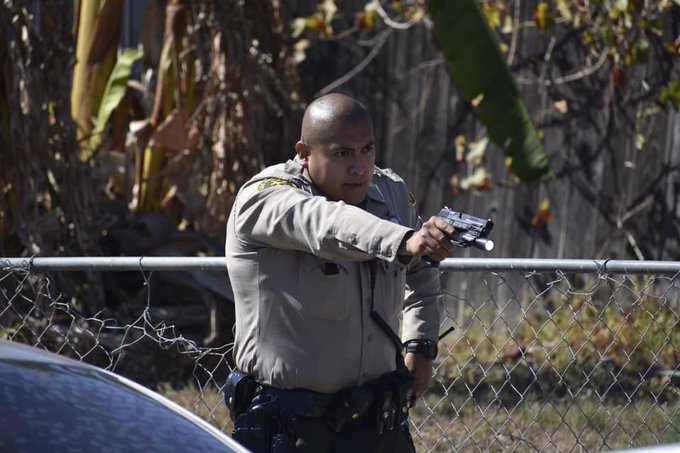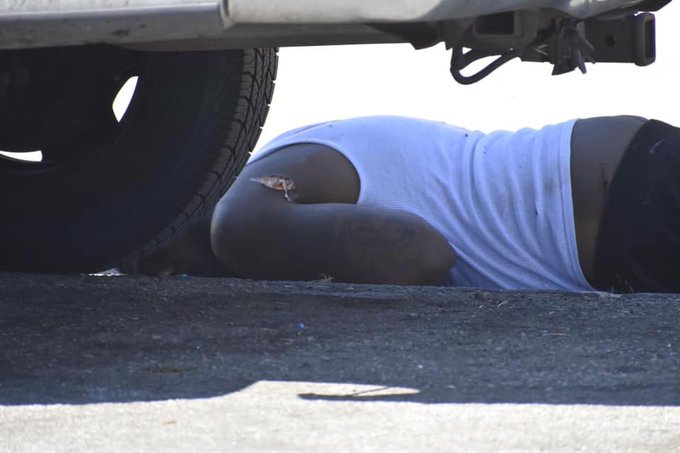 Local news reports are stating that the officers saw the man riding a bicycle in an illegal manner in South Los Angeles and attempted to get him to pull over.  The man got off the bicycle, punched one officer in the face, and began to run carrying a bundle of clothing.  When he dropped the clothing a semi-automatic handgun fell out.  It was at that point that the shooting took place.  The handgun is reported to have been recovered.  No details are reported about what triggered the shooting after the weapon was observed.
Here is one cell phone video that has been posted.
Shooting by police on 109th/Normandie in South Los Angeles. Killed with 27 shots. They handcuffed him while deceased. LASD said he punched a deputy, his clothes dropped while running away and a handgun fell out of the clothing. #losangeles #Shooting #BLMprotest #LASD pic.twitter.com/OOJvbHcfLW

— OSI News (@osiworldnews) September 1, 2020
A crowd of about 100 persons gathered at the location of the shooting.  Here are some videos from events as they unfolded through the evening.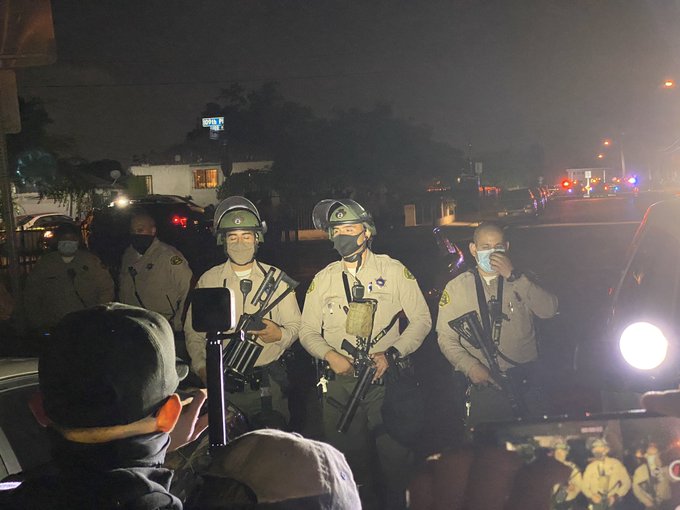 About 75 to 100 demonstrators are gathered near West 109th Place and Budlong Avenue in South L.A. where deputies with the Los Angeles County Sheriff's Department shot and killed a Black man earlier today https://t.co/xCnRQq1v6r pic.twitter.com/XQXpwWpR16

— CBS Los Angeles (@CBSLA) September 1, 2020
The crowd has reformed in front of the South LA Sheriff's station pic.twitter.com/3ybsHKeXRx

— Samuel Braslow (@SamBraslow) September 1, 2020
#LA: Flashing lights to the cops eyes. This is LA currently

— FJ News Reporter (@FJNewsReporter) September 1, 2020
An officer called the group agitators, which members of the crowd overheard. Another officer (unmasked one) stepped up to deescalate. The crowd grew more upset at his lack of mask. Then deputies pushed people in the front into an already dense crowd. pic.twitter.com/ZwQaXyTmAz

— Samuel Braslow (@SamBraslow) September 1, 2020
Happening now: Protesters are now gathering in LA after @BLMLA sent out a call to mobilize tonight

If rioting, looting and arson begins tonight

We know who mobilized it, everyone screenshot their post

— Drew Hernandez (@livesmattershow) September 1, 2020
Looting has started to happen in some locations.
Black Lives Matter folks are looting shoes (again) in Los Angeles after police shot someone. pic.twitter.com/hzoQ70W7X1

— Mark Dice (@MarkDice) September 1, 2020