Recently, I ran this story confirming that approximately 20% of the Minneapolis Police Department had entered the process of seeking medical retirement on the basis of a PTSD diagnosis.  It takes a finding of two separate doctors that an officer is suffering PTSD just to start the process towards retirement, and as of late July, 200 Minneapolis officers had begun that process — up from 150 earlier in the month.
Several weeks ago, it was reported that Atlanta had begun to experience an increased level of retirements or resignations following the indictment of two Atlanta Police Officers — one charged with felony murder — in the clear self-defense shooting death of Rayshard Brooks after he fought with officers in the parking lot of a Wendy's fast-food restaurant in Atlanta.
Today, we have a report from the City by the Bay that the San Francisco Police Department is suffering departures from the ranks of is sworn officers at unprecedented rates — and not for medical or stress reasons like in other cities.
In the first six months of the year, 23 sworn officers resigned, Police Department records show. Of those, 19 took jobs at other law enforcement agencies, both in California and elsewhere.

By comparison, 26 officers resigned in all of 2019. And only 12 officers resigned in 2018.

If the police exits continue at the current pace, the SFPD is on track to lose nearly twice as many cops this year as it did last year and close to four times as many as in 2018.

"This is just the beginning. Dozens are actively in the hiring process with other agencies," said Tony Montoya, president of the Police Officers Association.

"The members are upset that the social experiment being conducted in San Francisco is failing, and they would rather work someplace that values them," said Montoya, a constant critic of City Hall's calls for police reform, which after the killing of George Floyd by police in Minneapolis has taken the form of shifting money from the police budget to social causes.

"Members have gone to places like the Sonoma County Sheriff's Office, Pleasant Hill, Beverly Hills, Petaluma, Palm Springs, Placerville, Long Beach, Idaho, Texas, Arizona," Montoya said.
Let me break open my brain to that buried math processor there inside and cogitate over the year-after-year doubling of losses on an exponential basis.
According to its website, SFPD currently has 2100 officers.  If their losses double each year, losing 26 last year and 52 this year, with an expectation of losing 100+ next year ……  by my calculations they will run out of officers to lose soon.  I think that is accurate.
So, what then?
The pathetic reality is that San Franciso, with its tax base, should be one of the most successful and safest cities in the world, and a dream location to want to be a police officer.
But San Francisco is a sh!thole of a city.  Two decades ago, I had to step over human excrement on the sidewalk while walking a block from the federal courthouse.  Entire blocks of downtown, with gleaming high-rise office towers on nearly every street corner, reeked of urine and vomit.
This is common knowledge to people who know the City well, but enterprising entrepreneurs have created interactive "crapmaps" for San Franciso, showing pinpoint locations of human feces on the streets and sidewalks of the city.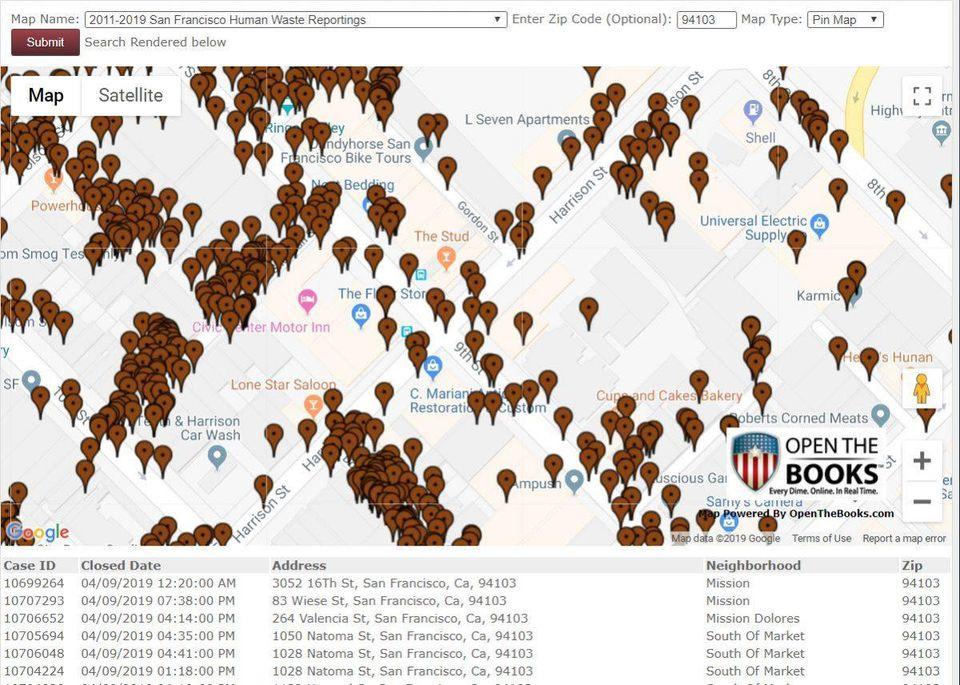 The demand for people to do "policing" is one of those necessities of civilized life that is never going to go away.  But police officers get a vote when it comes to where they want to live and work.  It is becoming more and more clear that fewer and fewer of them are willing to remain in the US's biggest cities operated by liberal Democrats who don't value their service.
This is a self-perpetuating cycle.  The problem will grow worse until those political leaders decide changes are needed.  If not, those cities will eventually descend into chaos.