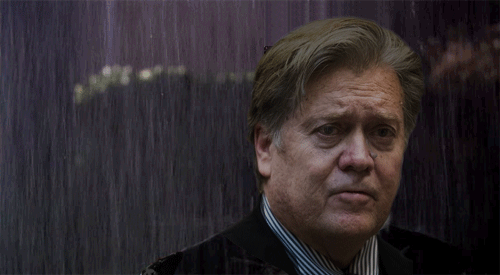 The Schadenfreudelicious war between President Donald Trump and his former adviser Steve Bannon continues to rage on, with the flames fanned — of course — by yet another late night presidential Tweet.
Last night's nocturnal tweet had Trump ridiculing Bannon as "Sloppy Steve," bestowing upon the multi-shirted Breitbart head honcho a nickname that has proven to have even more sticking power than the grander one which had irritated the President so.
Clearly still agitated about the new Michael Wolff book — and Bannon's reported role as a major source for it — Trump reaffirmed the "Sloppy Steve" nickname in tonight's tweet, repeating it twice, along with another incendiary claim: that Bannon had "cried when he got fired" and "begged for his job."
Michael Wolff is a total loser who made up stories in order to sell this really boring and untruthful book. He used Sloppy Steve Bannon, who cried when he got fired and begged for his job. Now Sloppy Steve has been dumped like a dog by almost everyone. Too bad! https://t.co/mEeUhk5ZV9

— Donald J. Trump (@realDonaldTrump) January 6, 2018
Trump also slammed Bannon with his unique insult of "dumped like a dog," which, as has happened when he's used it in the past, was mocked on social media for its oddness.
Here are some of the things Trump thinks can be done "like a dog":
– Cheating on Robert Pattinson
– Getting fired
– Getting dropped as a foreign aid recipient
– Getting kicked out of a debate
– Begging someone for money pic.twitter.com/ig6zrtotla

— Daniel Dale (@ddale8) January 6, 2018
https://twitter.com/AlanMCole/status/949505306349981696
Beyond the disturbing philosophical musings about what sort of person might actually want to fire man's best friend, Trump's tweet contradicts his own administration's comments last year.
In August, when Bannon left the White House to once again pick up the reins at Breitbart, both Chief of Staff John Kelly and White House Press Secretary Sarah Huckabee Sanders portrayed the move as a resignation, a "mutually agreed" decision.
"Cried" and "begged" and "dumped like a dog" do not sound like a cordial, mutual parting of the ways.
Bannon was in damage control earlier today, according to a report by Business Insider, which noted how he had attempted to "curry favor" during his Sirius XM radio show.
"The President of the United States is a great man," Bannon said. "You know I support him day in and day out."
Breitbart dutifully carried the story with a headline highlighting that quote. The comments section of the article — read if you dare! — shows that their readers remain, shall we say, less than convinced.
Trump seems to be in agreement with the Breitbart comments section. Another tweet earlier today mocked Bannon's public split with the billionaire Mercer family, a split which some are speculating may ultimately lead to Bannon's ouster from Breitbart altogether.
The Mercer Family recently dumped the leaker known as Sloppy Steve Bannon. Smart!

— Donald J. Trump (@realDonaldTrump) January 5, 2018
Is Trump telling the truth? Did Bannon cry? We cannot know for sure, but this week has certainly given Sloppy Steve little reason to smile.
In honor of Trump's penchant for insulting people by saying they were "fired like a dog," we'll close this post with this adorable fluffy puppy, who most certainly should never be fired.
https://twitter.com/CuteEmergency/status/949358864738156544
Follow Sarah Rumpf on Twitter: @rumpfshaker.