Famine. Nuclear threats. Sexual assault. Genocide. Regional warfare around the globe. A Spice Girls reunion.
These are just a few of the most pressing issues of our time. Our neighbors to the north may not have figured out how to solve any of those problems, but that doesn't mean they're not hard at work in the justice arena.
Sure, people need to eat and not be murdered, but more importantly people need to be free from the oppression of the patriarchal language of the national anthem. To that end, and in keeping with the feminist philosophy of flannel-onesie-come-to-life Prime Minister Justin Trudeau the Canadian senate has voted to make their national anthem more gender neutral.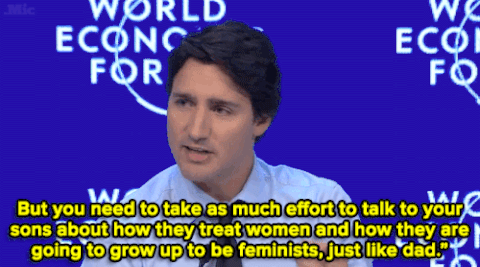 The line "True patriot love, in all thy sons command" has been changed to "in all of us command". 
Canadians took to twitter to voice their opinions. While some applauded the changes, many Canadians said they couldn't have cared less about the words and felt the change was a waste of time.
(LANGUAGE WARNING)
The fact that Canada is literally in the process of changing our national anthem to be "gender neutral" is ridiculous… if you get offended by the word "sons" in O' Canada then that's your fuckin problem

— sarah (@Sarahwebber_) February 1, 2018
Oh thank goodness. I don't think any of us could have managed in the absence of a 'gender neutral' O Canada. As an added bonus, the new lyrics are nonsensical. Well done boys. Sorry! I mean well done folks. #cdnpoli https://t.co/tjORKflPMz

— Quentin Gardiner🇨🇦 (@HGAQuentin) February 1, 2018
O Canada. Today a bill was passed to change our national anthem from "in all thy sons commands" to "in all of us command." What do you think about the "gender neutral" change? @charlesadler is tackling this tonight & wants to hear from you! Leave us your thoughts at 604-331-BUZZ.

— Chantal Coschizza (@ccoschizza) February 1, 2018
The Nat Anthem altering is yet another example of the Liberal Party doing their best to neuter the values and customs of Canada: open borders, non-selective immigration all capped with a healthy dose of arrogance and vote-pandering.

— Reed Larson (@jimmygotyme) February 3, 2018
There are so many things in Canada and the world that need to be fixed, changing the national anthem because it says 'sons' shouldn't be one of them

— Cassandra (@_CASEYJACKSON) February 3, 2018
Clearly (and unsurprisingly) there were some politics involved.
Canada's "independent" Senators shut down debate on the Anthem Bill in defiance of longstanding parliamentary tradition to allow full Senate debate. Our national anthem has just been changed by hijacking parliamentary procedure. A harbinger of things to come. #C-210 #cdnpoli

— Hon. Betty Unger (@BettyUngerAB) January 31, 2018
But not everyone was that concerned either way.
Who cares if they changed the lyrics to O Canada? Everybody knows our true national anthem is Tom Sawyer by RUSH.

— (((Sᴄʀᴜ̈ᴇɢɢS))) (@scrueggs) February 1, 2018
Whelp. That's done. Now Canada can get back to the very important business of being the second best country in North America. It's a moderately taxing job, but somebody has to do it.