Big fat meanie President Donald Trump will give his first State of the Union (SOTU) address on Tuesday evening even though he's a giant doo-doo-head and Hillary is the one who should be giving that address.
IT SHOULD HAVE BEEN HER!!!!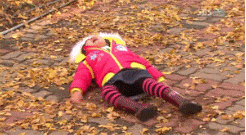 But if you're still smarting over election results from over a year ago, there is no need to worry. Hollywood – a group of extraordinarily wealthy and privileged people who for sure have their fingers on the pulse of average America – are providing you with an alternative.
If you don't care about the state of the union dripping from the mouth of the WHITE SUPREMACIST who brought black unemployment to a record low, actress Alyssa Milano has a solution.
Milano's "State of the Dream" digital initiative is soliciting and will present brief (60 seconds max) videos from Americans describing their dreams for the country. The videos will be posted on Twitter and other social media simultaneously at 6pm PST/9pm EST, just as Trump begins his address.

"#StateOfTheDream will highlight what truly makes America great: that we come from many places, races and creeds, and together work for a more perfect union," Milano writes in an instruction sheet the actress tweeted this morning. "Our digital #StateOfTheDream address will support our dreamers and immigrants, call for a DREAM Act, lean into the Senate, fundraiser for United We Dream, and express our vision for a more inclusive, progressive America."
What is especially amusing is that Milano wants to highlight what "makes America great". It's almost as if she's never sat in on a state of the union address before. That is precisely the point, but Hollywood is nothing if not redundant these days.
But hey, #MAGA! She probably didn't even realize she just embraced Trump's branding.
The very serious alternative address will follow the People's State of the Union on January 29th in NYC, which will include celebrities like Mark Ruffalo, Whoopi Goldberg, John Leguizamo, Andra Day and Common, Michael Moore, Wanda Sykes, Zoe Kravitz, Cynthia Nixon, Kathy Najimy, Fisher Stevens (who once put on "blackface" to unapologetically play an Indian man in the classic film Short Circuit but whatever, he's anti-Trump so we'll pretend it never happened)  and Rosie Perez.
Apparently you can stream all this somewhere, on whatever device. Surely America is waiting on pins and needles. Our last celebrity strokefest was weeks ago now, at the Golden Globes. We need our fix!