David Paul Kuhn at RealClearPolitics wrote that seniors are set to vote at historic levels this election. "And it's bad news for Democrats. They support Republicans more than any other age group," he writes.
Can you blame them? After all, Congressional Democrats cut Medicare by $500 billion to finance their government takeover of health care. Seniors are also seeing the growing debt weigh down on their children's and grandchildren's economic futures.
Voters have had enough, and have the opportunity to break up the Democratic monopoly of power running Washington. Today, I campaigned with another bright Young Gun candidate – David Rivera in Florida's 25th Congressional District.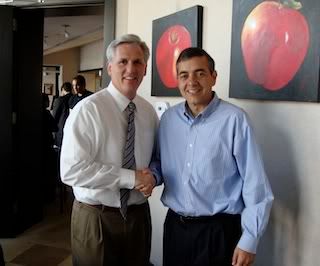 Florida has been hit hard by the sluggish economy, and David is focused on helping to create jobs. He will do that, not by pushing for $800 billion in stimulus bills, but by empowering the private sector.
The growing debt is also causing economic uncertainty, and David wants the government to "stop spending more money." Some of his ideas to do this include canceling unspent stimulus money and ending TARP.
As a state legislator, David worked to balance Florida's state budget eight times. He'll bring that experience of balancing Florida's budget to Washington.
Along with controlling spending, David wants tax cuts for all Americans. Raising taxes in this economy will heighten economic hardship. And Congressional Democrats could have acted, but instead of voting on stopping the tax hikes, they left town and created more economic uncertainty.  In Washington, David will work to get more money in Americans' hands, restore confidence in the economy, and get people working again.
We have seen what Democratic-control of Washington has done to our economy. We could use leaders like David to get our economy moving and get people back to work.
Check out David's website and follow him on Twitter.
Thanks,
Rep. Kevin McCarthy