Yesterday in the House, 39 Democrats joined every Republican to vote against adjourning. We wanted a vote to extend the 2001 and 2003 tax cuts before we left Washington. The Democrats said, "no." If nothing is done, the Democrats will let the largest tax increase in American history take place. Such irresponsible behavior will not get our economy moving.
Ed Morrissey at Hot Air put it well:
Businesses normally have to budget for the next year before the end of the third quarter, and they are unable to do so because no one can project costs in the massively uncertain climate that Democrats have created.
Florida, the Sunshine State, hasn't been very sunny lately. It was hit hard by the collapse of the housing market. Unemployment is at 11.7%. What have President Obama, Nancy Pelosi, and the Democrats done to help? Nothing but wasteful spending and record-deficits.
For real change and real reform to get our economy moving we need leaders like Sandy Adams who is running in Florida's 24th Congressional District.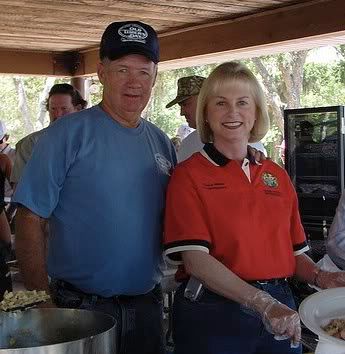 Sandy has a wide range of experience as a deputy sheriff, Air Force veteran, and a single mother. The House of Representatives would be lucky to have her.
I talk again and again about fiscal issues and the economy, but that's because it's on so many American's minds.
On the problem with Washington, Sandy puts it well: It isn't that we're not taxed enough; it's that we are spending too much. Sandy's opponent Rep. Suzanne Kosmas voted with Nancy Pelosi on the failed economic stimulus bill and the government takeover of health care bill. Both add trillions to our debt. We can't afford that, and future generations of Americans don't deserve to have that debt dropped on them.
Instead of continued reckless spending like the Democrats have done, Sandy will push for permanent tax cuts and stop deficit spending. That's the common sense Americans have wanted from their government.
Beyond taxing and spending, Sandy is a strong supporter of 2nd Amendment rights, earning the endorsement of the NRA. She also wants to secure our borders. From her years in law enforcement, Sandy knows more than most of us that we are a nation of laws. People entering our country need to respect them.
Check out Sandy's website and let me know what you think about her race.
Also, this afternoon at 4:30 pm ET, Republican Whip Eric Cantor and I will be holding a strategy call to listen to grassroots activists. I hope you can join us.