One of the biggest news stories of the past week is the discovery of the bodies of three Israeli teens who had been kidnapped back in mid-June. Israel, meanwhile, has begun retaliating. Ted Cruz has been particularly vocal in his support of the teens' mothers and Israel's efforts to find them since the kidnapping happened, even taking to the Senate floor to blast Hamas for their actions (and this was before they were found dead). His response to the discovery of their bodies was similarly strong, saying in a press release:
"The brutal murder Hamas carried out of three innocent Jewish teenagers is a terrorist-led atrocity that demands justice," said Sen. Cruz. "While we lift Gilad Shaer, Naftali Frankel, and Eyal Yifrach and their loving families up in prayer, we must also act. Hamas is, unequivocally, a terrorist organization with blood on its hands that must be condemned on the world stage. There should be no path forward for Hamas to have any role in any future government formed by the Palestinian Authority, and no nation should accommodate, legitimize, or negotiate with this group that engages in the killing of innocent civilians. The Palestinian Authority should immediately renounce Hamas and actively work to expel Hamas from civil society. The United States should stand unequivocally with the Nation of Israel as it responds to this brutal terrorism and acts forcefully to protect its people."
Let's contrast that with President Obama's response (via NBC Nightly News' Twitter account):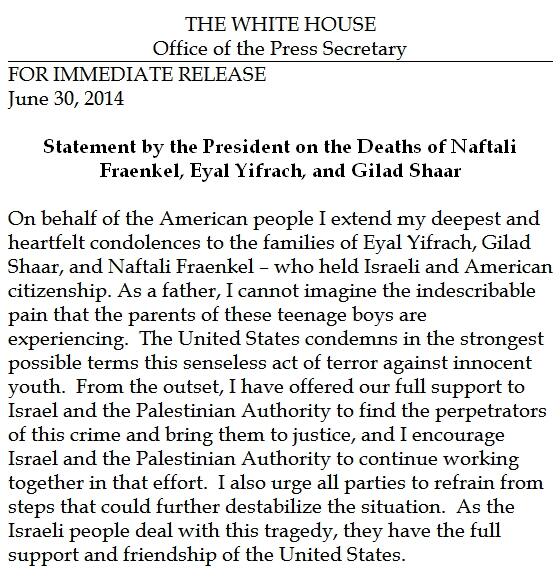 In addition this being a grave offense against Israel, one of the teens, Naftali Fraenkel, was a dual Israeli and American citizen, so this is every bit as much a grave offense to us. Obama, meanwhile, despite offering his "full support" to Israel, requests that they "refrain from steps that could further destabilize the situation," which could essentially be any action Israel might ever take against one of its enemies. Meanwhile, he has done nothing of substance to punish Hamas for killing an American child. The Investor's Business Daily gets it right: whatever support his is purportedly pledging here, his record on Israel and the Middle East has been nothing but one of destabilizing the region. As regards Israel in particular, they note:
 Lessening U.S. support for the Jewish state is the most obvious facet of Obama's Mideast reset.

Take the U.S.-led "peace framework" talks that broke down earlier this year. The apparent idea was to give the Palestinian Authority unprecedented concessions, then dangle releasing convicted Israeli spy Jonathan Pollard before Prime Minister Benjamin Netanyahu in the hope that he would fold.

Long before that was Obama's out-of-the-blue declaration in 2011 that Israel should be shrunk back to its indefensible 1967 borders. That was when Obama warned Israel, "the status quo is unsustainable," declared, "the international community is tired of an endless process that never produces an outcome" and claimed, "the dream of a Jewish and democratic state cannot be fulfilled with permanent occupation."
How can Israel count on our support in this situation when the current President has done nothing to instill confidence in them that the U.S. is still their biggest ally?