This struck close to home – literally
I followed Wednesday's events more closely than most of you. In this map, (1) is the bomber's block, (2) is approximately where his parents lived, and (3) is my block. We were ~100 yds from the edge of the area they evacuated while checking the houses.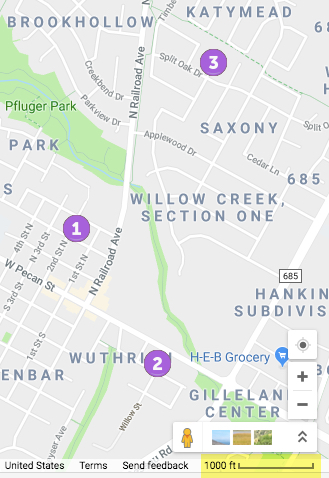 These cops have some freaking cojones
Obviously they preferred to take this nutcase alive if possible. The early part of this presser Wed night got lots of air time, but listen to the last couple of minutes of Q&A that got zero air time outside Austin. If it doesn't make you start clenching certain body parts, you were not listening closely enough.
https://youtu.be/4qyez4sOOKw?t=25m30s
About APD's "Chief" Manley you saw so much of
He is actually Interim Chief Manley. You wouldn't believe this is I didn't have proof, but he has been the Interim Chief for more than 17 months. To say the People's Republic of Austin has a bunch of dipsticks as leaders is an insult to dipsticks. There are now plenty of calls for this ridiculous situation to end.
Another outrage courtesy of the Austin Politburo
The Austin Police Association, Austin's police union, spent ages working on a new city contract. The moronic Austin leadership threw it out just before Christmas. The primary reason was that the whiny liberals in Austin who believe APD does nothing except look for innocent black/Hispanic people to gun down felt it didn't give them enough power to screw cops. Maybe those losers could have done a better job finding the bomber.
I'm not 100% sure of this, but I believe the civil service contract they fell back on screws the cops on overtime vs what they would have gotten under the old or new contracts. If so it's absolutely pathetic, and it makes me loathe Austin snowflakes even more than I already did.
On the bright side, our small town values came through
Pflugerville used to be a little bedroom community sitting more or less between Austin and Round Rock. We moved here 25 years ago when it was just starting to grow. Population growth is insane, just like everything around Austin:
1980: 745
1990: 4,444
2000: 16,335
2010: 46,936
2018: 60,000+
But thankfully we maintained a small-town atmosphere. Here are few examples that warmed my heart.
The tiny lady on the left is our Chief. She's an interesting character who is very visible in the community. Best description I heard of her was a rookie male cop telling another young cop: "Have you ever worked out with her? She's a f-in beast!"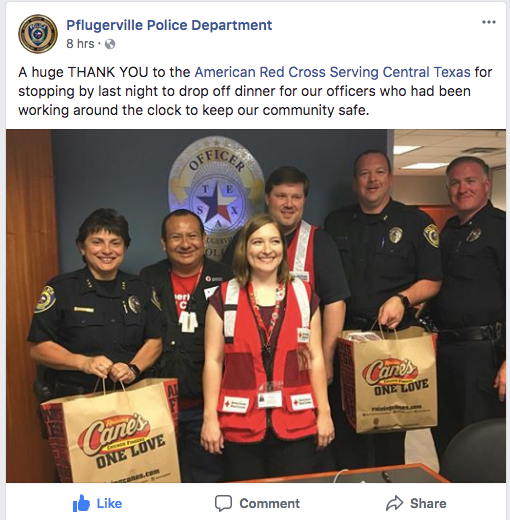 I'm sure other people were doing the same thing all day long, but late in the afternoon I ran over to Aldi and grabbed about $20 worth of snacks to bring over there, figuring most of them were bored out of their minds at that point. Of course as luck would have it, they reopened the street that had been blocked off just before I got there, so things were winding down. Rats! The first LE I came across were a few state troopers, and they acted amazed. I said no biggie – share it with the PPD guys and it'll get around. People are always dropping off goodies at dispatch, but I didn't want to bother them yesterday.
One of the locals who is well-known for his fantastic BBQ (I'd be willing to bet he makes the next Texas Monthly Top 50, which will only be meaningful to Texans) wanted to make sure other local businesses who were shut down got lots of business today.


This great little local baker decided to reward the people who helped out those other businesses.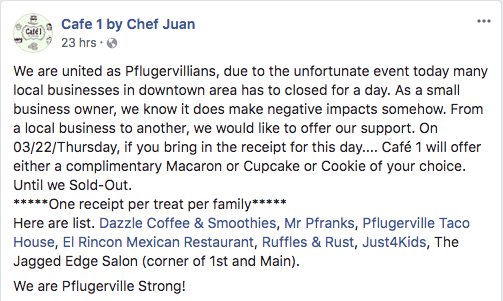 This burger joint down the street from the affected area sent this to the Chief and she replied.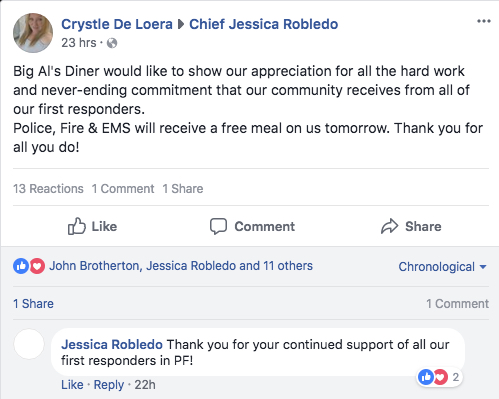 Way to go people of Pflugerville!
Nice timing Fort Hood!
Fort Hood is about an hour north of Austin and maybe 40 minutes from the area where the bomber attained room temperature. They've engaged in various live training exercises over the past six months. Last night was one and as luck would have it, the sound carried particularly well. People across a wide swath included the area where it ended were frantically calling in reports of explosions.
A wounded warrior friend of mine said someone at Fort Hood caught hell for it. I can't find a link about it last night however.
Your turn
This is an open thread – Fire away!