Here we are at week 75 of Putin's War, the ill-thought-out invasion of a nation that was minding its own business. The pace of the Ukrainian offensive has slowed to a grind due to the sheer volume of mines the Russians have scattered in front of their fortifications. I think it is safe to say that the world has never seen mines used in this volume.
Because of the volume of mines, allegedly, the Ukrainians have had to abandon their Western training.
Russia claimed it repelled the Ukrainian attack of marine drones on its ships which were "controlling navigation" 340 km from Crimea

Two Russian patrol ships allegedly destroyed three Ukrainain drones. Ukrainain officials didn't comment on the incident. https://t.co/tzB08LAZng pic.twitter.com/U71oPoYtbF

— Euromaidan Press (@EuromaidanPress) August 1, 2023
There is no sourcing on these stories, so you can't get at the problem, but Western combined arms doctrine is what is needed to cut through the Russian defenses. Either the instruction they received ignored the basics of breaching obstacles, the training was imperfectly received, there are equipment shortages that make using NATO doctrine impossible, or there are cultural problems in the Ukrainian Armed Forces born of their origins in the Red Army. Whatever the case, the doctrine is not the problem. Saying, "We will use attrition instead of maneuver," really isn't an answer for anything.
All of that said, the Russian offensive in the north has stalled; indeed, they have lost some of their gains. Ukraine is making small and steady gains in Bakhmut-Adiivka and Robotyne-Verbove.
The real story on the battlefield is Ukraine's campaign of attrition leading to the near isolation of Crimea. This campaign will later allow a more dynamic series of attacks along the front lines.
Outside of the battlespace, the major story is NATO getting its act together to crank up artillery ammunition production. Right now, Ukrainian artillery ammunition expenditures are just short of those of the US Army in Europe in late 1944-VE Day.
Politico-Strategic Level
Blockade Runners
When Russia withdrew from the Black Sea Grain Initiative (Putin's War, Week 73. Putin Eludes Arrest, Black Sea Grain Initiative Dies, and Ukraine's Offense Continues to Grind Away and Russia Kills the Black Sea Grain Initiative but Can It Make It Stick?), it announced that it would consider all vessels heading to Ukrainian ports to be carrying military cargo and subject to attack.
Putin's hand has been called on this threat, and much like every time he's been called in the last 18 months, he's been found to be bluffing.
Three ships, Israeli , Greek and Turkish/Georgian have defied Russia's naval blockade. Four NATO planes patrolled above them https://t.co/jmaiIlKMCb

— Anne Applebaum (@anneapplebaum) July 31, 2023
Russia said ships could not travel to Ukrainian ports as of midnight on 20 July. On 20 July, the Panamanian flagged 'Balat' crossed the Black Sea openly stating destination to be the port of Reni in Ukraine. It entered the Danube river on 23 July and arrived in Reni on 30 July. pic.twitter.com/HpJeGSoaCp

— Kyle Glen (@KyleJGlen) August 1, 2023
Deportations Continue
Since the war began, I've posted on the ongoing Russian deportation campaign in Occupied Ukraine. Ethnic Ukrainians are swept up and sent to "filtration camps" to evaluate their political reliability. From these camps, they are sent to locations in the Russian Federation. The less reliable you are, the farther you are sent into the Russian Far East. Politically unreliable families also have their children removed for adoption by Russian families. In even the best light, this violates the Geneva Convention's ban on forced deportations. The scale of the deportations have been the subject of debate; now, the Russians have given us their number.
Kremlin-appointed Children's Rights Commissioner Maria Lvova-Belova confirmed on July 31 that Russia has transferred 4.8 million Ukrainians, including over 700,000 children, to the Russian Federation since the beginning of the war.[20] In a report on the activities "authorized by the President of the Russian Federation for children's rights" in 2022, Lvova-Belova claimed that Russia has "received" 4.8 million Ukrainians since February 2022 and noted that the vast majority of the 700,000 children who arrived to Russia did not have parental or guardian supervision.
To quote 'The Big Short'…

"I don't get it, why are they confessing?"

"They're not confessing. They're bragging." https://t.co/XT8dgJ98tA

— Evergreen Intel (@vcdgf555) August 1, 2023
This is the movie reference in the tweet (I highly recommend the movie).
Putin Cucked?
This is one of those stories that is nearly impossible to verify but a) has legs and b) does damage. This is the kind of story that has people whispering and laughing behind your back, and if you've just folded like a cheap suit in the face of a mutiny, that isn't helpful.
Putler's mistress Alina Kabaeva accused of having affair with one of her security guards.

Viagra's not working anymore?https://t.co/45cs745dm1

— Mavka Slavka 🧜‍♀️🌻 (@MavkaSlavka) July 28, 2023
Russia Arms Territorial Defense Forces
Russian dissidents fighting for Ukraine have invaded Russia's Belgorod Oblast several times (see Putin's War, Week 65. G7 Calls for War Crimes Trials and Reparations, F-16 Pilots Start Training, and Russia Is Invaded, Russia Evacuates Nuclear Weapons Stockpile as 'Dissident' Invasion of Russia Continues, and Putin's War, Weeks 66 and 67. The Offensive Starts). In response, Russia formed Territorial Defense Forces to resist the incursions but refused to arm them. Now, Russia is distributing weapons.
Russian local authorities have begun distributing machine guns to civilian forces in the south-west of the country for the first time since the Ukraine war began

I mean, what could possibly go wrong?

with @courtney_ft https://t.co/dhWkvWfWXB

— Anastasia Stognei (@NastyaStognei) August 2, 2023
I think this has to be viewed through the lens of a manpower shortage inside the Russian Armed Forces. Territorial Defense Forces can't be sent outside Russia, but since Russia has annexed four Ukrainian provinces (Putin's Illegal Annexation of Ukrainian Territory Marks the Beginning of a War Without a Perceivable End), they might find themselves on the frontlines inside Ukraine in the very near future.
Needless to say, Russia suddenly arming marginally trained or controlled militias have a certain degree of risk attached.
Belarus Tests the Waters
Last week, I posted about Belarus President Lukashenko's statement that the Wagner Group fighters now warehoused in Belarus wanting to invade Poland. Two days ago, the Belarus armed forces conducted a provocation/reconnaissance into Poland.
🇧🇾🇵🇱Two Belarusian helicopters violated the air borders of Poland, the Charge d'Affaires of Belarus was summoned to the Foreign Ministry.

This is reported by the Polish diplomatic service.

According to Sluzbyi Obywatel analysts, two helicopters – Mi-24 and Mi-8 – flew 3 km deep… pic.twitter.com/IHHN2p5MXF

— DD Geopolitics (@DD_Geopolitics) August 1, 2023
Polish air defense radar did not record the airspace violation because of the flight's low altitude. The incursion resulted in a diplomatic kerfuffle between Poland and Belarus, and the movement of more Polish military assets to the Belarus frontier.
Taking Out the Trash
Last week, I reported on some high-profile arrests by the Zelensky government in the struggle against corruption and Fifth Columnists. These have been going on for a while but at a low level. The visibility of the targets has increased in recent weeks and moved from people who were somewhat sympathetic to Russia to members of Zelensky's party or his government.
Luxury life during the war. The member of the Zelensky's presidential faction in the #Ukraine's Parliament Yuri Aristov ubruptly resigns after journalists of @Slidstvo_info spotted him on the #Maldives on a luxury 5-star resort where one night stay costs from $2,708 to $8,750.… pic.twitter.com/LPR3Z4mDRu

— Viktor Kovalenko (@MrKovalenko) July 26, 2023
Arrest with video:

Another high-ranking military official ARRESTED in Ukraine.

This time it was the Military Commissar of Transcarpathia who used servicemen to build his own house.

Maybe even worse he was caught with precious metals, and money along with St. George ribbons,… pic.twitter.com/mDhubdV6RE

— Sarah Ashton-Cirillo (@SarahAshtonLV) August 2, 2023
Missile Attack on Dnipro
Attacks on Ukrainian population centers continue. This time the target was arguably a military one…the now-vacant office of Ukraine's internal security agency. It is unlikely the Russians are unaware the building is empty, but it does provide some degree of plausible deniability for the strikes on apartment buildings in the area.
🇺🇦 got lucky. Both the local SBU headquarters and the residential block hit by RU missiles were empty. According to Dnipro's mayor this is the third time RU target the SBU building. Filatov said that the residential building was for sale and thus empty.https://t.co/NJzeIkKS4h pic.twitter.com/p1PCRV48Ee

— Mattia Nelles (@mattia_n) July 28, 2023
Mine Clearing Machine Factory
Ukraine has probably surpassed Cambodia as the most heavily mined nation in the world. Several nations are involved in the de-mining effort, and now Ukraine has started production of a civilian de-mining machine.
The first Ukrainian-made demining machine has been certified in Ukraine, according to Ukraine's Ministry of Economic Development

The machine will disarm anti-personnel & anti-tank mines. So far, 2 such machines can be produced per month.
📷UNIAN pic.twitter.com/rCRW9uLkDs

— Euromaidan Press (@EuromaidanPress) August 3, 2023
Operational Level
Operations in the last week were an extension of the operations of the preceding weeks. In general, the Russians tried to continue their offensive action in the Kharkiv region. This week, Ukrainian counterattacks regained most of the territory lost in this effort. I suspect we will see Belgorod's "Territorial Defense Forces" in action here before long. Ukraine continues to press the Russians around Bakhmut and in Zaporizhzhia. The deep battle Ukraine is conducting against Russian supply lines and assembly areas is particularly interesting. What is really interesting is what is happening in Crimea, which I'll cover in more detail below.
Not Exactly Patton
Tales of indiscipline in the Russian Army are so common, I usually don't report on them.
Russian commander records a video, scolding his drunk soldiers.

In the end, he also slaps one of them. pic.twitter.com/vncmQKqhK3

— Visegrád 24 (@visegrad24) July 29, 2023
New Weapons
Say What?
It would be interesting if anyone could chase this story down. North Korean 122mm rockets have shown up in Ukraine, allegedly provided by a "friendly" country. For this to happen, someone had to intercept a North Korean arms shipment, probably to Syria or Yemen, and everyone had to keep quiet about it. Then a policy decision had to be made to ship the confiscated arms to Ukraine. Or, a North Korean arms shipment was seized with the intention of sending the munitions to Ukraine.
The Ukrainian soldiers operating multiple-launch rocket systems said the North Korean rockets had been "seized" from a ship by a "friendly" country before being delivered to Ukraine. They declined to provide further details. By @ChristopherJM. https://t.co/RjeLtCVuxT

— Christiaan Triebert (@trbrtc) July 28, 2023
Drone Factories in Belarus
Iran is negotiating to build drone factories in Belarus to supply the Russian Army. Iran is in the process of building a drone factory in Russia, too.
Iran seeks to build drone factories in Belarus, which would allow Russia to purchase Iranian drones more easily and provide Iran with numerous economic and military benefits, ISW reported.https://t.co/JcEcpa9qTz

— Euromaidan Press (@EuromaidanPress) August 2, 2023
Factories in Belarus would allow many of the sanctions imposed on Russia to be bypassed legally and the rest bypassed by smuggling. The question is how much deeper Belarus warlord Aleksandr Lukashenko wants to get his country into this war.
Turkey Builds Drone Factory in Ukraine
The Bayraktar drone built by the Turkish company Baykar was the hero of the early days of the war. Despite Turkey's noncommittal stance on helping Ukraine, Baykar has continued to export Bayraktar drones to the Ukrainian Armed Forces. Ukraine and Baykar have reached an agreement for a manufacturing and maintenance facility in Ukraine.
DEUS EX MACHINA

⚡️⚡️ The 🇺🇦 Ministry of Defense & the 🇹🇷 company Baykar Makina signed an agreement to build a center, in Ukraine 🇺🇦, to build and maintain drones. pic.twitter.com/u5Bq8BNsC2

— Jason Jay Smart (@officejjsmart) July 31, 2023
Bulgaria  Ramps up Artillery Ammunition Production
The US is assisting Bulgaria to nearly quadruple its 155mm artillery ammunition production.
FT: The 🇺🇸US concluded agreements with 🇧🇬Bulgaria and 🇰🇷South Korea on the supply of 155-mm ammunition to 🇺🇦Ukraine

According to officials cited by the publication, the United States has already concluded agreements with Bulgaria and South Korea on the supply of shells to… pic.twitter.com/SwDjOB9BQm

— 🇺🇦Ukrainian Front (@front_ukrainian) August 1, 2023
This brings the number of nations producing artillery ammunition for Ukraine to 11, not counting the United States (see Putin's War, Week 73. Putin Eludes Arrest, Black Sea Grain Initiative Dies, and Ukraine's Offense Continues to Grind Away) and Ukraine. This is why I think the anxiety over ammunition shortages is overblown. Russia does not have the production capacity to match this and doesn't have the logistical muscle to move that ammunition to firing batteries if it had the ammunition. This increased production will replace NATO war stocks that have been diminished.
Ukraine Increases Ammunition Production
The Ukrainian Defense complex is making a slow but steady comeback. Last week I posted about domestically produced 155mm self-propelled howitzers manufactured in Ukraine entering service. Ukraine is also radically increasing ammunition production.
⚡️Ukraine is rapidly increasing the rate of ammunition production, the Minister of Strategic Industries told La Repubblica.

"From January to July, we produced ten times more than in 2022. We are talking about mortars, cannon shells and ammunition," the Minister said.

— UkraineWorld (@ukraine_world) July 31, 2023
Rheinmetall Buys More Ammunition Capacity
Following on the above post about Bulgaria upping its game in artillery ammunition production, Germany's Rheinmetall has bought Spain's Expal Systems. Expal Systems is a major defense company that fits in well with Rheinmetall's line of business; it also has production facilities for rocket and artillery ammunition that can probably benefit from Rheinmetall's expertise and cash.
Combat Operations
Ka-52 Shootdown
The Russian Ka-52 gunship has become the most potent weapon in that army's arsenal. The Ukrainian Army is adapting to the situation, but the Ka-52, when properly handled, still has the edge.
💥🇷🇺

20230727_18.20 – unknown place, Ukraine – Video shows last moment of the Russian Ka-52 shot down a few days ago pic.twitter.com/R35bpDtqkD

— glosm eusec (@glosmeusec) July 27, 2023
American Killed in Combat
About 20,000 foreign fighters are enrolled in the Ukrainian Army. Well over 100 had been killed in action. About a dozen of those have been American.
A week ago, Nicholas Maimer was KIA. Posting this because he seems to have made a big impact on the men he served with.
Nicholas Maimer, a US citizen and former Green Beret, volunteer of the 135th Battalion of @TDF_UA, was killed in battle near Bakhmut.
Glory to the fallen Hero! pic.twitter.com/bPy1OL5X95

— Defense of Ukraine (@DefenceU) July 27, 2023
Tactics, Techniques, and Procedures (TTP)
Ukrainian Company Mangled During Attack
One of the struggles facing the Ukrainian Army is internalizing the basic principles of combined arms operations. This is video of a Ukrainian company getting mauled as it tries to push through the first Russian obstacle belt southeast of Robotyne. The lack of supporting artillery and blade or mine-roller tanks when trying to penetrate a fortification line speaks to greater problems.
The bad things are obvious—the good things, such as they were, less so. The infantry had dismounted by the time the slaughter of the infantry fighting vehicles started, and, ultimately, the trench line was taken. But this is a very messy way to operate.
Decoy vs. Drone
I've posted on the use of decoys before (Putin's War, Week 54. More NordStream Melodrama, Russia Shows Diplomatic Weakness, and the Bakhmut Flipflop and Putin's War, Week 64. Patriots Score Big and the Scene Is Set for Offensive Action). A skilfully constructed decoy can draw suicide drones away from real targets and create opportunities to shoot down expensive reconnaissance drones. Here is a video released by the Russian Armed Forces on an IRIS-T anti-aircraft missile unit. If you look closely around 0:11, you can see the launch tubes are constructed from wood. The lack of secondary explosions at 0:21 is also a clue.
#Ukraine: The "85th IRIS-T destroyed,,,,"- A Russian Lancet loitering munition successfully targeting a Ukrainian IRIS-T SLM launcher decoy in #Kherson Oblast. pic.twitter.com/KT7aVQPBat

— 🇺🇦 Ukraine Weapons Tracker (@UAWeapons) August 1, 2023
Kadyrov's Tik Tok Commandos in Action
The Chechens sent to the front by Chechnya's Russian-appointed stooge Ramzan Kadyrov have a checkered reputation. Early in the war, they were used as blocking forces to prevent Russian Army units from retreating. They mostly make TikTok videos of combat operations that never happened. When Prigozhin pulled Wagner Group PMC out of the Bakhmut area, Kadyrov's Chechens replaced them, and they are discovering war may not be a lot of fun.
Alleged Cluster Munitions Strike Targets Akhmat Kadyrov's Militant Positions 🎯💣#ClusterMunitions #MilitantPositions #ConflictUpdates #Bakhmut #Frontline #Bakhmut #SouthernFront #Kadyrovites pic.twitter.com/nvdXLJSMFk

— WarFootages🇺🇦🌍 (@WarFootages23) July 28, 2023
This video may be a classic.
Every video with Kadytov's Chechens is one step closer to perfection. This one almost has everything.

The machineguner hip firing only to get hit by the RPG back blast is the cherry on top.

All that is missing is a lamppost. pic.twitter.com/NV5muDmZtc

— Oliver Alexander (@OAlexanderDK) July 27, 2023
Back to School
Everyone has a bad day, but it really isn't clear how a rated helicopter pilot could do this if one removes alcohol and drugs from the explanation.
🧵 Russian military Mi-26 helicopter self-destructed in Yakutsk 🤡
The Mi-26 is the largest mass-produced helicopter in the world capable of transporting 20 tons of cargo or 90 troops. See next post 👇 pic.twitter.com/LpWWbpFs59

— Igor Sushko (@igorsushko) July 28, 2023
Lost and Found
I've posted repeatedly on how the linkage between drone telemetry and artillery has altered warfare. This video shows a Russian anti-aircraft missile system engaging a Ukrainian reconnaissance drone, missing, and paying the consequences. In fairness, a hit would have been a moral victory for the missile crew because, by the time they fired, artillery rounds were already in the air and heading their way.
russian Strela-10 anti-air system misses its target, gets detected and immediately destroyed by Ukrainian artillery 🎯 pic.twitter.com/H1PKLjbTrr

— Walter Report 🇺🇦 (@walter_report) July 29, 2023
Northern Front
Kharkiv
The level of fighting has dropped substantially over the last week, and Russia has given up a lot of its gains. I think this operation is in its final phases.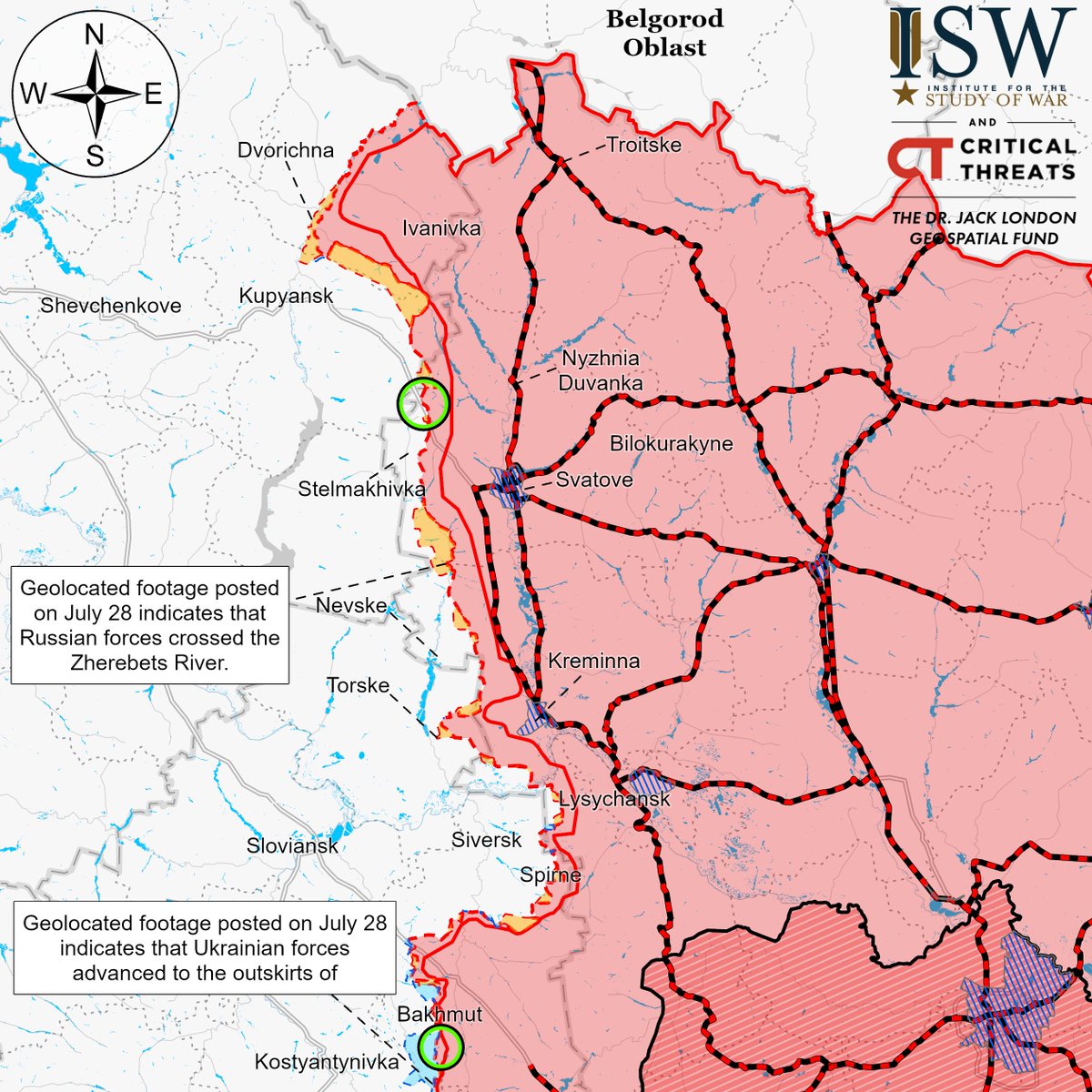 Donbas
Bakhmut Area
The Ukrainian Army continues to make gains north and south of Bakhmut and around Avdiivka and Marinka. Bakhmut is very close to being cut off from resupply as the Ukrainians have seized nearly all of the ridge line to the south of the city.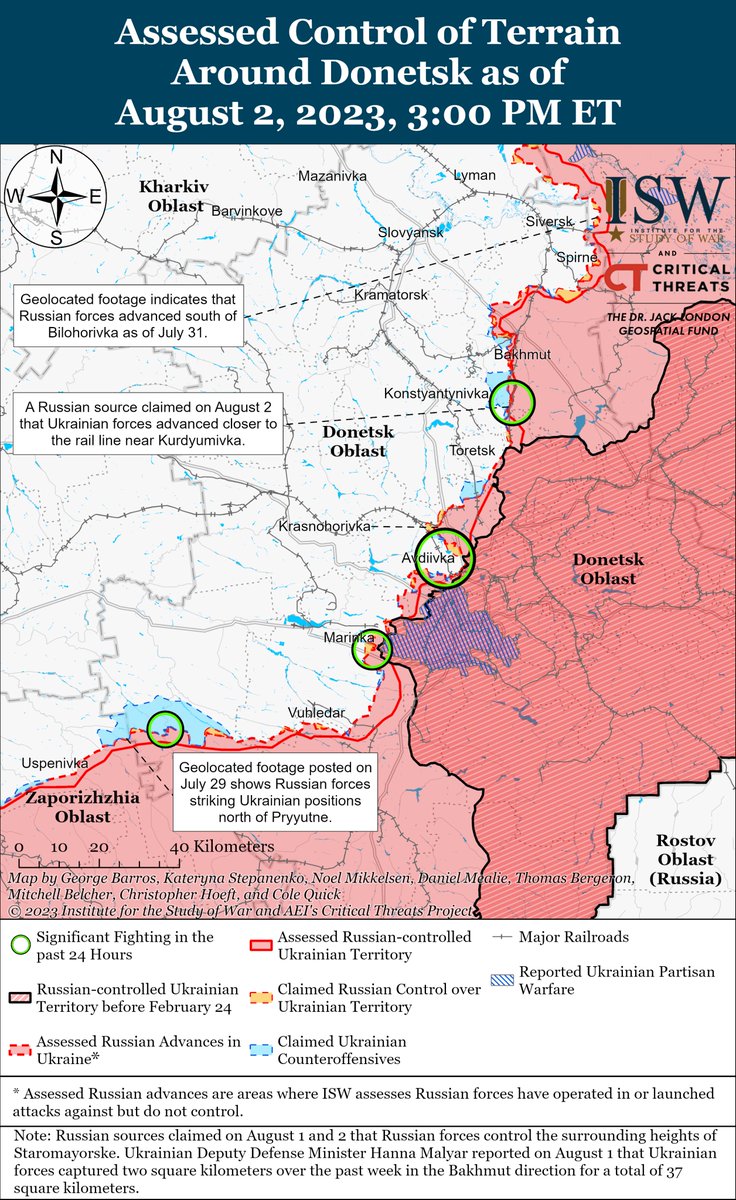 Partisan Activity
The building of the Ministry of Internal Affairs of the so-called DPR in Donetsk came under fire. pic.twitter.com/per5CheljR

— Special Kherson Cat 🐈🇺🇦 (@bayraktar_1love) July 28, 2023
Fuel Depot
The fire at the fuel depot in Shakhtarsk continued until the morning. According to some channels, it was struck with GMLRS rockets fired from HIMARS by the Ukrainians.

This facility was already targeted in October 2022 (48.0344586, 38.5064337).https://t.co/lhfgTphP5F pic.twitter.com/oXgkS9jYNZ

— Status-6 (@Archer83Able) July 28, 2023
Southern Front
Zaporizhzhia
Melitopol Axis
Despite a lot of very ugly operations, the Ukrainians have breached the first line of Russian defenses between the Robotyne and Verbove. They are up against the first main obstacle belt. If that fortification line is breached, it will require either a major Russian counterattack to restore the line or a Russian withdrawal to a defensible line.
UKRAINIAN ADVANCE!! In #Robotyne update . Ukrainian forces broke Russian lines and advanced 5 km along a wide font. The are now outside Verbove and on the Eastern side of Robotyne. Source https://t.co/MqtTm48I8M pic.twitter.com/0LtvpSTlEZ

— Albir 24 🇪🇺🇪🇸🇺🇦 (@albir2024) August 1, 2023
Partisan Activity
This area has always been a hotbed of partisan and special forces activity. Usually, the targets are railways and quislings of the occupation government. This may be the first major direct action strike against Russian leadership.
⚡️ In Mariupol, around twenty Russian officers were poisoned by partisans. The city's resistance group, known as "Y," carried out an act of sabotage against the occupiers during the celebration of "Navy Day". 2 Russian officers have passed away and 15 are in critical condition. pic.twitter.com/c8ph0nDjkY

— Astraia intel 🇺🇦 (@astraiaintel) August 2, 2023
⚡In Mariupol, partisans executed a highly effective sabotage operation, resulting in the neutralization of three military trucks, the breakdown of equipment used for creating "dragon's teeth," and significant damage inflicted on the engineering unit building. pic.twitter.com/mZN4Xl6L5G

— Astraia intel 🇺🇦 (@astraiaintel) July 30, 2023
Kherson
The Ukrainian bridgehead at the site of the destroyed Antonovsky Bridge continues to hold. The Russians can't bring ground forces to bear, and the Ukrainians can't sustain a major bridgehead. But, if things go pear-shaped for Russia, this bridgehead will play a critical role in operations.
Russian Propaganda Mil-Analyst Rybar: ruZZian attempts to eliminate AFU incursions on the left bank of occupied Kherson have failed

"A very unpleasant situation is developing near the Antonovsky bridge, where Ukrainian formations not only hold a bridgehead, but also try to move… pic.twitter.com/sfHZp4bkp4

— OSINT (Uri) 🇺🇦 (@UKikaski) July 31, 2023
Odesa
Strikes against Ukraine's Danube marine terminals and grain elevators continue. It is just a matter of time until Russian missiles hit Romania.
Photos of the aftermath of Russian strikes on the Ukrainian port of Izmail last night.

Shahed-136 loitering munitions hit the elevator, the granary, the building of the port terminal and the Danube Shipping Company.

The operations of the port have been suspended. pic.twitter.com/fcUsTy4snl

— Status-6 (@Archer83Able) August 2, 2023
Rear Areas
Crimea
Crimea is the primary source of supplies to Russian forces in the southern area of the battlefront. The airfields and storage facilities there have been under constant attack since Ukraine received Storm Shadow cruise missile from Britain.
An explosion is reported on local telegram channels in the Balaklava District in Sevastopol.https://t.co/9Dbc49IpFL pic.twitter.com/D5EnpHfjZJ

— Benjamin Pittet (@COUPSURE) August 1, 2023
Crimea is also the scene of very active partisan and special forces activity.
On the evening of 28 July, Ukrainian saboteurs blew up a Russian ammunition depot in Kozacha Bay, 15 km from Sevastopol in occupied Crimea, Ukraine's Defense intelligence reported.
📹Ukraine's intel pic.twitter.com/vpEzGe2Ufe

— Euromaidan Press (@EuromaidanPress) July 29, 2023
Black Sea Fleet Attacked
A small number of Ukrainian unmanned surface vehicles attacked two Russian corvettes and a Russian-flagged freighter. No damage was sustained, but there was a sudden demand for brown trousers.
Russia claimed it repelled the Ukrainian attack of marine drones on its ships which were "controlling navigation" 340 km from Crimea

Two Russian patrol ships allegedly destroyed three Ukrainain drones. Ukrainain officials didn't comment on the incident. https://t.co/tzB08LAZng pic.twitter.com/U71oPoYtbF

— Euromaidan Press (@EuromaidanPress) August 1, 2023
But There's More
Russia supplies Crimea in four ways. The long way is a railway coming out of Rostov-on-Don and running several hundred miles through Occupied Ukraine. The other rail link is via the Kerch Strait Bridge. That route has been heavily damaged twice. It is currently open to rail and road traffic at reduced usage rates (Russia's Bridge to Crimea Heavily Damaged…Again…by Ukrainian Attack). There are air lines of communication to Crimea. Finally, there is ocean traffic. The ports in Crimea are not high capacity, and the Russian ability to move supplies out of port is not great. When the supplies are moved to storage areas, there is the whole missile problem.
Over the weekend, the rail bridge at Chongar/Syvash was put out of action.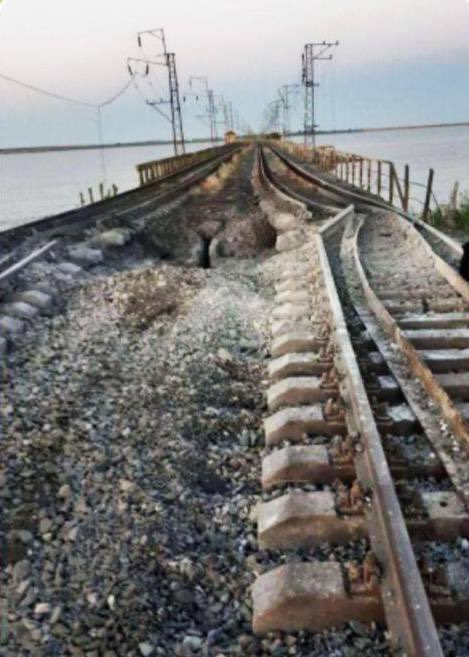 The railway bridge's destruction means that supplies must be transloaded from trains coming from Russia to trucks and moved by road for distribution.
The use of manual labor to fill/unload tactical trucks means RuAF trucks do one trip a day to 150 km and maybe two a day to 75 km with the drivers getting a little sleep.

This is what that 150 km truck radius of action look like on a map of Southern Crimea from Chongar.

— Trent Telenko (@TrentTelenko) July 31, 2023
Operationally, this represents a more significant problem.
If the Ukrainian offensive on the Orikhiv-Tokmak-Melitopol axis brings the east-west railroad to Melitopol under artillery fire, everything west of that point is supplied by one rail line, that is, the one across the Kerch Bridge. The Kerch Bridge can't work at full capacity and could be taken out of action again. If that happens, most of the Russian forces between Sevastopol and Kherson and between Kherson and Melitopol will be reliant on truck convoys for supplies.
There are signs that Russia is well aware of the precarious nature of its position in Crimea and Kherson.
A dispute among prominent voices in the #Russian information space highlights the #Kremlin's sensitivity to Russian reporting about setbacks in #Crimea and possibly in #Ukraine in general. Read today's update from @TheStudyofWar and CTP: https://t.co/bh8n00S1GZ 1/6 pic.twitter.com/Sby8egzRdo

— Critical Threats (@criticalthreats) August 3, 2023
A dispute among prominent voices in the Russian information space highlights the Kremlin's sensitivity to Russian reporting about setbacks in Crimea in particular and possibly in Ukraine in general and has further exposed fault lines within the milblogger community. A pro-war milblogger accused other prominent pro-war milbloggers who have been critical of the Russian conduct of the war on August 2 of being "imbeciles" who support "provocative publications" and the "frantic criticism of the [Russian Ministry of Defense]" because the milbloggers posted images reportedly showing the aftermath of recent Ukrainian strikes near Sevastopol and on the Chonhar Bridge, which some sources suggested would irresponsibly spread panic.[1] A notorious Kremlin-backed pro-Russian Ukrainian blogger additionally accused one of the critical milbloggers under attack of stealing crowdsourced collection funds meant for Russian forces.[2] Both these specific critiques drew significant attention from other pro-war Russian commentators, many of whom supported the critical channels being attacked for reporting on the Crimea strikes.[3] One milblogger noted that the crux of the issue lies with the fact that these two channels post pictures of purported Ukrainian strikes on Crimea but emphasized that the original images came from Ukrainian Telegram channels.[4] Another prominent milblogger claimed that the dispute over posting images of strikes in Crimea became so intense that it attracted the attention of the Crimean Federal Security Service (FSB) branch and Crimean occupation head Sergey Aksyonov, likely because these entities are interested in preventing panic in Crimea.[5]
Read the link in the tweet for the whole story.
Russia
Missile Shootdown
A Ukrainian missile hit the Russian city of Taganrog. Allegedly the missile was a Ukrainian S-200 anti-aircraft missile pressed into service as a short-range ballistic missile. The damage was caused by debris falling after a successful interception.
🚨🚀 Explosions were heard in Taganrog, a target was hit. pic.twitter.com/E35r26bNky

— Astraia intel 🇺🇦 (@astraiaintel) July 28, 2023
Russian Defense Ministry blamed Kyiv for the explosion in Taganrog, claiming that AFU fired a converted S-200 surface-to-air missile.

According to Moscow, the missile was intercepted by Russian air defenses and the wreckage fell on the city of Taganrog.https://t.co/SnE7kcoICi pic.twitter.com/4w6DbBq8PI

— Status-6 (@Archer83Able) July 28, 2023
Drones Hit Moscow
Downtown Moscow suffered minor material damage from a Ukrainian drone attack. The damage to Putin's image was much greater. This is not the first time the Ukrainians have hit Moscow with drones; just a few weeks ago, the Kremlin was hit (Putin's War Comes Home as Kremlin Is Hit by Drone Attack and Putin's War, Week 62. Kremlin Droned, Russia Dissed by Friends and Allies, and Ukraine's Offensive Takes Shape). This time the Kremlin ordered state media to ignore the strike.
BREAKING:

Ukrainian drones striking Moscow this morning.

These are things people in Moscow wake up in the middle of the night to see.

Russia is defenseless, they can't even control the airspace over their capital city
https://t.co/T6vLwZNqN5

— Visegrád 24 (@visegrad24) August 1, 2023
These attacks will increase in frequency and intensity as time goes on. In the words of General Sir Arthur Travers "Bomber" Harris:
The Nazis entered this war under the rather childish delusion that they were going to bomb everyone else, and nobody was going to bomb them. At Rotterdam, London, Warsaw, and half a hundred other places, they put their rather naive theory into operation. They sowed the wind, and now they are going to reap the whirlwind.
Draft Offices Attacked
This is not an infrequent event in Russia. It is fairly common in the Far East but is now moving into St. Petersburg and Moscow.
Footage of the moment when a masked man thrown two Molotov cocktails at the doors of the military enlistment office in the Russian city of Saint Petersburg.

One person attempted to stop the perpetrator by grabbing him by his arm, but in vain. pic.twitter.com/i80qBdi6N0

— Status-6 (@Archer83Able) July 31, 2023
What's Next?
During the next week, I think we will see a significant effort by the Ukrainians to effect a rupture of the first Russian defensive line at Robotyne-Verbove. If that effort is successful, and I think it will be, then we'll see if the Ukrainians can put together a campaign like the one they executed this time last year. If they can't, then we're looking at a slow war of attrition that I don't think the Russians can win militarily or industrially.