When the US Supreme Court struck down the national shame that was Roe vs. Wade and Planned Parenthood vs. Casey (see Full Opinion: Dobbs v. Jackson Women's Health Organization), many thought that the battle to push abortion into Blue State ghettos of immorality was over except for the shouting. Most Molochites reacted in much the same way.
Thirteen states have so-called "trigger laws" that make abortion illegal upon the overturning of Roe.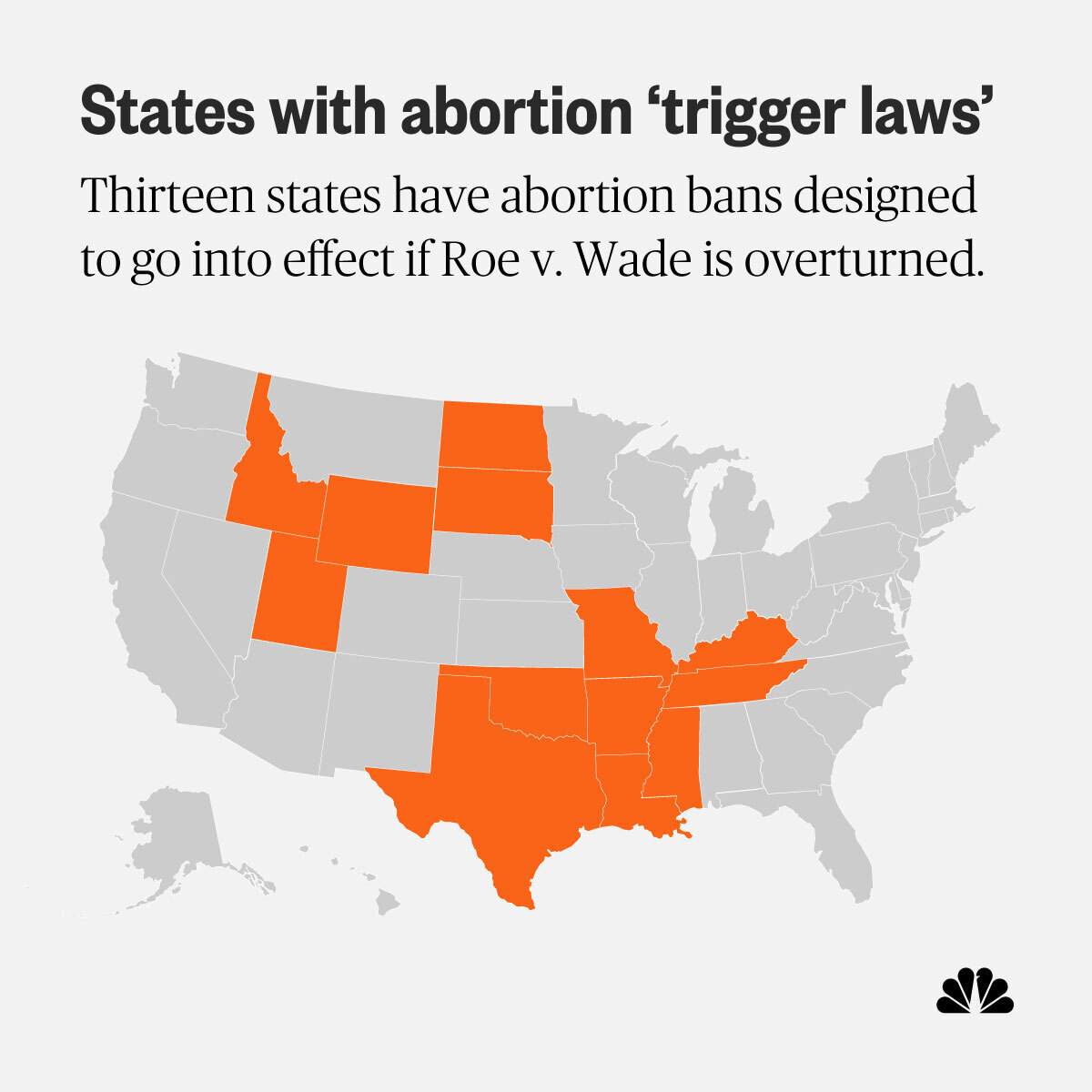 Other states currently have laws that were previously unenforceable because of Roe and Casey.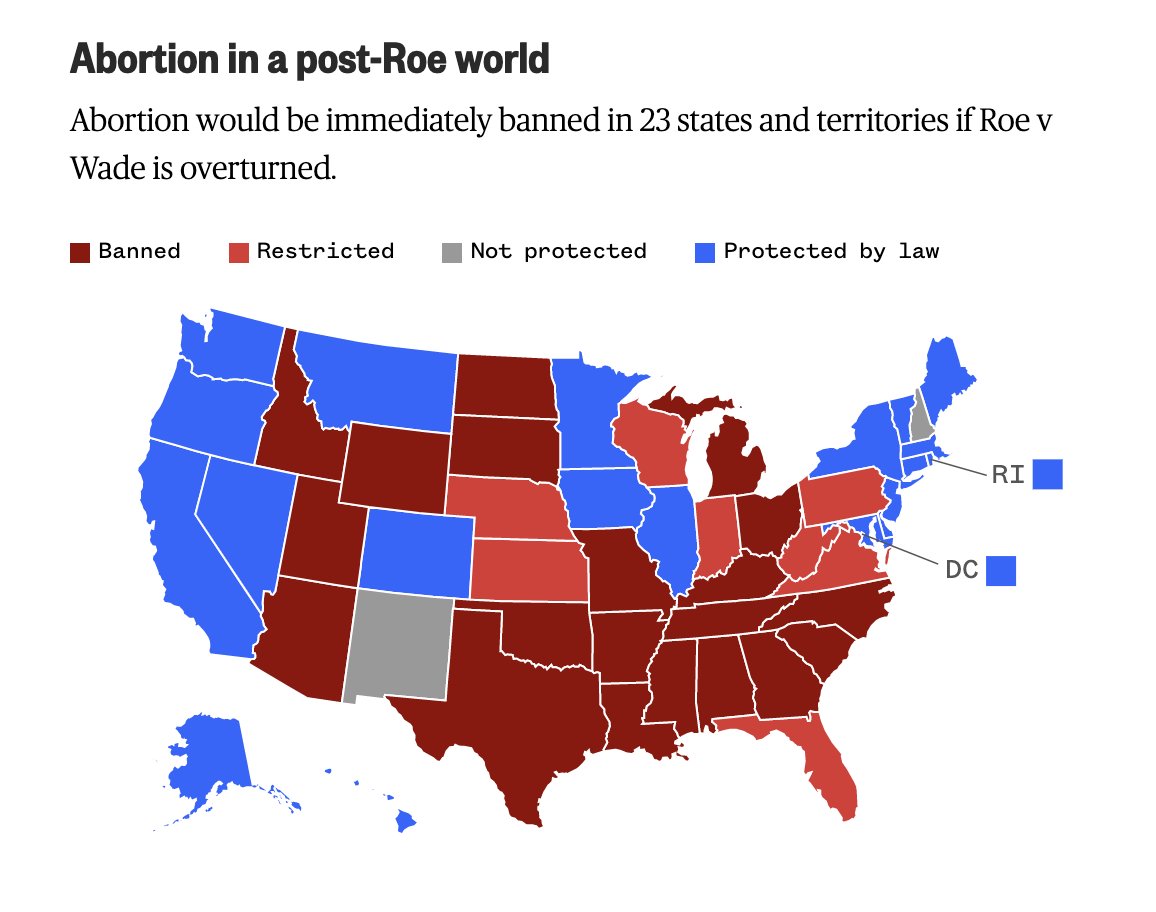 But Moloch doesn't give up his sacrifices easily. Even in those states where abortion should be illegal, courts rule that the slaughter of children is constitutionally protected. In eight states, three of which have trigger laws, various shenanigans are underway to shut down abortion.
Arizona
Arizona has a 1901 law on the books criminalizing abortion. It also has a 2022 law forbidding abortion after 15 weeks which goes into effect in September. However, that law states that it does not repeal the 1901 law or any other law regulating abortion. Attorney General Mark Brnovich has opined that the 1901 law is in effect, but court action is needed to remove injunctions already in place.
https://twitter.com/GeneralBrnovich/status/1542275229925249024
Georgia
In 2019, Georgia passed a law prohibiting abortion after six weeks. A federal judge struck it down, and the state appealed to the 11th Circuit Court of Appeals. That Court put the case on hold until Dobbs was decided. Governor Kemp has asked the court to issue a ruling. This law will probably be allowed to go into effect.
Iowa
In 2015, Iowa's Supreme Court found a state constitutional right to abortion lurking in the vast undergrowth of penumbras and emanations arising from one amendment or another. Then, in June, after the Alito draft of Dobbs vs. Jackson Women's Health Organization was leaked but before it was handed down, the same Supreme Court backtracked, see Kira Davis' Iowa Supreme Court Ruling Strikes Constitutional Protection For Abortion.
That was the good news. The bad news is that the abortion regime in Iowa is encumbered by a multitude of court decisions and actions. Wednesday, the Iowa Supreme Court signaled that it would require the state to unwind these restrictions one by one. In light of Dobbs, Governor Kim Reynolds asked the Supreme Court to allow a 24-hour waiting period before an abortion to go into effect. It refused.
Michigan
Michigan has a 1931 law on the books criminalizing abortion.
Shortly after Alito's draft opinion leaked, Planned Parenthood persuaded a tame judge to issue an injunction against the 1931 law. The state legislature, where Republicans control both House and Senate, asked the judge to reconsider (lolol), but the court ruled that only the attorney general could enter the case. (As a note, maybe they should try again because shortly after this happened, the US Supreme Court ruled that a state legislature can intervene to defend a law in court, especially when it feels that the state attorney general is not defending the law, see Berger v. North Carolina State Conference of the NAACP.)
Governor Gretchen Whitmer is suing to have the Michigan Supreme Court declare a constitutional right and has ordered all state officials to refuse to cooperate with any investigation under the current law. The Attorney General has said that county prosecutors are free to enforce the law if they choose.
Meanwhile, a petition drive is underway to place the issue of abortion as a constitutional right on the ballot in November.
North Carolina
North Carolina has a 20-week abortion ban that was not enforced because of court injunctions issued before Dobbs. The state legislature is demanding that Democrat Attorney General Josh Stein enforce the law, but he is dragging his feet. Meanwhile, Stein and Democrat Governor Roy Cooper are pledging to defend the "right" to infanticide.
These are the states with trigger laws that aren't being allowed to go into effect.
Kentucky
Kentucky is a state with a trigger law. Unfortunately, even that law and a Supreme Court precedent are not enough to stop judges hellbent on killing kids.
Kentucky's trigger law banning nearly all abortions took immediate effect when the U.S. Supreme Court overturned Roe v. Wade on June 24. The state's two abortion providers, Planned Parenthood and EMW Women's Surgical Center, sued the state the following Monday, arguing that a right to privacy and bodily autonomy was protected by the Kentucky Constitution.

Their request for a temporary restraining order blocking the trigger law from taking effect was granted by Jefferson Circuit Court Judge Mitch Perry last week. That ordered allowed abortions to continue, at least temporarily. The Supreme Court's refusal to grant Cameron's request allows that order to stay in place.

Cameron asked the Kentucky Court of Appeals to intercede and undo Judge Perry's injunction. He argued that by not enforcing the law, the order inflicts "irreparable harm" to the state of Kentucky. "And even more importantly, the restraining order guarantees the ending of lives," Cameron wrote in his request. "If that is not [a] kind of irreparable harm . . . then what is?"

The Kentucky Court of Appeals rejected his request on Saturday, in part, Judge Glenn Acree said, because Planned Parenthood and EMW had constitutional standing to sue over the new law. Personal injury resulted from the trigger law locking into place, because, he wrote — "the challenged statutes directly prohibit (Kentucky's abortion clinics) from lawfully engaging in both medication abortions and procedural abortions."

Then, on Sunday, Cameron sought relief from the state's highest court.

After the high court shut down that request late Tuesday, Cameron tweeted, "we've now asked all three levels of Kentucky's judiciary to allow these laws to take effect. Not a single judge at any level has suggested these laws are unconstitutional, yet we are unfortunately still prohibited from enforcing them."
Louisiana
Louisiana has a trigger law. But the desire to kill babies is just too strong for a lot of judges to resist.
The Louisiana Supreme Court refused to overturn a lower court ruling preventing the state from enforcing its abortion ban on Thursday.

A judge had temporarily blocked enforcement of Louisiana's "trigger law" banning nearly all abortions last week. The judge placed a temporary stay on enforcement following a lawsuit from abortion providers in the state, who argued it was overly vague.

Thursday's state Supreme Court ruling allows that stay to remain in place at least through Friday when abortion providers will make their case in court.
Utah
Utah is a state with a trigger law. That wasn't good enough.
Following an emergency hearing on Monday, 3rd District Court Judge Andrew Stone granted Planned Parenthood Association of Utah and the American Civil Liberties Union of Utah's request for a temporary injunction.

"The immediate effects that will occur outweigh any policy interest of the state in stopping abortions immediately," Judge Stone said. "Doctors here are threatened with felonies. Affected women are deprived of safe, local medical treatments to terminate pregnancies.
This is the lay of the land post-Roe.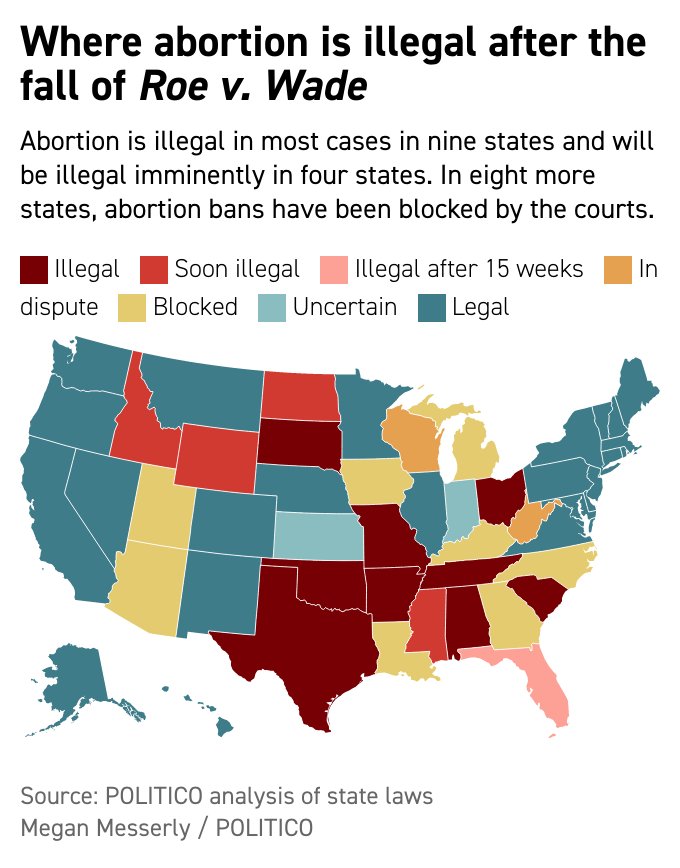 Sometimes, Supreme Court precedents that move the cause of justice forward are the subject of massive resistance.
Brown vs. Board of Education wasn't' cheerfully obeyed. In places like Little Rock, Arkansas, a federalized National Guard, and Army paratroopers had to intervene to enforce that decision. Even then, it took well over a decade before the last school districts were desegregated. Unfortunately, it appears that Dobbs is going to face the same kind of massive resistance that followed Brown.