Last night two GOP incumbents faced off in the primary election for West Virginia's new second district. The candidates were David McKinley, who was first elected to the House in WV-01 in 2010 by flipping a seat held by Democrats for over 40 years, and Alex Mooney, elected to the House in WV-02 2014. (Full Disclosure, I know Alex Mooney. He was my state senator before running for a House seat. I collaborated with him on some work when the RedMaryland site I founded was still operating. I am an Alex Mooney supporter.) Two factors necessitated the head-to-head match-up. First, West Virginia lost a seat during the reapportionment process, and the new map put Mooney and McKinley in the newly drawn WV-01; fivethirtyeight.com has excellent before/after maps. The second factor was McKinley's decision not to retire–he's 75–and create a contested primary. This is not to say a 75-year-old can't run for office, but just because we can do something doesn't mean we should.
By all rights, McKinley should have been a shoo-in. Mooney's old WV-02 was almost totally combined with WV-03; the new WV-01 was basically McKinley's old district, only a little more compact.
During the course of the primary, the race also became a test of strength for two heavyweights: Donald Trump and West Virginia's Democrat Senator Joe Manchin.
Mooney received President Trump's endorsement in November. The endorsement, in my opinion, came from three factors. President Trump tends to endorse younger candidates; Mooney was an unabashed Trump supporter from the early days of 2016, and McKinley was one of 13 GOP incumbents President Trump has pledged to defeat because they voted for Biden's boondoggle "infrastructure" bill. In fact, Mooney got the Trump endorsement only a week after vowing war on RINOs. McKinley is also a climate change proponent. He voted to authorize the January 6 Self-Beclowning Committee, and he's very pro-alphabet people, so President Trump's decision process can't have been all that difficult.
When Mooney started battering McKinley over his support for the infrastructure bill, he got his own endorser: Democrat Senator Joe Manchin.
For the past two years, a lot of conservatives have developed a man-crush on Joe Manchin. As far as I can tell, it's not so much based on what Machin is for or has accomplished as him providing a critical vote to prevent some stupidity by the Biden bunch. Still, it smacks of desperation when a Republican candidate for Congress calls for a lifeline from a Democrat senator when running in a primary election in a district he's represented for 12 years.
In the end, Mooney won the race by nearly 20 points.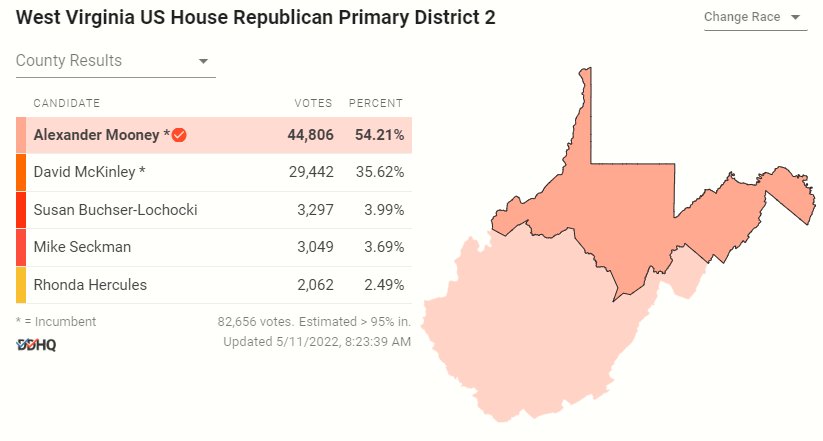 If anyone doubts the value of Trump vs. Manchin endorsement in West Virginia, take a close look at last night's results.
President Trump has endorsed nearly 130 candidates in the 2022 election cycle. About 50 have won, and one has lost (The Trump Endorsed Candidate in Nebraska Suffers a Loss, and the Legacy Media Wants It to Be a Referendum on Trump). As Pennsylvania and Georgia voters go to the polls in the coming days, I think he'll get more losses. Be that as it may, the media should be able to stop pondering if President Trump still influences the GOP. He does.