Friday, a senior Russian general stationed in Moscow declared that Russia's goal in Putin's War was not just to establish a land bridge from Russia to Crimea by conquering all of the Donbas oblasts of Luhansk and Donetsk and adding Kherson Oblast and Zaporizhzhia Oblast. Instead, the objective, he claimed, was to take all of Ukraine's coastline, seize control of Odesa, and establish road and rail connections with the Russian AstroTurfed state of "Transnistria."
The comments from Rustam Minnekayev, deputy commander of Russia's Central Military District, seemed to hint that the Kremlin — which has been stymied in its bid to take over the Ukrainian capital — still wants to conquer wide swaths of its neighbor's land, and potentially threaten the nations that lie beyond. They drew swift condemnation from Moldova, where residents have worried since the beginning of the war they could be next in the Kremlin's crosshairs.

Minnekayev said capturing Ukraine's east and south would create a "land corridor" to the Crimean Peninsula — which the Kremlin annexed in 2014 — and give Moscow influence over "vital objects of the Ukrainian economy," according to the Russia state media outlet Tass. It would also provide "another way out to Transnistria," Minnekayev said, referring to a thin strip of land that runs along Moldova's border with Ukraine that functions as a separate nation, though it is not recognized as such, even by Russia.

…

Mimicking language used to justify Moscow's initial invasion of Ukraine, Minnekayev indicated he was concerned by the "oppression of the Russian-speaking population" in the Transnistria enclave. The Moldovan government released a statement calling the accusations "unacceptable," adding that the comment would "lead to increased tensions and mistrust in society."
What the hell is Transnistria? Good question. Is it one of the gender choices that are now available? Or is it a type of swamp rat with sexual identity confusion?
Transnistria is a "breakaway" republic the Russians carved out of Moldova in 1992.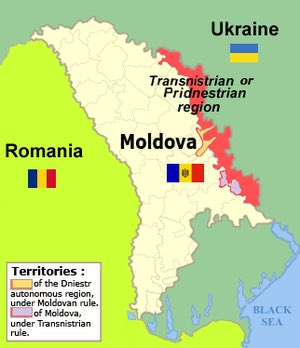 Transnistria is about one-third Russian speakers, and the decision by the Moldovan government to use the Roman alphabet (the Cyrillic alphabet was imposed under communism) and make Moldovan (a Romanian dialect) the official language caused Russia to do what it later did in Ukraine in 2014. It created a civil war that Russia used as a pretext to send in troops. It is now a loyal little toady state that has asked Moscow to annex it.
Facially, the statement by General Minnekayev is stupid. Russia does not have the combat power to carry out the plan Minnekayev laid out. It is being pressed hard around Kherson, it has yet to capture Mariupol, and it is involved in a 1915-style battle in northern Donbas. Monday, there was a series of events in Transnistria that foreshadowed a new gambit by Putin to change the nature of the war. He wants to expand it.
Monday started with an "RPG attack" on the ministry of state security. Notably, no one was injured.
#Moldova 🇲🇩: A rocket attack was carried out against the "Ministry of State Security" in #Transnistria —near the border with #Ukraine 🇺🇦.

The attack was apparently carried out with an RPG-22 "Netto" and a noteable RMG (bunk-buster derivative of RPG-27/RShG-1) rocket launchers. pic.twitter.com/uTqX8jdJzT

— War Noir (@war_noir) April 25, 2022
Before any investigation was conducted, the culprit was identified.
The de-facto head of breakaway #Transnistria in #Moldova claimed that the "terrorist attacks can be traced to Ukraine".

Yet, the RPG-27 "Tavolga" used at yesterday's attack in Tiaspol is used by forces of Russia and Transnistria. And not of #Ukraine.https://t.co/7FZPamM0OO

— Alex Kokcharov (@AlexKokcharov) April 26, 2022
Monday evening, antennae serving a pro-Russian media outlet were destroyed. But, again, no one was harmed.
MOLDOVA: From the sublime to the ridiculous. Following yesterday's 'RPG attack' on Ministry of state Security buildings in Russian occupied Transnistria, Russia now reports that 'unknown saboteurs' have attacked a RU language radio tower in Mayak on Moldova's UKR border. pic.twitter.com/SQHv2rqQ4q

— Chuck Pfarrer (@ChuckPfarrer) April 26, 2022
Yet a third attack, this one on a minor airfield that caused no damage or casualties, was announced by the Russian Defense Ministry's pet blogger, @wargonzo, who just happened to be there.
⚡️ Exclusive ⚡️ The airfield in the PMR was hit with NATO ammunition ⚡️

As it became known to the project @wargonzoo from sources in #Tiraspol, the attack on the military airfield was caused by 60-mm mines, which were most likely dropped from drones. #Moldova #Transnistria https://t.co/B5B7q3x2Zc

— Farnak (@Farnakyboy) April 26, 2022
In short order, we see a lot happening. Transnistria closed its borders, placed its security forces on high alert, and transferred command and control of paramilitary forces to the armed forces.
In breakaway #Transnistria, #Moldova, the separatist authorities announced that they would set up check points on roads leading to the region's cities and will conduct searches of vehicles and passengers:https://t.co/4lQg5vPM77

— Alex Kokcharov (@AlexKokcharov) April 26, 2022
In the Transnistrian region of the Republic of Moldova, units of the operational group of Russian troops have been put on alert ("Full" combat readiness). The security forces have been transferred to a reinforced mode of service,–UA General Staff, 18:00EET https://t.co/P5aht3E0WH

— Euromaidan Press (@EuromaidanPress) April 26, 2022
Moldova has reciprocated.
The Moldovan Military has been put on "Alert" in the Border Regions with Transnistria and additional Security Measures and Patrols are being conducted at Checkpoints, Moldovan Forces are also reportedly being deployed to Critical/Sensitive Infrastructure throughout the Country. pic.twitter.com/sFbuo71XlN

— OSINTdefender (@sentdefender) April 26, 2022
Meanwhile, the residents of Transnistria headed for the exits.
Residents of #Transnistria are leaving the region en masse after reports of explosions. The border crossing points to #Moldova are overloaded. pic.twitter.com/sIf0rtwSp0

— Moldova Liberă (@moldovalibera) April 26, 2022
Russia's deputy foreign minister, Andrey Rudenko, ominously expressed hope that Russia wouldn't have to roll up its sleeves and sort things out.
Russia's deputy foreign minister says he hopes Transnitria isn't drawn into Russian-Ukraine conflict so Moscow isn't forced to intervene there, according to Russian state media.

"We would like to avoid such a scenario," says Andrey Rudenko. https://t.co/dpP5bZKQOm

— Raf Sanchez (@rafsanchez) April 26, 2022
What does all of this mean?
Russian forces around Kherson are under immense pressure and show the initial signs of collapse. As I pointed out in Ukraine's Future Depends on These Three Fights That Russia Must Win, Kherson is critical terrain for Russia if it wants a land bridge to Crimea. It is equally vital for the more grandiose scheme of linking up to Transnistria. If Kherson is liberated, the whole fight for Donbas becomes problematic. There are about 1,400 Russian troops in Transnistria. Transnistria boasts an army of about 5,000 with another 20,000 reserves. We don't know what "reserves" and "Transnistria" look like, but if they are similar to the Russian reserve forces (Russia Calling 100,000 Reservists to Active Duty and Moving Wagner Group From Syria to Deal With Ukraine Manpower Crunch), they won't generate much combat power.
That said, if something like 20,000 troops attack towards Odesa, Ukraine has to react, and they probably react by pulling troops away from Kherson and even Donbas to deal with the threat. The forces from Transnistria will be thrashed, and then what?
The president of Moldova, Maia Sandu, is trying to tamp things down, but it remains to be seen if Russia is interested in de-escalation.
Maia Sandu made some statements on situation in Transnistria

📍#Moldova has no plans to blockade #Transnistria, but supports peaceful dialogue and diplomatic solutions

📍Moldova is increasing the level of security of state institutions

📍There are no talks planned with Putin. pic.twitter.com/sAxAAJQrbF

— NEXTA (@nexta_tv) April 26, 2022
Moldova is a part of the NATO partnership for peace program but has scrupulously maintained its neutrality. It doesn't even allow its troops to participate in NATO exercises. But there are some interesting movements afoot. A week ago, Moldova applied to join the EU.
Today #Moldova🇲🇩 submitted the 1st questionnaire for #EU membership to EU Ambassador @JanisMazeiks as we take a step closer to our accession bid to the EU🇪🇺. We are ready to do our part swiftly and diligently to give Moldova a chance for a better, safer & more prosperous future. pic.twitter.com/04SMFKKa40

— Maia Sandu (@sandumaiamd) April 22, 2022
At this point, Putin has nothing to lose.
If Ukraine, as predicted, crushed the military thrust from Transnistria, it could shift the balance of power in the Donbas fight, and it probably wouldn't put Transnistria in any danger. On the other hand, the Russians claim that Romania is about to invade Transnistria.
Russian commentator Sergei Markov warns that Romania could attack Transnistria with support from NATO and Ukraine

Romania's aim will be to repress all pro-Russian voices. The "Russians are being persecuted" narrative that the Russian Defence Ministry revived is gaining steam

— Samuel Ramani (@SamRamani2) April 25, 2022
This is an idea that Romania should consider if Transnistria jumps into this war.