As I noted in my post two days ago, the continuation war after the Russian invasion of Ukraine is entering a different phase. The Ukrainian Army will have restored the February 23 border along most of its northern border by the end of this week. In about two or three weeks, we can expect a Russian offensive in Donbas to attempt to seize all of Donetsk and Luhansk as well as establish a land bridge to Crimea. The weapons being provided by NATO right now are adequate for defense and partisan operations, but what Ukraine will need to retain its territorial integrity will be tanks, infantry fighting vehicles, tube and rocket artillery, surface-to-air missile systems, and lethal drones (other than Blinken and state department bureaucrats). Rather than merely defend and attrit the Russians, Ukraine must be able to focus the combat power to eject the Russians from Ukraine…including, I hope, all of Donbas and Crimea. That will require offensive weapons. See Cutting Edge Weapons are Being Sent to Ukraine By the US and Britain, But Is It What They Really Need? for an extended discussion.
As is so often the case, Europe is setting the pace.
58 BMP-1 armored personnel carriers (APC's) sent from Germany to UKROP via Poland. BMP's are supposedly "new old stock" from East Germany, having been in storage for years, now 'freshened up' in a bit of irony that hopefully will escape no one… but probably will. 🙂#UkraineWar pic.twitter.com/eDmmj4MQnU

— herroqenstein (@HerroqE) April 1, 2022
The BMP-1 is obsolescent, but it would provide the Ukrainian Army with a vehicle they are familiar with the operation and maintenance (assuming either side cares about maintaining vehicles).
More help is on the way. Well, maybe.
The Biden administration will work with allies to transfer Soviet-made tanks to bolster Ukrainian defenses in the country's eastern Donbas region, a U.S. official said on Friday.

The decision to act as an intermediary to help transfer the Soviet-made tanks, which Ukrainian troops know how to use, comes in response to a request from President Volodymyr Zelensky of Ukraine, the official said. It marks the first time in the war that the United States has helped transfer tanks.

The official said the transfers would begin soon, but declined to say how many tanks would be sent, or from which countries they would come. They will allow Ukraine to conduct long-range artillery strikes on Russian targets in Donbas, said the official, who spoke on the condition of anonymity because he was not authorized to speak publicly.
equally possible, the reporter doesn't know jack shit about military equipment and was talking to an equally ignorant "official."

— streiff (@streiffredstate) April 2, 2022
The Slovaks are on the verge of sending S-300 surface-to-air missiles to Ukraine, should our Defense Department ever decide to pull its head out of its butt.
Several NATO members who are former Warsaw Pact nations have inventories of Russian tanks. Poland, in particular, has tanks that are scheduled to be replaced by US M1 Abrams tanks but have been upgraded to include thermal imaging devices and other enhancements. They could be transferred in a relatively short period of time.
And time really is the issue.
On Sunday, the Russian Army completed a large-scale withdrawal, not the "repositioning" claimed by the Pentagon. Ukraine now controls the entire border with Belarus and has regained most of the ground on its northern border that was lost after the February 24 invasion.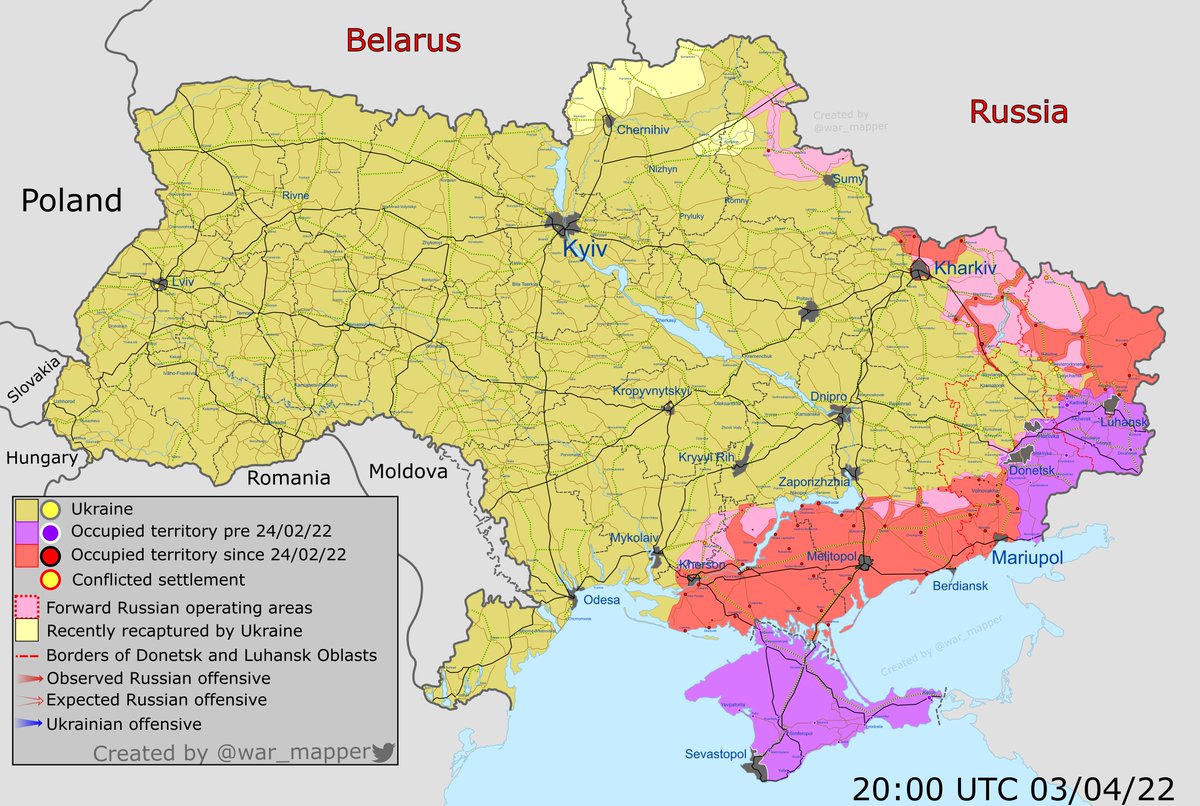 The Russian forces illegally occupying that territory have pulled back into Belarus and Russia to reequip, resupply, and integrate replacements. That process will take at least two weeks if Russia shows a normal army's understanding of logistics. At the end of that rebuilding process, those units will be shifted laterally to the east and pushed into the fight in Donbas. The Ukrainians will probably rely on Territorial Defense Forces to secure the border. The Ukrainian Army will need to field a force heavy in armor, artillery, and air defense artillery that will let them create a war of movement to threaten the core of the fake republics created by Putin in Donbas.
The dithering by the US Defense Department is not without cost. If the armored and mechanized formations rebuilt after the mauling they took in the battle for Kiev are not met by equal Ukrainian forces, the war will be prolonged, and negotiating a peace agreement will be much more difficult.