There are snowflakes, and then there is Fred Toettcher from Boston's "Toucher and Rich" radio show.
Chip Alexander is a sports writer who covers Carolina Hurricanes hockey games for North Carolina's Raleigh News and Observer paper, where he's been for 40 years. He's made the rounds this week, doing interviews about the upcoming NHL Eastern Conference Finals series between the Boston Bruins and the Hurricanes.
As Deadspin reports, one call in particular – the one Alexander did with "Toucher and Rich" – didn't go so well:
To preview the upcoming Carolina Hurricanes–Boston Bruins playoff series, Boston sports radio show Toucher & Rich had Chip Alexander, Canes beat writer for the Raleigh News and Observer, call in Wednesday to talk hockey. It wasn't long before one of the hosts hung up on him, for a very petty reason.

[…]

Just as Alexander's talking about Nino Niederreiter, co-host Fred Toettcher cut the line. "I can't listen to a guy with a Southern accent talk about hockey," he said.

[…]

Alexander apparently tried to call back into the show, but the hosts instead took calls from listeners with New England accents—that far more appealing regional inflection.
Listen to the segment below (language warning):
The USA Today's write-up on what happened noted that Toettcher continued to complain about Alexander later after he was no longer on the line to defend himself:
Toettcher later added that he didn't like that Alexander was supportive of way the Hurricanes have embraced the "bunch of jerks" label after NHL commentator Don Cherry used that phrase to describe the team earlier in the season — even though Alexander did not actually express an opinion about the subject while on air.
The hang up move was widely panned by folks on social media, from the locals here in NC to sports radio veterans up north:
Listened to this last night. It was a classless, douchebag move from @Toucherandrich. But this is the same station that mocked Roy Halladay dying in a plane crash. That's Boston sports radio. People up there seem to like it. https://t.co/jvNmwMxGBy

— Kyle Bailey (@KyleBaileyClub) May 9, 2019
—
That clip was so maddening! F those guys… Chip is a great guy. Long been a friend of us at Pens radio.

— Brian Metzer (@Brian_Metzer) May 9, 2019
While I normally have issues – and I mean a LOT of issues – with the Raleigh News and Observer's news coverage, including their sports department's frequent editorializing, I totally dig how they covered this story:
In a mind-boggling turn of events on Wednesday, someone working at a Boston sports radio station criticized the accent of a professional hockey writer from North Carolina.

Yes, someone in Boston criticized someone else's accent.

[…]

Toucher went full "Masshole" on Thursday morning, devoting a good portion of his shock jock-style sports rambling to Alexander's "hick accent."

Alexander has given four or five such radio interviews this week, and this is the first act of Northern aggression he has encountered.
Alexander himself even got a little dig on the radio duo via Twitter earlier today:
Try not to hang up on him.

— Chip Alexander (@ice_chip) May 9, 2019
The N&O got in on the Twitter action, too, with this peace offering of sorts from managing editor Jane Elizabeth:
Dear @Toucherandrich – us hicks here in the South may talk funny but we're also super sweet, like our iced tea. We'll forgive your Yankee rudeness with an apology – and if you sign up for our awesome Sports Pass. https://t.co/sEs11Fitkf pic.twitter.com/A2lFlR1eDY

— Jane Elizabeth (@JaneEliz) May 9, 2019
Full disclosure alert:
1) I was born and raised in North Carolina, so obviously I'm a little partial when it comes to my home state.
2) I am, of course, a Carolina Hurricanes fan. In fact, I've been a hockey fan since the early 90's, well before NHL hockey became a thing in North Carolina.
3) Please don't confuse what I've written here with regional bigotry against "the north." I have friends, relatives, and former and current colleagues from up north, and the vast majority of my experiences and interactions with them have been enjoyable. The slights against the south just get tiresome after a while, and at some point you have to push back.
When the comments are meant in jest, it's one thing. But when they are meant to be taken seriously, it's another ballgame altogether.
Speaking of, Game One is currently underway. So go watch some playoff hockey! But before you go, enjoy one of the Avengers-themed end-of-game celebrations from the Hurricanes earlier this year that earned them the "Bunch of Jerks" nickname: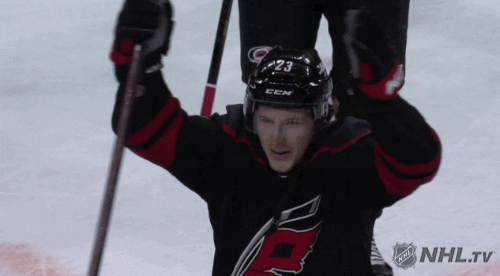 ——–
—Based in North Carolina, Sister Toldjah is a former liberal and a 15+ year veteran of blogging with an emphasis on media bias, social issues, and the culture wars. Read her Red State archives here. Connect with her on Twitter.–