Earlier Saturday evening there was a caravan Pro-Trump rally of a few hundred cars by some estimates, which rolled through the streets of downtown Portland in the hours prior to Antifa/BLM usually kicking off their evening festivities at the invitation of Mayor Ted Wheeler and DA Mike Schmidt.
While that was underway, what appears to have been a targeted killing of a Trump supporter, a member of a group called "Patriot Prayer," took place in the middle of a Portland street — and it was all captured on video under very suspicious circumstances.
"I am not sad that a f**king fascist died tonight," yells a female Antifa militant at a gathering in downtown Portland. The crowd laughs and cheers. The victim was a Trump supporter. pic.twitter.com/XK4Czzseia

— Ian Miles Cheong (@stillgray) August 30, 2020
Video sleuths have already started to dig out the identity of the potential shooter.  If it is this guy, he's wearing a rather distinctive vest/webbing, and he's present in several videos appearing to have a handgun.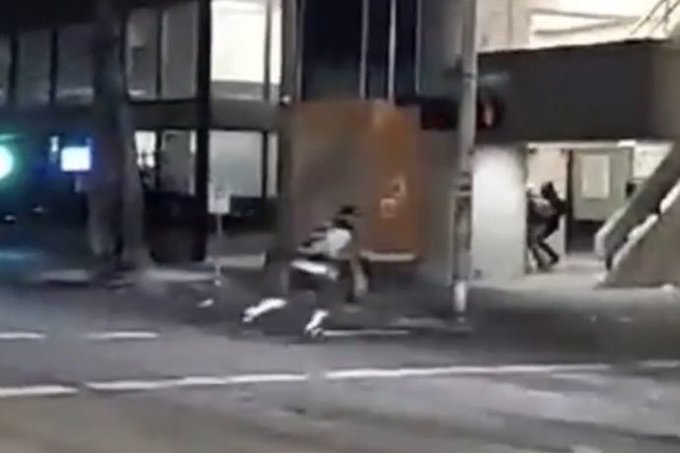 More action at SW 3rd and Washington. pic.twitter.com/UoG56BHhPd

— Cory Elia (@TheRealCoryElia) August 30, 2020
It's also being suggested that this video was shot on purpose — the person doing the taping knew the shooting was going to happen.  It's odd that he's panning back and forth following traffic, and then suddenly focuses the frame on the opposite corner from where he's standing and gets the shooting on video as it happens — which he got up on Twitter with almost no delay.
Clip pic.twitter.com/fdY8mry3gm

— MyTwitVoice (@MyTwitVoice) August 30, 2020
Portland PD are confirming that the victim died.  Still no information on whether it had any connection to the protest events downtown.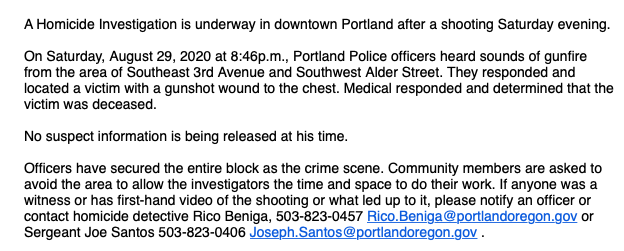 Late news is that the victim was a Trump supporter.  A member of Patriot Prayer, a group led by Joey Gibson, who was on hand in Portland.
Joey Gibson showed up pic.twitter.com/UoY9zvwlLJ

— Sergio Olmos (@MrOlmos) August 30, 2020
Protestors are chasing Gibson out of the area pic.twitter.com/t96AoGouid

— Sergio Olmos (@MrOlmos) August 30, 2020
Gibson has gone into a local gas station, protestors try to open the doors pic.twitter.com/Nb3d3iIsOA

— Sergio Olmos (@MrOlmos) August 30, 2020
Antifa militants in Portland brutally assault Trump supporters in a mob. https://t.co/7WF0E69yOG

— Ian Miles Cheong (@stillgray) August 30, 2020
Portland is wild right now. Antifa anarchists have been fighting with Trump supporters and people have been shot. pic.twitter.com/tlNxksoEFi

— Ian Miles Cheong (@stillgray) August 30, 2020
It's truly sick@ParaleeAC pic.twitter.com/ddOEAsTFsX

— 🎬☣️Spurgly Durglish☣️🎬 (@SpurglyD) August 30, 2020
As I close this story, Antifa/BLM rioters have assembled at the Federal Courthouse in downtown Portland.  No news at this point on the Rally participants — whether they departed or they are present in downtown as well.  The next few hours could be ugly.