Throughout the South, at craft stores and gas stations and farmer's markets, you can find people selling handmade signs and other knickknacks that say "God, Family, Football" on them, and I'm not entirely convinced that everyone would give football such a low ranking.
This is indubitably true in Alabama, where alumni of the state's flagship university are inclined to shout "ROLL TIDE!" at the slightest provocation, their pride further bolstered by the football team's strong record under Coach Nick Saban, including national titles in 2009, 2011, 2012, 2015, and the team in the playoffs again this year.
You would have to be an idiot to insult Bama while speaking to a crowd of Alabamians in Alabama, right?
Well, that's exactly what Breitbart's Stephen Bannon apparently did tonight, at a rally to support Roy Moore, the Republican nominee in the special election for Alabama's Senate seat, who is currently battling allegations that he engaged in sexual misconduct with teenage girls back when he was a prosecutor in his thirties.
According to NBC reporter Jonathan Allen, Bannon was speaking to the crowd in Midland City, Alabama, and decided to attack MSNBC's Joe Scarborough, by mocking where he went to college. Bannon went to Virginia Tech for undergrad, and then received a master's at Georgetown and an MBA at Harvard, while Scarborough went to Alabama for undergrad and the University of Florida for law school.
In Midland City, Alabama, Steve Bannon goes after @JoeNBC, saying he got into better schools than Joe could have—Georgetown and Harvard. This might be the wrong place for that attack: Joe went to the University of Alabama.

— Jonathan Allen (@jonallendc) December 12, 2017
Scarborough wasn't having it, posting a string of tweets viciously smacking down Bannon's insult, defending his alma mater by quoting Lynyrd Skynyrd lyrics and mocking how Bannon likes to portray himself as a populist champion, despite working as a Goldman Sachs investment banker for years.
ROLL. DAMN. TIDE. https://t.co/AUj9U3CihU

— Joe Scarborough (@JoeNBC) December 12, 2017
Hey Bannon, you only went to Harvard because you couldn't get into Alabama. #RollDamnTide https://t.co/AUj9U3CihU

— Joe Scarborough (@JoeNBC) December 12, 2017
A Southern Man don't need him around anyhow. #SweetHomeAlabama https://t.co/AUj9U3CihU

— Joe Scarborough (@JoeNBC) December 12, 2017
I reckon if I'd gotten into one of Steve's fancy schools outside of Alabama, I could've been one of them Goldman Sachs populists too. 🎩 https://t.co/wMNdvKWPSM

— Joe Scarborough (@JoeNBC) December 12, 2017
Yeah, wait a second. Weren't we told that coastal elites looking down on all us good people in the flyover states was a bad thing, and this is why Trump deserved to win? Guess Harvard grad Bannon doesn't understand that.
Look, as a conservative and alumna of the University of Florida, I frequently find both Scarborough and Bama fans insufferable (it took a lot of self control to not spell Coach Saban's name "Satan" earlier in this post).
But the idea that some DC-area raised Ivy League grad who made his money in Hollywood and at Goldman Sachs, is going to visit the Yellowhammer State and say something condescending about Bama, well, as we say in the South, bless your heart, Mr. Bannon.
Bless. Your. Heart.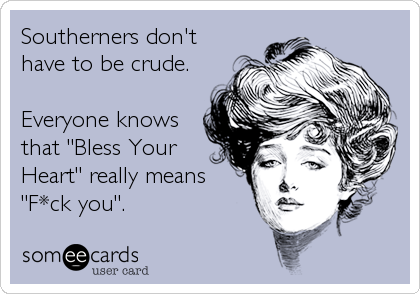 UPDATE: I was reminded that Roy Moore got his law degree from the University of Alabama, which makes Bannon's attempt to insult Scarborough even dumber.
Photo by thatlostdog via Flickr. 
Follow Sarah Rumpf on Twitter: @rumpfshaker.