Winning over independents will be crucial in November. I see Republicans being more in tune with their concerns, especially on health care, taxes, spending, and the deficit. They've seen what Democrats have done while in charge, and they don't like it.
Resurgent Republic released some polling research and found independents prefer Republicans over Democrats by a nearly 2-to-1 margin, 30%-16%. A majority (55%) of independents are extremely unlikely to support a Congressional candidate who supports the health care law, letting the 2001 and 2003 tax cuts expire, and more stimulus spending. Also interesting is that 69% of independents are more likely to support a candidate who opposes more federal spending and focuses on reducing the deficit.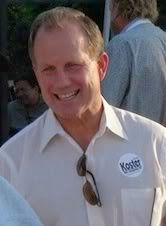 That leads me into the latest Republican House candidate I want to highlight. When you think of Washington State, you think of Microsoft, coffee drinkers, and the Cascade Mountains. Like my home state of California, you don't necessarily think of Republican politics, but good things are happening in Washington State. In the Second Congressional District, John Koster, one of the latest "Young Guns," has his campaign ready to beat incumbent Democrat Rick Larsen.
Dairy farmer John Koster knows people in his district worry about jobs. Many are unemployed and others fear they could be next to get a pink slip. President Obama and Speaker Pelosi assured us their trillion-dollar stimulus bill would create jobs. They were wrong. Republican House candidates like John are calling out the Democrats for their failure.
Instead of more stimulus spending, John thinks cutting taxes, cutting spending, and reducing our debt will get the country back on track and create jobs.
In this weak economy what we don't want is Washington to raise taxes. John gets that, and pledges to vote against any new or increased taxes.
John is part of a new generation of Republican leaders who are listening to the American people. He's gone beyond the main stream media and embraced the online world by taking questions from Washington State's popular Sound Politics blog.
John's efforts in Washington's Second Congressional District to listen to voters are paying off. A local newspaper endorsed him by praising his "get-it-done" attitude.
With your help I am confident John can win. Find out more about John at his web site.
Thanks,
Rep. Kevin McCarthy