Kanye West is no stranger to controversy; in fact, he generally causes it and harnesses the reaction for his benefit. Who can forget, "Imma let you finish…"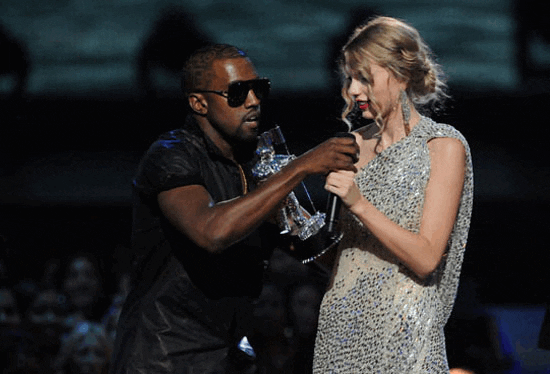 He turned the Taylor Swift backlash around, working the event into lyrics on a 2016 album that wasn't even finished when it was released after an over-the-top publicity whirlwind.
One day he's defending his Swift lyric, another day he's proclaiming he's $52 million in debt and venting about the state of American's education system while requesting Facebook's Mark Zuckerberg help him become this generation's Walt Disney and "make the world a better place." He also issued a series of introspective tweets about his ego and announced he has collaborative records with Drake and Future coming soon.
There have been numerous controversies since, but nothing seems to touch Kanye (or Kim's) celebrity power. In the last week he might have gone too far for the post-Trump, one-tweet-can-ruin-a-career crowd, though.
First he tweeted support for Candace Owens, a black conservative who shut down a Black Lives Matter protest at UCLA, saying that there is a difference between a victim and a victor mentality, and that she chose to possess a victor mentality.
All I said was that I wanted black people to embrace a victor mentality and now the Left is out to assasinate my character.

THE LEFT NEEDS PEOPLE TO NEED THEM.

Unfortunately, I do not want or need them.

— Candace Owens (@RealCandaceO) April 23, 2018
West tweeted, "I love the way Candace Owens thinks," and the backlash was swift. As Owens said, it was front page news because "he is not allowed to think differently as a black man."
Instead of shying away, Kanye has taken his "independent thought" to a never-before-seen level. After waxing philosophical about "free thought" and "new ideas," he took a few critics to task.
Harvey Levin of TMZ your hearing from your future president. Let's be friends. Please never use the word erratic to describe a person who is economically and psychologically empowered

— ye (@kanyewest) April 25, 2018
Then referred to racial politics (maybe?):
I leave my emojis bart Simpson color

— ye (@kanyewest) April 25, 2018
Cracked a joke:
I'm turn the Grammys into the Yammys

— ye (@kanyewest) April 25, 2018
Channeled Bob Marley ("emancipate yourselves from mental slavery"):
Free thinkers don't fear retaliation for your thoughts. The traditional thinkers are only using thoughts and words but they are in a mental prison. You are free. You've already won. Feel energized. Move in love not fear. Be afraid of nothing.

— ye (@kanyewest) April 25, 2018
Inched toward MAGA:
If your friend jumps off the bridge you don't have to do the same. Ye being Ye is a fight for you to be you. For people In my life the idea of Trump is pretty much a 50 50 split but I don't tell a Hillary supporter not to support Hillary
I love Hillary too.

— ye (@kanyewest) April 25, 2018
Made a disclaimer:
my wife just called me and she wanted me to make this clear to everyone. I don't agree with everything Trump does. I don't agree 100% with anyone but myself.

— ye (@kanyewest) April 25, 2018
Then went full MAGA:
https://twitter.com/kanyewest/status/989222392630202368
https://twitter.com/kanyewest/status/989227154993963009
And the Trump love was returned.
https://twitter.com/kanyewest/status/989279164464119809
It shouldn't be too surprising – Kanye canceled a number of concert dates after he told a San Jose, California audience in November 2016 that he hadn't voted in the Presidential election, but if he had, he would have voted "on Trump."
Stephen Colbert is questioning Kanye's mental fitness, as are other Hollywood/liberal types. Kim Kardashian takes her share of criticism from all sides, but she's standing by her husband and tweeted a very sensible defense of him (and of anyone who dares to think outside liberally-accepted parameters) Wednesday.
To the media trying to demonize my husband let me just say this… your commentary on Kanye being erratic & his tweets being disturbing is actually scary. So quick to label him as having mental health issues for just being himself when he has always been expressive is not fair

— Kim Kardashian West (@KimKardashian) April 25, 2018
Kanye does have a history of mental health issues, and he's fortunate to have a wife who sticks up for him.
He's a free thinker, is that not allowed in America? Because some of his ideas differ from yours you have to throw in the mental health card? That's just not fair. He's actually out of the sunken place when he's being himself which is very expressive

— Kim Kardashian West (@KimKardashian) April 25, 2018
Now when he spoke out about Trump… Most people (including myself) have very different feelings & opinions about this. But this is HIS opinion. I believe in people being able to have their own opinions,even if really different from mine
He never said he agrees with his politics

— Kim Kardashian West (@KimKardashian) April 25, 2018
As a capper, Kanye pointed out the truth about Obama and Chicago.
Obama was in office for eight years and nothing in Chicago changed.

— ye (@kanyewest) April 25, 2018
He's survived dissing Taylor Swift and marrying a Kardashian, but can he survive the one sure Hollywood career destroyer – Donald Trump?