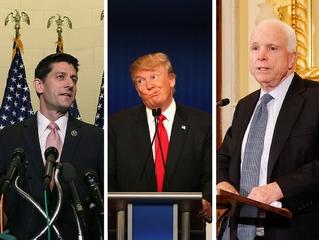 Earlier this week Donald Trump refused to endorse Speaker of the House Paul Ryan and Arizona Senator John McCain for reelection. This follows public threats against the political careers of Senator Ted Cruz and Ohio Governor John Kasich in the days following his coronation in Cleveland. Oops! I mean the Republican National Convention.
I'm no fan of John McCain. He has become the poster boy for a Constitutional Amendment favoring term limits for members of Congress, and I've written often of his chronic case of RINO disease. He is a member of the inaugural class enshrined into the Gutless On Principles Hall of Shame, and I recently endorsed his primary opponent Kelli Ward.
And Paul Ryan . . . besides the fact that he too has been enshrined in the Gutless On Principles Hall of Shame, Ryan has established himself as John Boehner 2.0 ever since assuming the Speaker job. He has also been a rubber stamp on much of Obama's agenda in the mold of John McCain's boss, Mitch McConnell.
So, why should I have a problem with Trump's decision? Because he doesn't oppose these two due to their RINO-ness; he opposes them because they dared to criticize him this past week after Trump attacked the mother and father of a son killed in action in Iraq and is now buried in Arlington National Cemetery. By the way, this incident started when the parents dared to challenge Cheeto Jesus.
Strange behavior for a guy looking to unite the GOP, isn't it? Well, it would be if that was his goal. Trump has already declared he doesn't need the conservative base, and he really doesn't care if the GOP keeps its majorities in the House and Senate.
This chronic narcissism—which many, including evangelicals, defend—served Trump well during the primaries, but candidate Trump is paying a price for this behavior.
In a week where Hillary and the Democrats are ripe for the picking—the CEO of the DNC resigned following another email scandal, and Obama was caught paying a $400 million ransom to Iran—Trump's all-about-me campaign has remained the topic du jour.
This has become such a problem that there are now rumors spreading about the breakup of the Trump campaign, causing the RNC to look for alternatives to Trump if he is forced to drop out. There's even talk of an intervention.
In the end, Trump's behavior since becoming the official nominee is simply his way of doing what he always does—putting the spotlight squarely on himself. The GOP and America be damned.
Originally posted on The Strident Conservative
David Leach is the owner of The Strident Conservative, your source for opinion that's politically-incorrect and always "right." His articles can also be found on RedState.com.
His daily radio commentary is nationally syndicated with Salem Radio Network and can be heard on stations across America.