Florida Democrat Pam Keith has had unsuccessful primary runs for both the House and Senate.
She's also known for publishing some weird, unhinged content on her social media pages. But earlier today she went a little bit more "out there" than she normally does.
Keith, a Navy veteran and self-described "moderate" Democrat, has been been known to promote voter fraud in Florida (keep in mind that she's a lawyer), and has encouraged diehard Democrats to move to red states for the sole purpose of turning them blue (because we can't have other states thinking differently, ya know).
Hey Blue State Dems: Have you considered moving to a red state? A migration of only 50k people would turn some red states blue for the Senate & electoral college. Think about it. Wide open spaces, low cost of living & an outsized say in our politics. Indeed, 75k would flip FL.

— Pam Keith (@PamKeithFL) November 14, 2018
Just this morning, she posted about how the Republican party is the white supremacist version of sharia or something:
GOP = white supremacy Sharia.

— Pam Keith (@PamKeithFL) May 10, 2019
She was only getting warmed up, though. Later, she encouraged women to stop having sex with conservative men – because of the patriarchy and stuff:
Ladies: STOP having sex w/conservative men

TOTAL👏🏽COMPLETE👏🏽SEX👏🏽BOYCOTT.👏🏽

Don't let them anywhere near you. Give them the hand and keep it moving. Get a B.O.B. But make it a rule to run, not walk, from men who want to steal your agency over yourself & your life.

That's it.

— Pam Keith (@PamKeithFL) May 10, 2019
As you can imagine, the tweet has gotten seriously ratioed.
Not only was it poorly worded ("give them the hand and keep it moving"?? Umm…), but it totally went against the whole Democratic mantra of "my body my choice", did it not? Plus, wasn't it homophobic and transphobic to only address her tweet to women? What about gay men? What about transgender men who are attracted to men? What about transgender women who are attracted to men?
Twitter users were quick to respond:
But wait! What about "My body, my choice," Pam? Where are your progressive principles now? Don't we have a right to choose who we love?

Of course we could just stay faithful and love one loving husband regardless of whether he leans conservative or liberal. But what do I know?

— Jennifer Michelle Greenberg 🕊 (@JennMGreenberg) May 10, 2019

—
Guess my wife didn't listen to you. Don't feel bad, she doesn't listen to me most of the time anyways.

— Patterson (@PattersonBrown3) May 10, 2019

—
The only person I see "stealing agency" is the women telling women who they should and should not sleep with 🙄

— Courtney Jane (@Courtne49776255) May 10, 2019

—
Having sex with a conservative man is bad why? Cause they want to keep the resulting baby? They want to start a family and own up to their actions even if it isn't planned at the moment? Ok then.

— kill a commie for mommy (@ChloeChantalxo) May 10, 2019
Greg at Twitchy documented more thought-provoking tweet responses here.
What this boils down is that Ms. Keith is telling you that women can – and should – only be attracted to/love people of a certain ideology.
This is just SO WRONG. I mean, come on, Pam. WHAT ABOUT LOVE IS LOVE IS LOVE?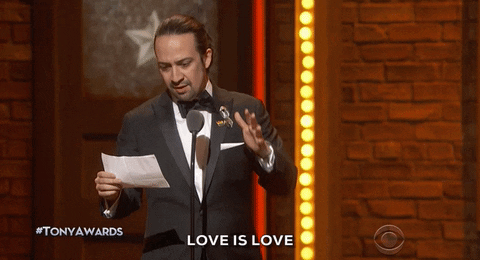 Enjoy the weekend, y'all.
——————-
—Based in North Carolina, Sister Toldjah is a former liberal and a 15+ year veteran of blogging with an emphasis on media bias, social issues, and the culture wars. Read her Red State archives here. Connect with her on Twitter.–