On Tuesday, May 25, 2021, the Colorado Legislature heard shocking testimony from Denver school parent, Mary-Katherine Brooks Fleming, who testified that 62 young people — 61 high school students and one graduate — told her back in August 2020 that they had been sexually assaulted by a specific man "in a position of trust" in the Denver Public Schools system. She said 61 of the young people were either undocumented immigrants or covered by the DACA  program, making them safe from deportation.
Rapist in Denver Public Schools, Testimony on SB21-088 https://t.co/eSI5pr1qsv

— Coach MK👟/Your Protest Mom ❤️🍪🥛 (@CoachMKFleming) May 26, 2021
Fleming did not identify the perpetrator in her testimony, which came as part of a hearing on pending legislation that would allow minors to bring suits against institutions — including schools — for sexual abuse when the abuse took place while the victim was participating in a program at the institution.  The stories told to her by the victims included everything from unwanted touching to violent acts of rape and included students as young as 14. Fleming said none had reported the incidents to police out of fear of how they or their families would be treated by the criminal justice system due to their immigration status.
The Denver Police Department acknowledged that they have been in contact with Fleming, but had not yet heard from any alleged victim as described by Fleming.
Denver School Board At-Large member Tay Anderson has been the subject of an investigation into claims of sexual assault initiated by the School Board based on an allegation made against him back in March. That earlier allegation — which Anderson denied — and the investigation begun by the School Board was unrelated to his activities as a School Board member.  The existence of that investigation has not slowed down the hyperkinetic Anderson, a protest organizer and former leader of BLM activities in the Denver area who is extremely active on social media.
But on Sunday Anderson issued a public statement that he will be "stepping back" from his role as an At-Large member of the Denver Public School Board.
On Saturday, Anderson's attorney responded to press inquires by stating that Anderson "categorically denies the most recent allegations," a seemingly tacit admission that he is the individual implicated by Fleming's testimony.
Anderson's own statement on Sunday is a bit slippery on that issue, as is made clear in the second image below.
At the outset, it seems that Anderson's denials relate to the allegation made against him earlier, which is the subject of an existing and ongoing investigation — allegations he has previously denied.
The second page of Anderson's comment, addressing Fleming's testimony, could be read as a "denial" of some of the details of Fleming's claims — that the Denver Public Schools attempted to get the students to sign NDAs to cover up the allegations, or that any employee could gain access to student immigration status on the district's computer system.  It doesn't include a specific denial by Anderson about the allegations of sexual assault in the context that he is alleged to be the perpetrator as described by Fleming.
But that only raises the question of why Anderson would feel compelled to "step back" from his duties as a board member while Flemings' allegations are looked into.  If he is not the target of the allegations made by Fleming, then it is part of his responsibility as an At-Large member of the Board to find out if the allegations are true, and the identity of the district employee who is a serial rapist victimizing children in the Denver Schools. "Stepping back" wouldn't seem to be an option considered by a Board Member — unless the allegations were, in fact, directed at that Board Member.
The School Board issued its own statement confirming it was aware of new allegations, and that Anderson will not be attending any board or district meetings in person while the investigation is ongoing.  But it also stated that Anderson will continue to vote on important matters before the Board, including a vote scheduled on June 3 on the hiring of a new district superintendent.
The first allegation under investigation became public in April.  As noted, it does not involve the school district, but instead, it originated from "Black Lives Matter 5280", the Colorado BLM group in which Anderson was an active participant.
On Friday, Black Lives Matter 5280 issued a statement saying a woman approached the group in February to say Anderson had sexually assaulted her. The statement said Anderson is not welcome at the group's meetings or events until he takes certain steps to be accountable.

"At the request of the alleged survivor, we are publicly sharing this information in hopes of ensuring her and all of our safety and well-being," the statement said. The organization said the accusations have not gone through a "formal legal process," but the group is committed to "protecting, uplifting, and believing Black women, decidedly as it relates to sexual violence."
Anderson denied the allegation with a public statement of his own — for reasons made more clear below, he's big on social media and putting out written statements on personalized letterhead: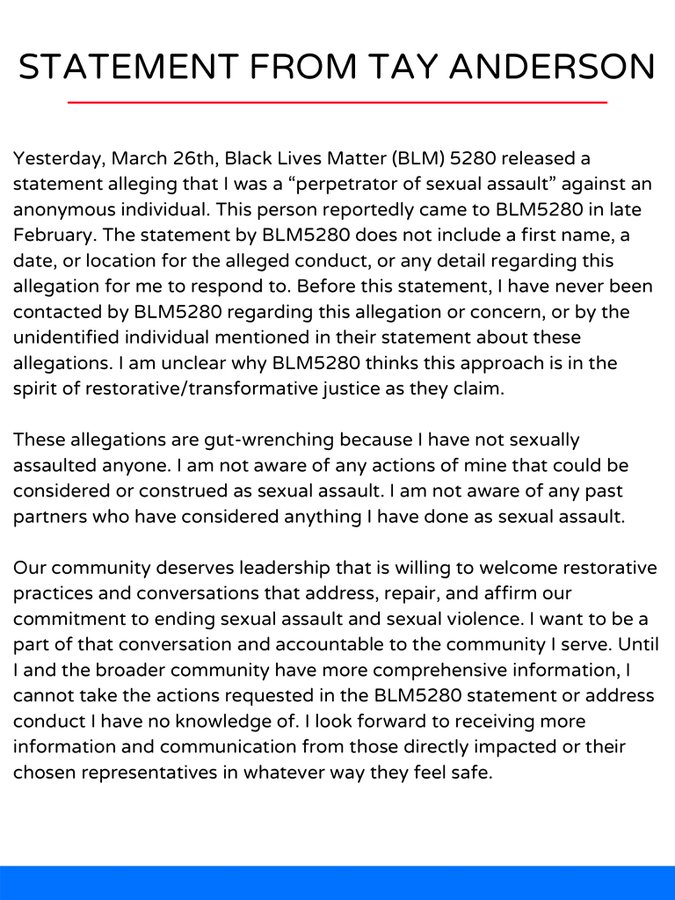 "I'm not aware of any past partners who have considered anything I have done as sexual assault."
I suspect he didn't have the assistance of an attorney when he likely opted to bang out that statement on his own on a laptop.
The School Board's response was to acknowledge that it was aware of the allegation against Anderson, and it confirmed that there was no ongoing criminal investigation. It announced that it would hire an independent firm to investigate the incident, and then determine what further action might be warranted.
Then came Fleming's testimony before the legislature last Tuesday.
Here's the thing about Anderson — he's 22. He's a high school graduate who was his Student Body President, and he first ran for the Denver School Board — and lost — when he was 19 and fresh out of high school.  He ran as a vocal critic of the Denver Public Schools and the Board. He pledged to lead a reform of the district and its policies — at 19.
Two years later he ran for an "At-Large" seat on the Board where the incumbent was barred from running again by term limits.  At that point he was enrolled in a Denver college, and won the election with 51% of the vote in a multi-candidate field, taking his seat on the board in December 2019.
Within just a couple of months as a school board member, Anderson helped lead a successful effort to remove police officers from schools. He has also championed all-gender restrooms and advocated for gun safety measures.
He had long been active in the BLM movement in Denver, but after the death of George Floyd while in the custody of the Minneapolis Police Department, Anderson assumed the mantle of a protest leader in Denver.
I'm hoping we'll take this as an opportunity to rebuild and to renew our faith in humanity and to restart. We've gone through COVID-19, through riots, and now it's time for us to rebuild our city. I'm hoping that what will happen is when the history books look back on 2020, that people see we were actually able to make change around Black Lives Matter.
He's also a member of Democrat Socialists of America.
That final link is to a publication called "Westworld", an independent publication in Denver.  The article is a lengthy and in-depth look at the young socialists and communists who have managed to get themselves elected to various positions of authority in and around Denver.
There is much to fear for the residents of that area.