Late on Thursday night, online document wizard @TechnoFog posted a series of "screen grabs" from an FBI 302 memorandum of an interview of an FBI Agent named William Barnett.  In the 302, Barnett is identified as the original Case Agent on the "Crossfire Razor" investigation, the foreign counterintelligence investigation of General Michael Flynn opened by the FBI under the "umbrella" of the Crossfire Hurricane investigation of the Trump Campaign.
My buddy over at HotAir, Ed Morrissey, has a nice rundown of this latest release from DOJ and what it might mean.
The interview of Barrett was done under the investigation of US Attorney Jeffrey Jensen from the Eastern District of Missouri.  The 302 was attached as an exhibit to a filing made by DOJ today in the case against General Flynn where the DOJ motion to dismiss remains pending. US Attorney Jensen has been tasked by Attorney General Barr to review the Flynn investigation and prosecution, and during the course of that work, he conducted an interview of Barnett.
The Case Agent has overall responsibility for the progress of the investigation.  Working with his supervisor, the Case Agent makes operational decisions about what investigative techniques to use, and how to exploit information that is developed by those efforts.  The Case Agent assigns "leads" to other squad agents — investigative tasks to be performed as part of developing as much information as possible about the target.
The first thing to understand is that William Barnett appears to be a highly experienced agent.  His comments are suggestive of a veteran FBI Agent, and I'll note below what makes me believe that to be the case.
The second thing to understand is that he's a "brick agent."  He is not in FBI management.  He is not a supervisor.  He is a working case agent who goes out into the field and gathers information — whether from documents or interviews.  He then works with others to assemble and analyze what they have.
This is very different from an FBI manager or supervisor.  Most of the Agents in management positions have left the work of "case agents" behind.  They have oversight responsibilities and may weigh in on operational matters in individual cases, but they do not have the daily personal interaction on an investigation that a Case Agent has. When they want to get information on an investigation, they ask the Case Agent.
So, with that setup, here are some comments that are made by Barnett in the interview, and my reactions to them.  This is not comprehensive — my time at this point is limited, and I'll try to do a deeper dive tomorrow:
Barnett believed the prosecution of Flynn by the Special Counsel's office was to "Get Trump".  This isn't a shocking revelation to me — I have written before, both here and on Twitter, that in my view, the timing of the "press" on Gen. Flynn — late 2017 — reveals that the SCO had become desperate to find anything of substance on the Trump-Russia connection.  The Page FISA had gone down after a year, and nothing of substance was uncovered.  George Papadopolous turned out to have no Russian contacts at all.  And the case being made against Paul Manafort was all dated — historical tax and money laundering charges that predated his involvement in the Trump campaign.  General Flynn was the last "card in their hand".  If anyone was going to have useful information about the Trump Campaign and Russia, it had to be General Flynn, so they went "all in" to pressure him to cooperate.
Barnett heard other agents "jokingly" talk about "wiping" phones given to them by SCO.  Barnett had an SCO issued phone, but did not "wipe" it.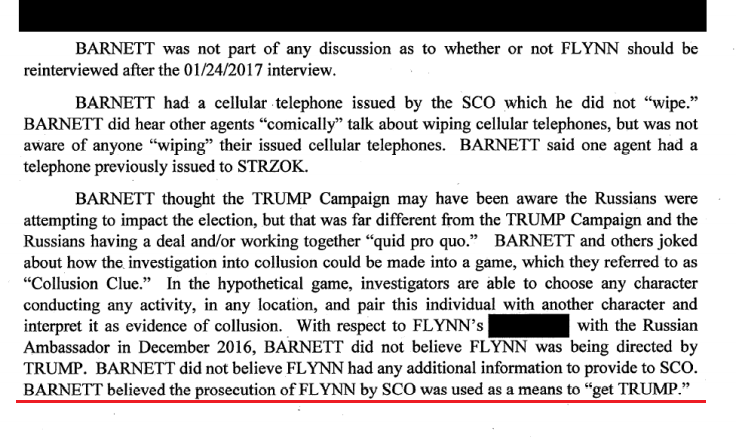 Barnett did not "Open" Crossfire Razor investigation and he was never clear what the people who did open it wanted the investigation to look at or do.  It was never clear to him what the purpose was for opening Razor.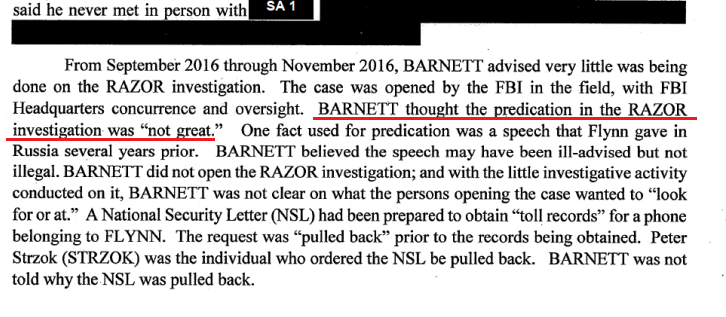 There was almost no investigative activity on Razor from September 2016 to November 2016 because he had no instruction from the Crossfire Hurricane team on what they wanted him to do. He spent much of the time during that period working on "leads" for the Manafort investigation.  On November 8, Barnett had a frank exchange with an FBI analyst about the Razor investigation, both agreeing that it was an "exercise in futility."

It was Barnett who drafted the closing Electronic Communication, and he did so at Strzok's instruction.  He did that during the week between Christmas and New Year's of 2016.  On January 4, he received a message from another agent telling him to not close the file as Strzok had information he wanted to add to the file.  Barnett was told about the new information — the calls with Amb. Kislyak — and that it might be a Logan Act violation.  Barnett researched the issue and didn't see any possible way it would be a Logan Act violation.  But he was scheduled to be off for a medical procedure on January 5, so he did not close the file.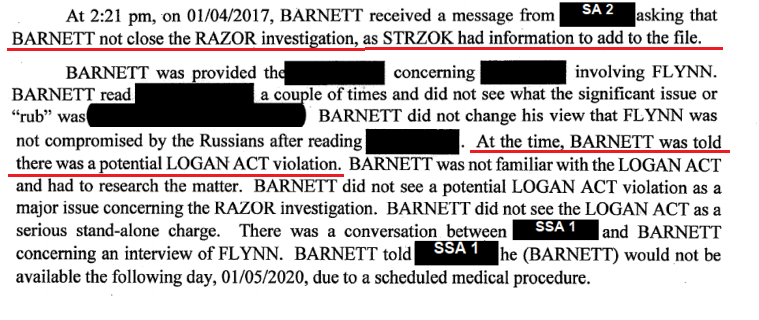 After the January 24 interview of Gen. Flynn, the Razor investigation became "top-down" — meaning all the instructions on Razor were coming from high FBI management without the Case Agent being involved.  He was not invited to meetings or asked for input.

Barnett believes he was purposely "cut out" of the January 24 interview.  Normally, a Case Agent and a supervisor would conduct such an interview.  Barnett was not told the interview was planned.  He only found out about the interview the day after it had taken place.  He assumed it was a "check the box" interview in anticipation of closing the file, and he was told that interview was planned on very short notice.  Looking back after all that has come out, he believes he was "cut out" of the interview.

After the interview episode, Barnett asked to be removed from the Flynn/Razor investigation because he became concerned about its legitimacy.  It was announced by that time that the IG was going to investigate the Clinton email matter, and Barnett thought the Flynn/Razor matter might be investigated, too.

There are two great ones to end on — both after the Special Counsel's Office was created and took over the investigation.  Jeannie Rhee was a partner of Robert Mueller at the WilmerHale law firm and came to the SCO when Mueller was named.  Barnett, being an experienced and highly regarded agent, was assigned to work on the SCO investigation.  Jeannie Rhee was a political campaign donor to Hillary Clinton and Barack Obama, and she had represented Hillary Clinton, Ben Rhodes, and the Clinton Foundation in various matters.  During an early briefing of Rhee and other SCO personnel on Razor and other aspects of Crossfire Hurricane, Barnett started to move on from Razor after only a few comments when Rhee stopped him.  She wanted to "drill down" on more details about Flynn and his connections to Russia.  Barnett got the strong feeling that Rhee was obsessed with Gen. Flynn and Barnett thought she had an agenda.  When Rhee said she looked forward to working with him, Barnett told her they would not be working together as "he wanted nothing to do with the Razor investigation."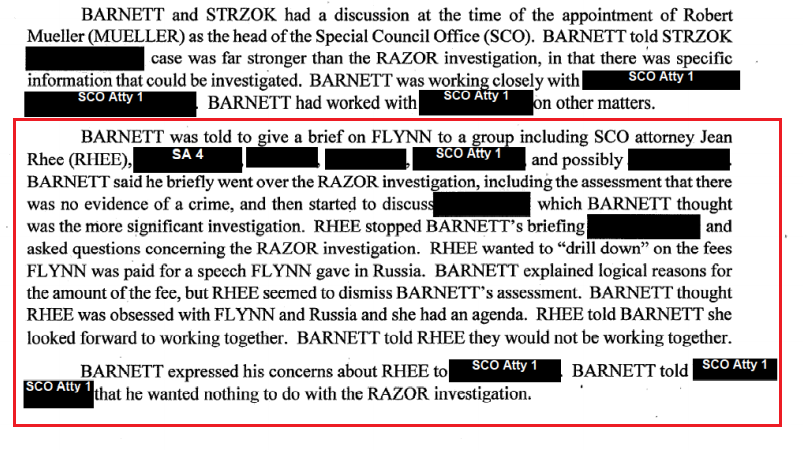 The final comment is about Andrew Weissmann.  Barnett said it always seemed like someone at the SCO had a story about how some particular episode was going to be proven out and establish the collusion between Trump and the Russians, but every time the claimed episode ended up not being true or leading only to a dead end.  He recalled Weissmann claiming that evidence about a meeting on a yacht off Greece would be the key to proving the quid pro quo between Trump and the Russians, only to have the story about the yacht turn out to not be substantiated.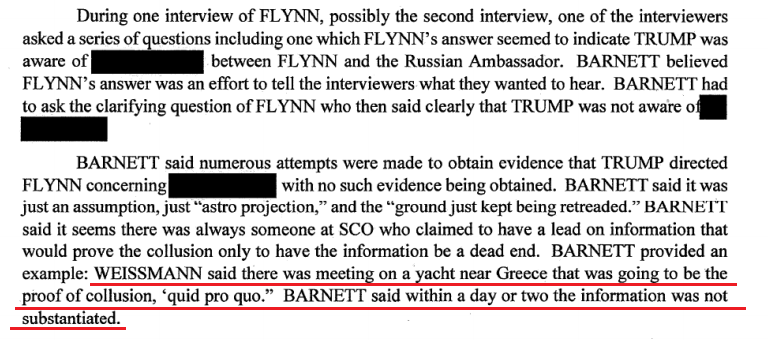 In my view, this interview confirms that US Attorney Jensen is investigating the conduct of the members of the Special Counsel's Office.  We are now seeing only the very beginning of what might still be coming in the days and weeks ahead.