Portland Mayor Ted Wheeler managed to make news on Friday by penning an idiotic political diatribe in response to Pres. Trump's offer of federal assistance to bring an end to rioting on Portland.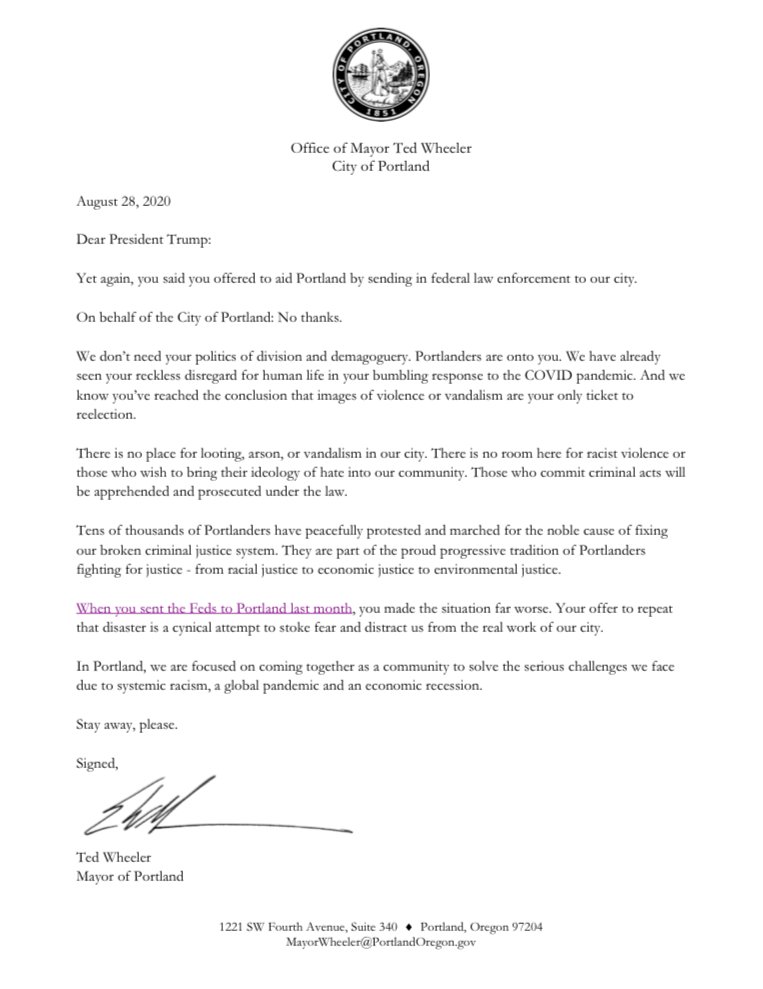 But just to show that "karma" hasn't forgotten Ted, protesters in Portland decided that Friday night was a good time to "occupy" the condominium building where Mayor Ted resides.  It is really just high comedy.  I can't understand why SNL hasn't turned the travails of Mayor Ted into a recurring sketch.
Here's where we start:
BLM protester tells comrades to go directly to @tedwheeler's condo door. They're staging a coup to force him out of office & to defund police. #PortlandRiots pic.twitter.com/Yq496GWo3q

— Andy Ngô (@MrAndyNgo) August 29, 2020
The demonstrators eventually gained entrance into the lobby of the building.
Protesters have entered into @tedwheeler's condo building and say they won't leave until he comes down to read their demands pic.twitter.com/pCOl9F5Md6

— Portland DSA (@PortlandDSA) August 29, 2020
Once inside they made themselves at home as if they were paying rent.  Does anyone pay rent in Portland or has Mayor Ted done away with that as petty bourgeois capitalism gone wrong.  Security was very polite and accommodating, simply saying ineffectually "You'll have to go now."  I'm guessing the Mayor's Office trained them to say that.
But it is Friday night, and the demonstrators did not want Mayor Ted to feel trapped in his condo without any weekend entertainment.  They arranged an outdoor concert for his benefit — and the benefit of his neighbors.
There's some type of antifa concert outside of @tedwheeler's condo as part of the occupation tonight. This is where they previously set up an autonomous zone in honor of a man who tried to kill people with a gun before being killed by police himself. pic.twitter.com/fIf0sAvAaV

— Andy Ngô (@MrAndyNgo) August 29, 2020
The entertainment was accompanied by a light show — not quite the fireworks against the backdrop of the Washington Monument we saw last night, but they had only limited time to arrange things for Mayor Ted.
Antifa and BLM are flashing strobe lights into @tedwheeler's condo building in NW Portland. They're also hosting a metal concert on the street, blocking the road. In the condo lobby, occupiers have chained themselves together demanding he resign. pic.twitter.com/pdP7CUzUnf

— Andy Ngô (@MrAndyNgo) August 29, 2020
I can't quite make out the words — it might be similar to the sentiments expressed by Cyrano De Bergerac for Roxane — but I doubt it.
Ted Wheeler gets more EFFS than Trump tonight 😆 #TedWheeler #PortlandRiots #AndTrumpToo pic.twitter.com/lDA8OWKZyJ

— Lasse Burholt (@lasseburholt) August 29, 2020
Yeah, it's definitely not Cyrano quality:
BREAKING VIDEO: Protesters outside the apartment building of Ted Wheeler are making sure he doesn't sleep tonight. #PortlandProtests pic.twitter.com/cF72HmjF74

— Anoncat ☭☂️🏴 ➐ (@anoncatanoncat) August 29, 2020
So, why isn't someone in a position of authority putting an end to all this?  Why doesn't someone call the police??
Security for @tedwheeler's condo said a while ago they called police but no one has showed up so far. That part of the Pearl District in NW Portland is currently completely occupied by far-left protesters demanding he resign. #PortlandRiots

— Andy Ngô (@MrAndyNgo) August 29, 2020
Quoting from his letter today to President Trump:
Tens of thousands of Portlanders have peacefully protested and marched for the noble cause of fixing our broken criminal justice system.  They are part of the proud progressive tradition of Portlanders fighting for justice.
Mayor Ted might be right.  After all, he can see them from his front window.  They'll be there all night.  I might send in 20 pizzas.  Rioting makes you hungry.