I can't believe I have the chance at a "Two-Fer" against my most favorite target in all of cable TV idiot-punditry, but Asha Rangappa has come through.
The CNN "Law Enforcement Analyst" took to Twitter today — so I am told as she has blocked me for many months — to take a swipe at fellow Indian-American Nikki Haley's name in a standard piece of Democrat party identity politics.
As my Red State colleague Bonchie detailed earlier today, Haley's RNC Convention speech last night has caused spasms of outrage on the left, after she stated that the United States is not a "racist country."  They can't seem to get past the fact that she admitted her parents, both first-generation immigrants from India, persevered over the efforts of others to restrain them from obtaining the "American Dream."
We faced discrimination and hardship. But my parents never gave in to grievance and hate. My mom built a successful business. My dad taught 30 years at a historically black college. And the people of South Carolina chose me as their first minority and first female governor.
For Democrats, the "presence of racists" and "America is racist" are synonymous.  But that is a false equivalency.  There are "racists" in every country on the planet.  It is not an achievable goal to say only in the "absence" of racists can you produce a non-racist country.  But that formulation of the issue provides a never-ending basis for greivance and identity politics — which is the stock-in-trade of the modern Democrat Party coalition.
Enter Asha Rangappa, fellow Indian-American to Haley.   Here was her first comment:
Right. Is that why you went from going by Nimrata to "Nikki"? https://t.co/buGFcY48gQ

— Asha Rangappa (@AshaRangappa_) August 25, 2020
As they say in the boxing world, that was tantamount to "Let's Get It On!!!!"
This is a comment that came back at Rangappa after her tweet.
See, according to Rangappa, "Nikki" is just a nickname, and Indian's don't use nicknames "professionally" —- "Please."
Uhhh — okay.
How about this then?   A tweet Haley sent out more than two years ago, while still US Ambassador to the UN.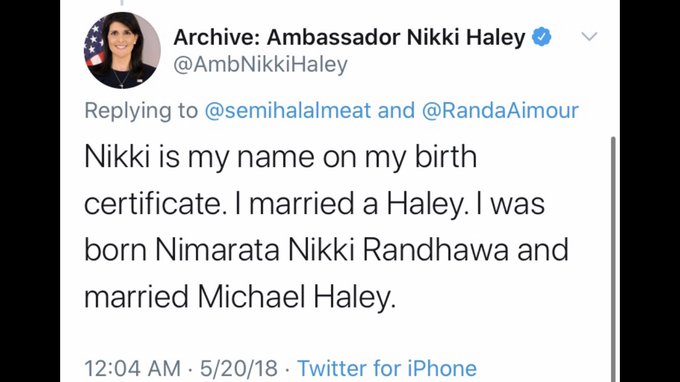 Nimarata Nikki Randhawa Haley.
Got that "Renuka Asha Rangappa"???
What?
Your name is not "Asha"?
You CHANGED it?
Did you start going by "Asha" because "Renuka" means "horse excrement for brains" in Hindu?
You went to Yale and Princeton — or so you say — so how can you be that industrial-strength stupid to raise this issue when you yourself use your middle name professionally as your first name?
But then again, this is the same Asha Rangappa who spent less than three years as an FBI Special Agent, yet holds forth on CNN expressing opinions on federal law enforcement matters with a level of expertise any reader here could gain with Wikipedia.
Supposedly she was assigned to a counter-intelligence squad in the New York Field Office.  I can assure you 100% that an agent straight of the Academy going to a Counter-Intelligence squad in NYFO is given NOTHING of significance to do for a long period of time.  They fetch coffee, offer no opinions, and listen.  The basic admonition is "Stay out of the way and don't screw anything up."  Once they have proven the ability to not screw anything up on unimportant matters, THEN they begin to get meaningful assignments.
There is a reluctance to go on the record for fear that her legions of CNN acolytes will descend upon them, but people I have spoken with that either were familiar with her in NYFO or knew people who were familiar with her, universally regard her as joke.  But the CNN audience loves her — which is enough said by itself – so her idiocy only feeds her following.
Got that "Renuka."
How about unblocking me and showing you're not a coward.