Before I highlight another Young Gun candidate, just wanted to let you know about an interview I did with Esquire that you can check out here.
I'm still traveling through the scenic Pacific Northwest. Today, I'm campaigning in Oregon's First Congressional District for Young Gun candidate Rob Cornilles.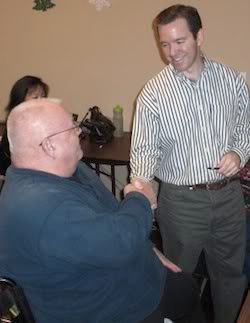 With Rob, this district would have a leader with a history of helping to create jobs. This owner of a sports consulting firm understands the threat of higher taxes, which only discourage employers from hiring workers. He supports maintaining current tax rates — something House Democrats failed to act on before leaving Washington. Rob will work to make sure businesses have an incentive to grow.
Another job killer is the Democrats' government takeover of health care. Rob is clear where he stands:
"I am convinced and convicted, to go back to Congress and start over on health care reform."
For solutions that will work, Rob wants to empower consumers by letting businesses come together in buying pools, allowing insurance to be bought across state lines, and reducing the costs from frivolous lawsuits.
Contrast that with Rob's opponent, Rep. David Wu, who thinks the health care law will lower costs. If you think that's unbelievable, he also thought the law didn't go far enough. He wanted the so-called "public option"– that would let government interfere even more with your health care.
The Oregonian noticed Rob, liked what they heard, and endorsed him writing:
Northwest Oregon voters looking for a new direction for the 1st District, in Washington and the world, have a strong opportunity in Rob Cornilles.
Congress needs leaders like Rob who understand how to create jobs. Check out Rob's website and his Facebook page.
Thanks,
Rep. Kevin McCarthy