Before I talk about another Republican candidate we need to reform Washington I want to mention this AP story on Medicare's actuary determining that the Democrats' massive health care law will not stop spending from going up:
"Factoring in the law, Americans will spend an average of $13,652 per person a year on health care in 2019, according to the actuary's office. Without the law, the corresponding number would be $13,387."
The Democrats' big government solution won't lower health care costs. They've failed us again.
Yesterday, I talked to you about campaigning with Jesse Kelly who is running in Arizona's Eighth Congressional District. During that same trip I went to the Third District to help another Republican candidate we need to get elected to get the GOP back into the majority in the House. He has a familiar name: Ben Quayle.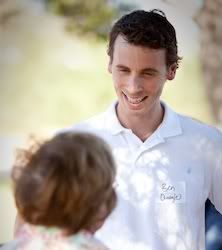 He may be the son of former Vice President Dan Quayle, but Ben has made a name for himself as a successful lawyer and entrepreneur. From his experience creating jobs, Ben learned how important it is to keep taxes and regulations low. He wants to bring his real-world experience to Washington.
With Arizona's unemployment at 9.7% Ben knows many people are hurting because they don't have a job. We need to get the economy going again to create jobs and bring prosperity back to America. For Ben, the answer isn't more stimulus spending that failed us and put us deeper in debt. Instead, he wants to cut taxes, cut spending, and reduce our debt to create an environment where businesses–especially small businesses–can thrive.
Like many Americans, Ben is deeply concerned about keeping our borders secure. For too long Democrats in Washington have failed to listen to Arizonans calling for action. Ben wants to make sure Americans are protected and the rule of law is respected.
Sure, Ben may have an old name in politics, but he's part of the next generation of conservatives leaders Arizona–and this country–needs to get us back on track.
Go check out Ben Quayle's website and let me know what you think.
Thanks,
Rep. Kevin McCarthy