Facebook seems to be up to its old tricks of banning speech they don't like, especially if that speech is conservative speech. Back in July, a brand new conservative radio station started broadcasting in my hometown of St. Louis. Locally owned and operated, NewstalkSTL offers political opinions from local hosts (the station also broadcasts the Dan Bogino and Joe Pags programs) that listeners in the St. Louis metro area have grown to trust. For full disclosure, I co-host the afternoon show with former Missouri Speaker Tim Jones and our exceptional executive producer Katie Fitzpatrick.
We've been on the air a little over two months now, and the reception from the listening audience has been tremendous. Because of that success, station management decided recently to embark upon a four-week ad campaign on Facebook to let more people know about our station. One of the station's taglines is "We offer news, analysis, and opinion." Apparently, for the Facebook censors, our ad which simply tells you who we are and how to listen to the station could "influence public opinion." Below is a screenshot of Facebook's explanation as to why they were banning our ads.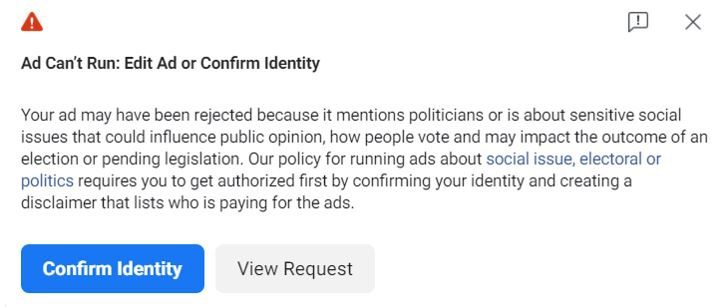 Below are the two ads that Facebook has banned. Take a look for yourself, do these innocuous ads deserve banishment?
Freshman Senator Josh Hawley (R-Mo) has been one of the leading proponents of amending Section 230. Section 230 shields social media companies from liability for what people post on their platforms. That was acceptable to most people until Facebook and Twitter started censoring and choosing sides on which speech was acceptable and which was not. The banning of NewstalkSTL's Facebook ads is another stark reminder that these companies have way too much power and influence and need to be reined in.