I started this one last week but did not finish it in time for last Saturday's WC. Here are a few quickies.
Bumper Sticker Politics
Streiff's piece about Chuckie Schumer saying justices can talk … when they agree with him loosely reminded me of something I've noticed.
I know it predates Trump, but it was common for hardcore liberals to have some version of this bumper sticker during Obama's presidency.

It's funny how those have been replaced in the past two years by these.

Same idea – if you agree with me then we can all sing Kum-ba-ya; otherwise STFU.
Looking for an Obama judge in North Carolina
Ed: I grabbed this one a week ago and don't know what has happened since….
Oopsie!! I'm sure some judge will order him released any moment. I don't see why it's any different than ones where cops tell crooks they've won a prize and just need to show up to claim it.
After living almost a year in a Durham church, an undocumented man was arrested Friday by immigration officers when he left the church to keep an appointment with U.S. Citizenship and Immigration Services in Morrisville.
God works in mysterious ways volume 2,847,109
A nearby HS football playoff game had one kid put in the hospital by an absolutely crushing block that was borderline dirty. Funny thing is, while x-raying him for broken bones (he did break a rib) they found cancer in his arm.
"I've been hit like that before, but this one, it took me to the hospital. And I haven't been to the hospital that many times, but for them to X-Ray me and for them to find this, I feel like it was meant to be," Griffin said.
Another oopsie
I almost never look at Breitbart's site, but this week I opened a link to an article there and caught this sidebar.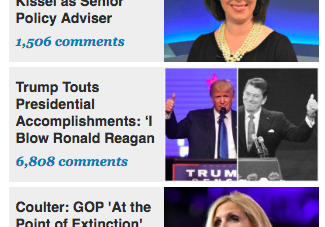 Welcome to RedState's only daily open thread! Enjoy!