Best video I think I've seen so far, MarineGirl85 added this to YouTube several years ago, but it got yanked for copyright infringement until recently when the label figured out it could actually sell songs on iTunes by allowing users to make videos with them and slapping a link up themselves to where one could buy it. So now it's back up.
The footage was shot during operations in Fallujah by LCpl Jan Bender.
Bender is a story unto himself;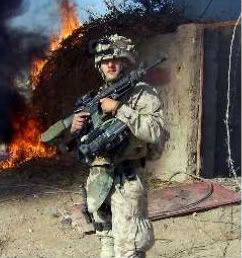 Before joining the U.S. Marine Corps where he was trained as a combat correspondent, Jan Bender, 25, grew up playing football and working on his father's grain farm east of Poseyville, Ind.

But during a tour of duty in Iraq, he found himself both a rifleman, armed with an M-16 and 9 mm pistol, and a cameraman capturing powerful footage of the 3rd Battalion, 1st Marines fighting house-to-house during the November 2004 push through the insurgent stronghold of Fallujah.

His footage was used by nearly every major TV network, but eventually he put a highlights reel to music for the men in his platoon.

"I felt a responsibility. This was their own history," he said recently from Culver City, Calif., where he's the host and moderator of "In Their Boots," an innovative Internet TV series.
Sounds cool, right up till I got to the following part, then I smelled rats [All links added by me];
"In Their Boots" is supported by a three-year, $4 million grant from the Iraq Afghanistan Deployment Impact Fund and is produced by Brave New Foundation.

"When I heard about the project, I questioned it," Bender acknowledged, "but the litmus test is watching the program and content. We're not looking through a political lens. It's purely the human side of the impact at home. We don't leave you in a rut. Our stories usually have an optimism, the American spirit."

According to the Los Angeles Times, the foundation is headed by Brave New Films' producer/director Robert Greenwald, who masterminded "The Real McCain" and other political attack videos on the Internet.

But the Times quotes Richard Ray Perez, co-producer of "In Their Boots," as saying the series is trying to be nonpartisan and have compassion for the human experience "outside of any political ideology."
Richard Ray Perez produced such left-wing classics as the Bush Bash "Free For All", and "Uncovered: The War On Iraq" where Perez attempts to prove Bush was going to invade Iraq no matter what – the list goes on…
Getting back to Jan Bender, he seems to have disappeared from the "In Their Boots" website around August 2008, and according to his Linked-in profile, it was to finish up his degree.
Honestly? I hope he saw the light and ran away as fast and as far away as he could from these guys, they're bad news – using returning troops to drive a wedge between the public and our military.
And back to the video I found. Oh yeah! That…
[youtube]http://www.youtube.com/watch?v=OClem7RprLk[/youtube]