According to the media, the consensus is the President is winning the public relations battle over the debt ceiling. Let us take a sample: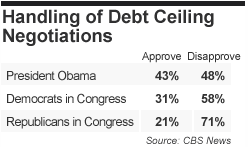 Let us look at this from Pew Research: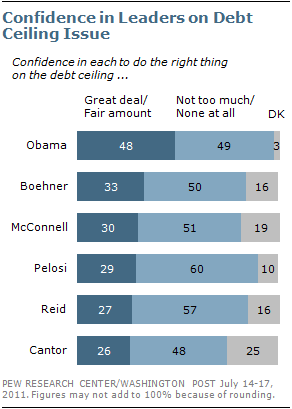 According to the polls generated by the media, the people have more confidence in the President's  performance during the debt ceiling negotiations. However take a look at his approval ratings from Real Clear Politics:
The President's average approval number is back to pre-killing of bin Laden, 45.9%. I have kept my comments over the negotiations to a minimum. My comments have been simple. I want to see the President's and the Democrat's plan, in writing. That's all. Let me see it. The Republicans have put their ideas in writing for all to see and for the Democrats to vilify. The Democrat controlled Senate has not passed a budget in over 800 days. The President's own budget was such an act of the absurd, he could not garner a single vote of support. Even from his own party! The media may wish to ignore his budget going down in a 97-0 vote, but I think the voters remember. As of right now, the White House is saying a short-term deal will not fly, they want a deal that goes beyond the 2012 election. Why? If they are winning the issue, why not have this debate again for the  Presidential elections?
Hmmm…. could it be because as this debate rages on the President's approval numbers keep dropping. Let's face it, this is winning only by Charlie Sheen's definition.