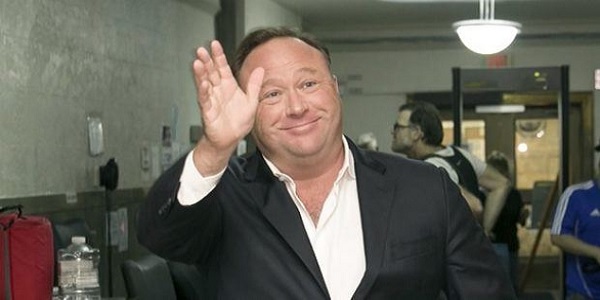 By now I'm sure you've heard about how Apple, Facebook, YouTube, and others have removed Alex Jones and his Infowars program from their platforms recently for violating their code of conduct regarding the use of so-called hate speech.
While Jones' rants fall more under the category of insanity than they do insight, his program has been accepted in many conservative circles, along with members of #Cult45 due to his rabid support of Donald Trump, and Trump has returned the favor. In an appearance on Jones' radio show, Trump praised him for his "amazing" reputation.
Considering Jones' established reputation as a conspiracy theorist and all-around nut case, the timing of his removal from the platforms of these major players in the internet world created by Al Gore would be suspect except for two things: Donald Trump and the upcoming election.
As Steve Deace accurately concluded, targeting Alex Jones is forcing faux-conservatives who support Trump to defend Jones' indefensible behavior — much as they do for Trump — in the days leading up to an election where the GOP is already preparing for a Blue Tsunami.
So-called conservative media and Donald Trump, Jr. are also defending Jones.
Targeting Jones in this manner also allows the left to control the narrative by connecting true conservatism to the actions of a conspiracy theorist … and Alex Jones too.
Jones, his Infowars groupies, and some in the so-called conservative media are crying about how his First Amendment rights are being denied. Of course, nothing can be further from the truth. Businesses have the right to run their business as they see fit and can refuse to associate with anyone they choose — unless, of course, you're a Christian baker or Christian florist.
Jones' website is still up and running, and unless Congress attempts to make a law to take it down, his First Amendment rights are still protected. If he disagrees with business practices of companies operating with a left-wing bent, he can go somewhere else to spread his conspiracy theories.
Even though Jones is wrong to claim that his First Amendment rights are being denied, the actions taken against him are creating a real threat to free speech, especially when Washington decides to get involved.
I know Facebook and Apple and YouTube have gotten so big they sometimes seem like the government.

But they aren't.

They are private companies that shouldn't knowingly spread lies and hate. They took a good first step today by removing Infowars.

— Chris Murphy (@ChrisMurphyCT) August 6, 2018
Infowars is the tip of a giant iceberg of hate and lies that uses sites like Facebook and YouTube to tear our nation apart. These companies must do more than take down one website. The survival of our democracy depends on it.

— Chris Murphy (@ChrisMurphyCT) August 6, 2018
Even though he's calling on free market businesses indirectly do his dirty work, Sen. Murphy believes that shutting down an individual's individual rights is necessary for America to survive. Unfortunately, he's not alone because Republicans are also getting in the act.
As I wrote a few days ago, Rep. Dan Donovan (R-NY) has proposed a bill that would put protesters in jail for 15 years if they wear a mask while "threatening" or "intimidating" someone — in other words, ANTIFA protesters.
In some ways, Alex Jones and ANTIFA are alike because they're unbalanced, unhinged, and unstable. In other words, they're insane. That's why I will never support or defend their actions.
However, I do support and defend liberty and the Constitution, and I will oppose any effort by the government to directly or indirectly deny anyone their Constitutional rights. It's frightening that there are so many who are willing to trade freedom for tyranny, and it's likely to get worse because there are too few willing to defend our God-given rights.
Originally posted on The Strident Conservative.
---
David Leach is the owner of The Strident Conservative. His politically incorrect and always "right" columns are also featured on NOQReport.com and TheResurgent.com.
His daily radio commentary is distributed by the Salem Radio Network and is heard on stations across America.
Follow the Strident Conservative on Twitter and Facebook.
Subscribe to receive podcasts of radio commentaries: iTunes | Stitcher | Tune In | RSS