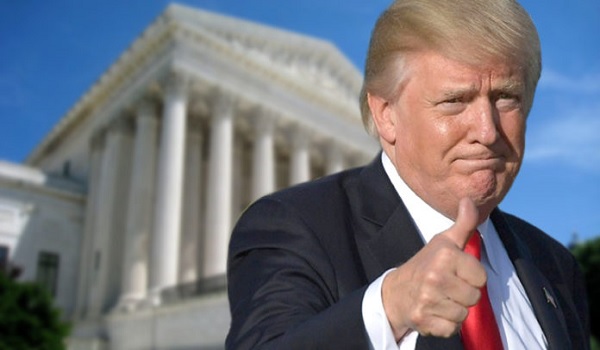 When Supreme Court Justice Anthony Kennedy announced his retirement, faux-conservative hearts were all-a-flutter over the prospect of replacing the part-time judicial activist with a strict constructionist who would help return the federal judiciary to its constitutional roots. Sadly, that didn't happen with the nomination of Brett Kavanaugh.
As a candidate, Donald Trump promised to nominate strict constructionists to the high court, going so far as to say it was necessary in order to see disastrous rulings like Roe v. Wade reversed. It was this promise above all others that motivated evangelicals to support him. Well, that and the fact that he was #notHillary.
While the jury is still out on Trump's first Supreme Court pick, Neil Gorsuch, Kavanaugh has all the markings of someone who will fail to measure up when it comes to limiting judicial interpretation and restricting the powers of government. And even though Trump likes to spin his promise to "drain the swamp," Kavanaugh is considered by some to be "the heart and soul of the DC establishment."
.@Judgenap: "I am disappointed in the president because this is not the type of person that he said he would pick… this person is at the heart and soul of the DC establishment." pic.twitter.com/Dygeg4zywi

— Fox News (@FoxNews) July 10, 2018
So, why did Trump pass up the opportunity to truly reshape the court?
It's been reported that Trump has had his eye on Kavanaugh all along as part of a negotiation between Kennedy and Trump where Kennedy would agree to retire on the condition that Trump nominate Kennedy's former law clerk to replace him. There's ample evidence to consider this a real possibility.
To begin with, it was during the Gorsuch confirmation that we learned how Trump had a back channel connection to Kennedy through their children, specifically Justin Kennedy who worked for Deutsche Bank when the institution loaned $1 billion to Trump for his real estate investments. At the time, Trump had been denied loans from other banks due to his poor credit history.
It was also during the Gorsuch confirmation that private meetings with Kennedy to discuss his retirement and replacement first began and Kavanaugh's name was first introduced.
One of the non-Kennedy reasons Trump was interested in Kavanaugh had to do with the Mueller investigation. Jim Acosta at CNN reported that Trump spent a great deal of time looking into Kavanaugh's opinions on whether a sitting president can be indicted while in office.
Trump SCOTUS team has looked at Kavanaugh's past comments on indicting a sitting president, we've confirmed. In 2009, Kavanaugh wrote: "The indictment and trial of a sitting President, moreover, would cripple the federal government…" https://t.co/rDHJs5RiUY

— Jim Acosta (@Acosta) July 9, 2018
Kavanaugh has written that a sitting president is essentially above the law:
"I believe it vital that the President be able to focus on his never-ending tasks with as few distractions as possible. The country wants the President to be 'one of us' who bears the same responsibilities of citizenship that all share.

"But I believe that the President should be excused from some of the burdens of ordinary citizenship while serving in office."
Kavanaugh then asserted that "the indictment and trial of a sitting President, moreover, would cripple the federal government, rendering it unable to function with credibility in either the international or domestic arenas. Such an outcome would ill serve the public interest, especially in times of financial or national security crisis."
You might wonder why, with all of this information out there, would Trump nominate Kavanaugh. The answer to that is simple: Trump knew that #Cult45, evangelicals, and other so-called conservative groups would provide him with all the cover he would need. For example, after calling Kavanaugh "unreliable" before his nomination, Sen. Ted Cruz praised him and committed to vote for his confirmation.
Trump made this decision solely for selfish interests. As a result, America has lost another rare opportunity to begin repairing our broken judiciary.
Originally posted on The Strident Conservative.
---
David Leach is the owner of The Strident Conservative. His politically incorrect and always "right" columns are also featured on NOQReport.com and TheResurgent.com.
His daily radio commentary is distributed by the Salem Radio Network and is heard on stations across America.
Follow the Strident Conservative on Twitter and Facebook.
Subscribe to receive podcasts of radio commentaries: iTunes | Stitcher | Tune In | RSS