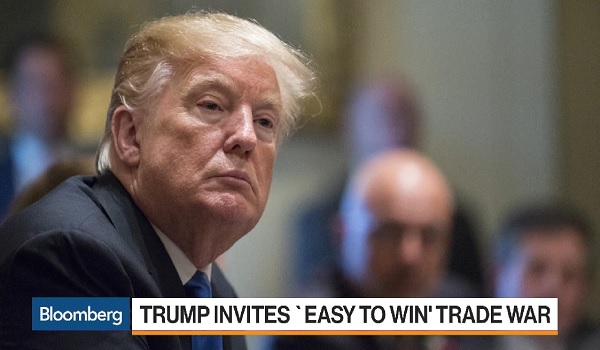 As much of the nation focused yesterday on the Supreme Court and who Trump would nominate to fill the seat being vacated by Anthony Kennedy's retirement, Rep. Mike Gallagher (R-WI) was busy working on a bill that would limit Trump's authority to levy tariffs.
Under Gallagher's bill, Congress would reclaim its constitutional authority by requiring the president to obtain congressional approval before levying tariffs "in the interest of national security." This bill is in response to Trump abusing his power to levy tariffs under a provision in the law that allows him to do so on an emergency basis when national security is threatened.
Gallagher's measure is a companion bill to a Senate measure co-sponsored by Pat Toomey (R-PA) and Mike Lee (R-UT) designed to "rein in the executive branch's power to impose (tariffs)" and to empower Congress to "assert its Constitutional responsibility and lead on trade policy."
Congress should assert its constitutional responsibility and lead on trade policy so Americans keep access to affordable goods and services, and the opportunity to sell our products abroad.

— Senator Pat Toomey (@SenToomey) June 1, 2018
The recessionary/depressionary consequences of Trump's self-declared trade war are beginning to take their toll. US companies in various industries are making plans to move operations overseas to avoid the financial impact of tariffs while others are laying off employees due to skyrocketing prices on steel.
To be fair, tariffs haven't been all bad, especially if your name is Trump.
Trump managed to leverage his tariff threats against China to haul in over $500 million to finance Trump golf courses and hotels in Indonesia and secure trademarks for his and Ivanka's business interests in China. And Ivanka's questionably ethical payday has continued as we have just learned that her clothing empire—exclusively manufactured in various Asian countries because MAGA™–is exempt from Daddy's recent 25 percent tariff on $34 billion worth of imported Chinese goods.
It looks like Trump won't be backing down anytime soon. It was last week that we learned that Trump is working on a bill he hopes Congress will consider that would shift ALL tariff power from the legislative branch to the executive branch. Known as the U.S. Fair and Reciprocal Trade Act (FART Act), Trump's proposal would give him Emperor-like power to levy tariffs anywhere anytime and for any reason.
Would Congress ever pass such a law? Who knows?
A few weeks ago, the Senate Finance Committee grilled Commerce Secretary Wilber Ross over Trump's trade-war strategy in light of the administration's kid-gloves handling of China and of retaliatory tariffs against the US by Canada, China, Mexico, and the EU. It's tempting to get excited when Republicans get fired up and appear to be doing their job, unfortunately Mitch McConnell always shows up to throw water on the flames, turning the excitement into ashes.
As the election draws near and with the GOP officially rebranded as the Party of Trump, I find little reason to hope that efforts to rein in Trump's abuse of power will succeed.
Originally posted on The Strident Conservative.
---
David Leach is the owner of The Strident Conservative. His politically incorrect and always "right" columns are also featured on NOQReport.com and TheResurgent.com.
His daily radio commentary is distributed by the Salem Radio Network and is heard on stations across America.
Follow the Strident Conservative on Twitter and Facebook.
Subscribe to receive podcasts of radio commentaries: iTunes | Stitcher | Tune In | RSS