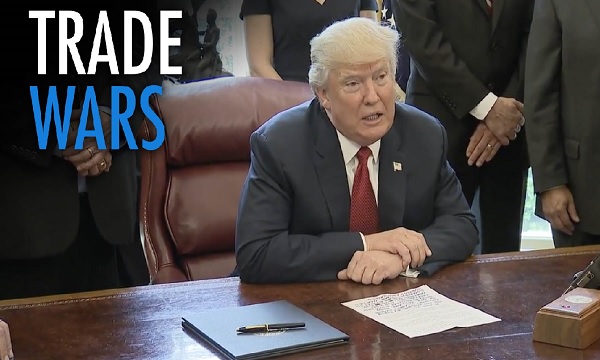 While the government-contrived immigration "crisis" at the border involving forced family separations has captured the headlines—effectively giving Trump and the GOP the cover they need to save DACA and create a pathway to citizenship for millions of illegal aliens—Trump's trade war was the topic of the day during hearings with the Senate Finance Committee yesterday.
Following recent announcements of retaliatory tariffs being leveled against the US by Canada, China, Mexico, and the EU, Commerce Secretary Wilbur Ross appeared before the committee to defend what the committee referred to as Trump's "knee jerk impulses" with his trade policies.
Senators from both parties blasted Ross over Trump's steel and aluminum tariffs—which Ross once defended as "no big deal" because any impact they might have on consumer prices would be "trivial"—following recent economic data indicating that tariffs were indeed having a negative impact on the US economy.
After pointing out that tariffs were responsible for raising prices by 20 percent or more for certain US manufacturers, Finance Committee Chairman Orrin Hatch questioned the administration's claim that Trump's trade war was a matter of national security.
"These tariffs do not support US national security; instead, they harm American manufacturers, damage our economy, hurt American consumers, and disrupt our relationship with our long-term allies, while giving China a free pass."
As regular readers of the Strident Conservative already know, Trump has been particularly soft on China after receiving favorable treatment for his and Ivanka's business interests in China from the Chinese government.
Sen. Pat Toomey (R-PA), who attempted to get a law passed that would return the power to levy tariffs back to Congress as the Constitution requires—it was shot down by Mitch McConnell—also pointed out that Trump's trade war has nothing to do with national security.
"I wish we would stop invoking national security because that's not what this is about. This is about economic nationalism."

"We're picking winners and losers."
Hmm… picking winners and losers. Isn't that something Obama did?
When a country (USA) is losing many billions of dollars on trade with virtually every country it does business with, trade wars are good, and easy to win. Example, when we are down $100 billion with a certain country and they get cute, don't trade anymore-we win big. It's easy!

— Donald J. Trump (@realDonaldTrump) March 2, 2018
Despite Trump's misguided optimism, it's important to remember that there are always casualties in war—even in a trade war—and he is personally responsible for them because he will have caused them.
While news that there are Republicans willing to take a stand against Trump's disastrous trade policies should be something to cheer, the GOP has become the party of Trump where loyalty and undying devotion to the NY liberal has replaced conservative values. It was just yesterday that I wrote about Sen. Dean Heller's conversion to Trump conservatism and how as a Trump loyalist, he would be giving Trump "a wide berth" concerning tariffs.
With the GOP adopting a Trump loyalty test when it comes to enacting policy and running elections, it's likely that we'll see more Republicans giving Trump a wide berth on tariffs and pretty much everything else Trump wants.
Originally posted on The Strident Conservative.
---
David Leach is the owner of The Strident Conservative. His politically incorrect and always "right" columns are also featured on NOQReport.com and TheResurgent.com.
His daily radio commentary is distributed by the Salem Radio Network and is heard on stations across America.
Follow the Strident Conservative on Twitter and Facebook.
Subscribe to receive podcasts of radio commentaries: iTunes | Stitcher | Tune In | RSS