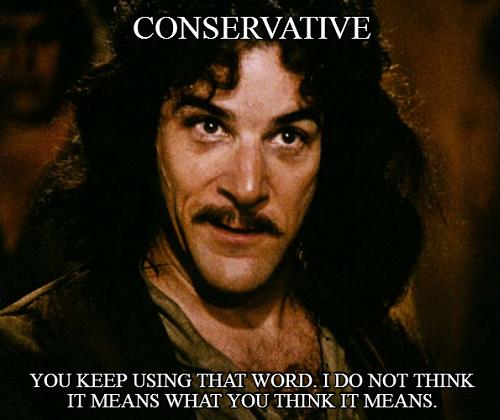 As we learned in the aftermath of Rep. Mark Sanford's (SC) GOP primary loss to Katie Arrington after he was targeted for elimination by Donald Trump for having the audacity to criticize him while being "unhelpful" to his campaign, conservatives are being systematically snuffed out, politically speaking, from the Republican party and are being replaced by a re-branded version of conservatism where unconditional loyalty to Trump has replaced principles.
The fallout from this reality is twofold. First, it severs all ties the GOP once had with Reagan-styled conservatism where it was understood that government can never be the solution to our problems because government is the problem. Second, it opened the door for Trump's Nationalist Populism to fill the void created when the GOP abandoned the conservative ideals of limited government and free-market capitalism, along with watering down fiscal and social conservatism.
While there are many examples of what this looks like, there is perhaps no greater example of re-branded conservatism than Sen. Dean Heller (NV), the GOP establishment candidate endorsed by Trump.
When Heller made his decision to run for re-election last year, he proved to be the epitome of what a Trump conservative looks like when he defended Planned Parenthood during an appearance at a local town hall, saying:
"I will protect Planned Parenthood."

"I have no problems with federal funding for Planned Parenthood."
Since his primary victory—a job made easier after Trump conservative Danny Tarkanian dropped out to run for Congress at Trump's request—Heller has been doubling down on his Trump loyalty pledge. For example: with Trump's trade war heating up, Heller recently appeared on FOX News Trump TV to declare that he would give Trump "a wide berth" when it comes to imposing tariffs, which means he will put Trump ahead of his Constitutional responsibilities.
In his TV appearance, Heller also pledged to run on Trump's tax cuts because, according to him, it has meant $2,500 more a year in Nevada paychecks, despite a recent Bureau of Labor Statistics report showing that average wages are down since the tax law was passed. The tax cuts have proved to be a windfall for corporations, however, so maybe Heller can run on that as we get closer to November.
As I wrote earlier this week, this embrace of Trump's faux conservatism has given us casualties outside of the Republican party, and Heller once again proves my point. Despite his current pro-abortion position—I say current because he's been on both sides of the abortion issue depending on how close he is to an election—Heller recently received the full endorsement of the National Right to Life.
The only "conservative" part of the Trump conservative is the use of the word, proving once again that the GOP is no longer home of the conservative movement.
Originally posted on The Strident Conservative.
---
David Leach is the owner of The Strident Conservative. His politically incorrect and always "right" columns are also featured on NOQReport.com and TheResurgent.com.
His daily radio commentary is distributed by the Salem Radio Network and is heard on stations across America.
Follow the Strident Conservative on Twitter and Facebook.
Subscribe to receive podcasts of radio commentaries: iTunes | Stitcher | Tune In | RSS