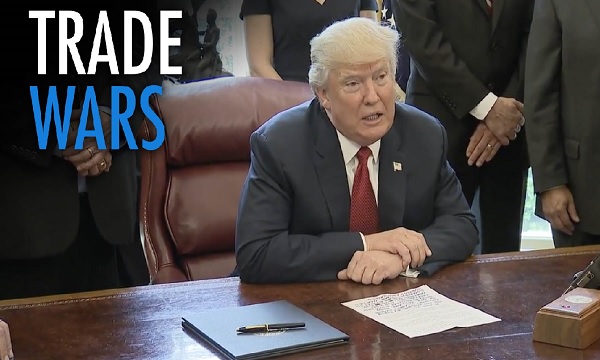 When Donald Trump announced YUGE tariffs on imported solar panels and residential washing machines back in January, he launched a trade war reminiscent of 1800's protectionism and laid the foundation for higher prices for American consumers, along with the loss of thousands upon thousands of jobs.
Unfazed by historic evidence that such trade wars inevitably lead to economic disaster, Trump proceeded with a second round of attacks on the free market in March by imposing across-the-board tariffs on steel and aluminum, complete with his personal assurance that "trade wars are good, and easy to win."
When a country (USA) is losing many billions of dollars on trade with virtually every country it does business with, trade wars are good, and easy to win. Example, when we are down $100 billion with a certain country and they get cute, don't trade anymore-we win big. It's easy!

— Donald J. Trump (@realDonaldTrump) March 2, 2018
While Trump initially suspended steel and aluminum tariffs against the EU, Mexico, and Canada–providers of roughly fifty percent of steel imports to the US–he announced this past Friday that the tariffs are back on. And for good measure, he issued an additional threat to Germany that he would completely ban the import of luxury cars if they chose to retaliate with tariffs of their own against US goods.
As was the case in March, members of the GOP are threatening to prove they actually have a spine, and there are indications that they might do something this time around to stop Trump before it's too late.
Sen. Pat Toomey (PA)–for the record, that's a steel state–will be co-sponsoring Sen. Mike Lee's bill S.177 to end Trump's abusive practice of using "national security" to impose tariffs and to return tariff authority back to Congress where it Constitutionally belongs.
Claiming steel bought from our allies is a 'national security' threat weakens our credibility. These tariffs, i.e. taxes, hurt American workers, employers, and consumers.

— Senator Pat Toomey (@SenToomey) June 1, 2018
I'll be cosponsoring @SenMikeLee's bill, S.177, to rein in the executive branch's power to impose unilateral tax increases like these.

— Senator Pat Toomey (@SenToomey) June 1, 2018
Congress should assert its constitutional responsibility and lead on trade policy so Americans keep access to affordable goods and services, and the opportunity to sell our products abroad.

— Senator Pat Toomey (@SenToomey) June 1, 2018
If this devolves into a full-blown trade war, the resulting harm will undo all of the great economic progress we've made with deregulation and tax reform.

— Senator Pat Toomey (@SenToomey) June 1, 2018
Other Republicans joining with Toomey and Lee are Sens. Jeff Flake (AZ), Corey Gardner (CO), and Ben Sasse (NE).
Besides the fact that tariffs are simply terrible economic and foreign policy, Trump has used the threat of tariffs against China as leverage for his personal financial gain; essentially extorting money from the Chinese government to finance Trump golf courses and hotels in Indonesia and securing a boatload of trademarks for his and Ivanka's business interests in China.
If passed, S.177 will give the power to approve or disapprove Trump's tariffs back to Congress, not to mention that it would save the American people from an economic catastrophe.
The only question is, will Republicans do what required to fulfill their Constitutional duty or will they cave to Trumpism in hopes that it will help them in November? The clock is ticking . . .
Originally posted on The Strident Conservative.
---
David Leach is the owner of The Strident Conservative. His politically incorrect and always "right" columns are also featured on NOQReport.com and TheResurgent.com.
His daily radio commentary is distributed by the Salem Radio Network and is heard on stations across America.
Follow the Strident Conservative on Twitter and Facebook.
Subscribe to receive podcasts of radio commentaries: iTunes | Stitcher | Tune In | RSS