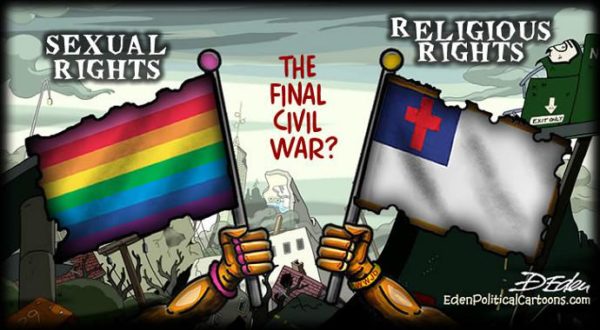 In the war on American culture waged by the Marxist Rainbow Jihad and LGBT terrorists, there has been perhaps no greater battlefield than the state of California. And as the front where many of the battles are fought, it is also where we find the greatest number of casualties, usually children.
Government authorities working as a type of Gay Mafia have turned public schools into LGBT indoctrination centers where acceptance of deviant lifestyles is mandated by the state in the name of so-called tolerance. In these indoctrination centers, parents are denied the right to teach their kids the values they believe in, and children as young as five-years-old are disciplined as "bullies" for "misgendering" their gender-confused classmates.
Not content with brainwashing young minds, however, LGBT radicals in the CA legislature want to make it a crime for parents, pastors, and professional councilors to engage in "sexual orientation change efforts with an individual."
Under a banner of so-called consumer protection, the bill (AB-2943) defines "change efforts" as:
"Any practices that seek to change an individual's sexual orientation. This includes efforts to change behavior or gender expressions, or to eliminate or reduce sexual or romantic attractions or feelings toward individuals of the same sex."
The bill furthers the LGBT agenda in one more way; it codifies LGBT lifestyles as normal and scientific:
"Contemporary science recognizes that being lesbian, gay, bisexual, or transgender is part of the natural spectrum of human identity and is not a disease, disorder, or illness."
With this language added to the bill, freedom of speech and freedom of religion concerning LGBT issues will be essentially eliminated . . . by law!
I once wrote an article about how the LGBT culture war was one more reason for parents to take their kids out of public schools, but now that won't be enough. This war has grown into a full-fledged assault on religion and traditional moral values.
We can no longer accept the "live and let live" ideology of the left under the mistaken belief that equality is their only goal. It's time to fight for the souls of our children and the future of America while we still can.
Originally posted on The Strident Conservative.
David Leach is the owner of The Strident Conservative. His politically incorrect and always "right" columns are featured on RedState.com, NOQReport.com, and TheResurgent.com.
His daily radio commentary is distributed by the Salem Radio Network and is heard on stations across America.
Follow the Strident Conservative on Twitter and Facebook.
Subscribe to receive podcasts of radio commentaries: iTunes | Stitcher | Tune In | RSS