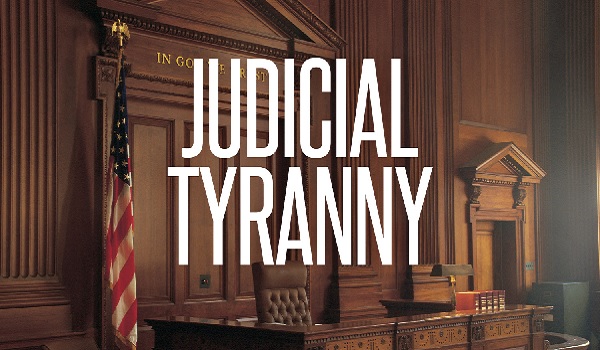 Following the Supreme Court decision earlier this week where Neil Gorsuch sided with the four progressive justices on the court to overturn a law that allowed for the deportation of immigrants convicted of violent crimes, I wrote an article about how this decision confirmed the warning given by James Madison about tyrannical government.
Since Gorsuch was appointed by Donald Trump and conservatives considered the justice to be a type of Anakin Skywalker as the chosen one born to bring balance back to the government, I took a lot of heat for daring to mention tyranny and Gorsuch in the same breath.
If I had called Gorsuch a tyrant, my readers and listeners would have had a point, but that's not what I did.
As I stated in the article, the threat of tyranny comes not from a single Supreme Court decision, it comes from the reality that political parties have turned judicial appointments into a party platform, essentially eliminating the walls that separate the three branches of government. Such accumulation of all powers in the same hands is the exact definition of tyranny according to Madison.
"The accumulation of all powers, legislative, executive, and judiciary, in the same hands, whether of one, a few, or many, and whether hereditary, self-appointed, or elective, may justly be pronounced the very definition of tyranny."
The federal courts continue to confirm this threat to liberty. Earlier this week, a three-judge panel on the Sixth Circuit Court of Appeals overturned a law in Ohio that denied funding to Planned Parenthood who already gets hundreds of millions of dollars from taxpayers thanks to Trump and the GOP. The ruling also upheld a decision from a lower court that ruled that the ban violated due process and was, therefore, unconstitutional.
This wasn't a decision by a court loaded by Obama appointees. Two of the three judges were appointed by Daddy Bush and Son, while the third was picked by Bill Clinton. The lower court judge was also appointed by George W. Bush.
Do you see what happens when we allow judicial appointments to be motivated by politics?
In the judicial tyranny article I mentioned above, I posted a tweet from Donald Trump where he claimed that only Republicans can "hold the Supreme Court."
THE SECOND AMENDMENT WILL NEVER BE REPEALED! As much as Democrats would like to see this happen, and despite the words yesterday of former Supreme Court Justice Stevens, NO WAY. We need more Republicans in 2018 and must ALWAYS hold the Supreme Court!

— Donald J. Trump (@realDonaldTrump) March 28, 2018
The recent decisions by the Supreme Court and the Sixth Circuit is proof that Trump and the GOP are wrong. We will never rid ourselves of tyrannical government by continuing to support its tyrannical behavior. Political parties interested only in their self-preservation won't stop it. "Appointing better judges" won't stop it.
Only we the people can stop it using tools such as Convention of States and Daniel Horowitz's Citizens' Task Forces. To learn more about how the courts are destroying America, I also recommend Daniel's book, Stolen Sovereignty: How to Stop Unelected Judges from Transforming America.
Originally posted on The Strident Conservative.
David Leach is the owner of The Strident Conservative. His politically incorrect and always "right" columns are featured on RedState.com, NOQReport.com, and TheResurgent.com.
His daily radio commentary is nationally syndicated with Salem Radio Network and can be heard on stations across America.
Follow the Strident Conservative on Twitter and Facebook.
Subscribe to receive podcasts of radio commentaries: iTunes | Stitcher | Tune In | RSS